Straighter Teeth Without Metal Braces
If you're unhappy with your crooked teeth but have been reluctant to have a mouthful of uncomfortable hardware, we hear you. It can be extra difficult for patients who work in jobs with high visibility such as entertainment, sports, and journalism.
That's why many dentists are turning to Invisalign® clear braces, to give patients the opportunity to discreetly achieve a smile they can be confident in. This system is perfect for busy adults who have social events and career-building activities to attend, or for teens who are sensitive about their appearance.
There is no awkwardness when wearing Invisalign clear braces because the trays fit snugly over your teeth and are barely visible to others. And, because they're removable, they can be taken out for special occasions. Invisalign has become very popular with adults and teenagers who don't want people to see metal brackets every time they talk and smile, and who are concerned about the discomfort and maintenance involved with wearing traditional metal braces.
What is Invisalign?
Invisalign is an orthodontic treatment method that uses a series of clear aligner trays made of BPA-free plastic to gradually adjust your teeth. The Invisalign system is designed to gently move your teeth into the correct position by periodically changing out the trays as the alignment progresses.
Invisalign can be used to correct:
Crooked and/or overcrowded teeth
Extra space between teeth
Simple bite irregularities
Overbites, underbites, and crossbites
Relapses after traditional braces have been removed
How does Invisalign work?
Invisalign aligners are braces, not retainers, because they actively move your teeth to shape your mouth and jaw. Retainers just hold your teeth in place.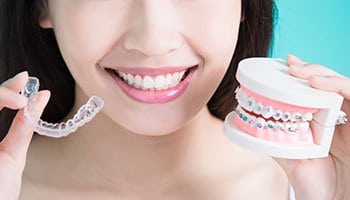 To create your Invisalign system, your orthodontist or cosmetic dentist will use X-rays, impressions, and 3D imaging to create a computer model of your bite. With this model, your dentist can project how aligners can move your teeth. Then, they'll design successive trays that will be used as you advance through your treatment.
Your particular needs will determine how many aligners you'll need, but typical treatment consists of a set of 20 to 30 aligners. The number of aligners required will also determine your total treatment time.
You'll have checkups at your dental office every four to six weeks during your Invisalign treatment to make sure that you're progressing and provide your next set of aligner trays. During these follow-up visits, you will be provided with a few sets of aligner trays at a time, and you'll wear each aligner for about two weeks.
What are the advantages of Invisalign treatment versus traditional braces?
Quick results
You can usually achieve your desired smile faster with Invisalign. On average, our patients achieve their desired smile in 12 months.
More comfortable
The truth is that shifting your teeth can be an uncomfortable process. With Invisalign, patients experience much less pain than with metal braces or other plastic orthodontic systems because the shift occurs gradually. There may be some soreness when a new set is first used as your teeth adjust to the new trays, but that goes away quickly.
What's more, because the trays are custom-fitted, they fit snugly, so you don't have to worry about slippage. Lastly, the plastic material causes very little, if any, irritation and doesn't pinch or poke the insides of your mouth like metal brace wires.
Convenient
Invisalign braces are easy to remove for sports, meals, and oral hygiene. You will follow up every four to six weeks to check your progress and get your new sets of aligners. Traditional braces usually require several extra visits after they're fitted for the dentist to make adjustments.
Easy maintenance
Let's face it: trying to clean your teeth and gums properly while working around metal braces is challenging, and this can compromise your oral health. With Invisalign, oral hygiene is easy. You take your aligner trays out to eat, so you don't have to worry about getting food stuck in your braces. Food stuck in traditional braces can be hard to clean, leading to bad breath and tooth decay.
Then, you simply brush and floss your teeth and lightly brush your aligner trays with warm water after every meal and pop them back on. That simple.
Discreet
Others may not notice that you're wearing Invisalign braces because they're made of a thin crystal-clear plastic material. You can go about your life feeling confident while you're undergoing treatment.
Eat what you want
Metal braces wearers are told to avoid all kinds of food that can get stuck in their braces, causing not only embarrassment but also possible damage to the braces. Not so with Invisalign, because you remove your trays to eat, letting you eat whatever you like!
How long do I have to wear Invisalign braces?
As you might imagine, the duration of your treatment depends on how much straightening out your teeth require, but most adult teeth are corrected in less than a year. Teenagers tend to need a little longer, usually 12 to 16 months.
For many people, results will begin to be visible in a few months. Some patients have transformed their smiles in as little as six months!
Another important factor affecting the length of your Invisalign treatment is how faithfully you follow the treatment plan. Best results are obtained by wearing the trays for 22 hours a day, removing them only for eating, drinking, then brushing and flossing your teeth, and cleaning the trays. That said, you can remove them for a special event or important meeting, but consistent wear is essential for good results.
Does Invisalign give the same results as metal braces?
In most cases, yes!
How much does Invisalign cost?
For many people, choosing braces comes down to cost. How does the cost of Invisalign treatment compare to regular metal braces? The truth is that the price of Invisalign braces is usually a bit higher than regular braces. The average cost of Invisalign can range between $3500 and $8000 as compared to regular braces that range from $2500 to $6000.
The good news is that most insurance plans cover Invisalign just as they do regular braces. Even so, it's a good idea to first check with your insurance company to determine the extent of coverage they provide. Many patients cover whatever their insurance doesn't using their FSA and HSA accounts. Cost discussions should come up during your initial consultation.
About MD Periodontics
With over 20 years of experience, the dental care providers at MD Perio are uniquely qualified to perform a full range of cosmetic dental procedures. Drs. Moshrefi and Daneshmand, DDS, are warm and personable doctors and will have frank conversations with you about how to best achieve your beautiful, healthy smile!
If you are unhappy with your smile and would like to explore the available options for acquiring the beautiful smile you desire, give us a call at (855) 245-1100 or click here to schedule your free consultation today.
At MD Periodontics, we take our patients' safety seriously. Our facility's Covid-19 patient safety procedures exceed all CDC recommendations. Masks are required in our institutes at all times.
We are conveniently located to patients throughout Southern California and the Los Angeles area. Our Beverly Hills office is conveniently located near West Los Angeles, Culver City, West Hollywood, Downtown Los Angeles, Marina del Rey, Pacific Palisades, Malibu, Manhattan Beach, Sherman Oaks, and Encino.

Latest posts by Dr. Nazanin Daneshmand
(see all)