"Should I floss?" The answer isn't that straight-forward
Several years ago, in the mid-2010s, a big splash came from the dental community when an Associated Press reporter asked the US government for evidence that flossing your teeth yields benefits to your oral health. When the response came back, it was an admission that they didn't have any such evidence.
Of course, everyone rejoiced because they were all sick of dentists telling them to floss every day. Some of us are also tired of flossing 365 times the night before our annual dental visit.
However, the American Dental Association (ADA) implored everyone to calm down and keep flossing. Why? Do I really need to floss?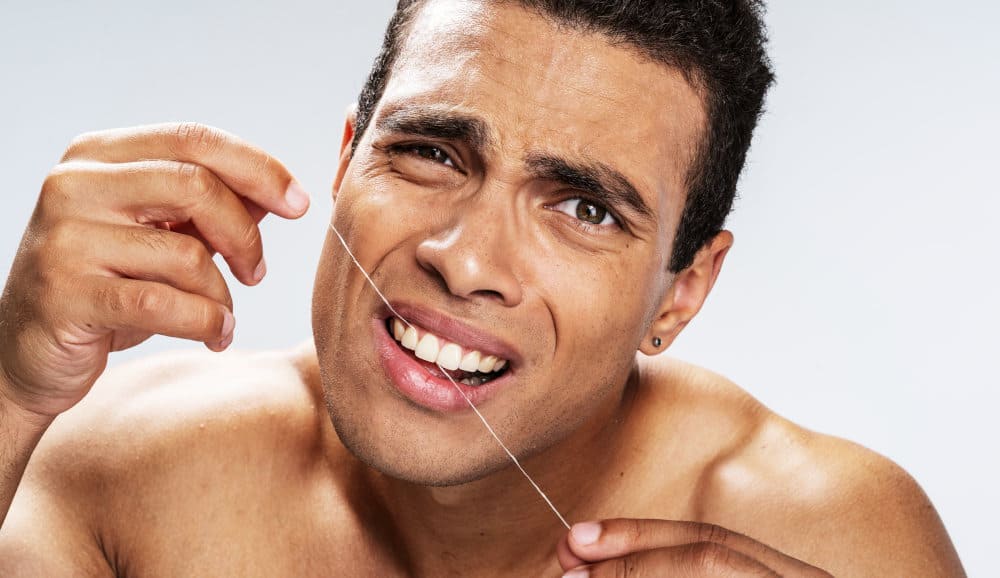 What does flossing do?
The ADA had to admit that there wasn't compelling evidence that daily flossing prevents cavities. However, that claim has never been the ADA's main argument for why we need to floss.
Dentists refer to flossing as interdental cleaning, and they've been encouraging us to do it for obvious reasons – food particles can get stuck between our teeth, and sometimes, your toothbrush isn't enough to get them out on its own.
The longer the particles sit in place, the higher the chance of that stuck food damaging your teeth. Tooth decay occurs when bacteria in our mouths find material to eat, like sugars and starches left on our teeth. The by-product of this feeding is plaque, an acidic substance that attacks tooth enamel.
About 500 species of bacteria live beneath your gumline, and every human mouth holds about 6 billion bacteria. So, there's no completely getting rid of them. But we can do our best not to leave food lying around for them. That's why we brush our teeth regularly.
If you leave food between your teeth, that's just ringing the dinner bell for the bacteria, even if you brush really well.
Enter flossing. We remove food and any plaque that might have just started building up by working some floss or another interdental cleaner down between each tooth. Regular flossing, in turn, keeps our mouths healthier.
The advent of floss picks and interdental brushes have made it even easier to clean those bacteria-harboring gaps between our teeth!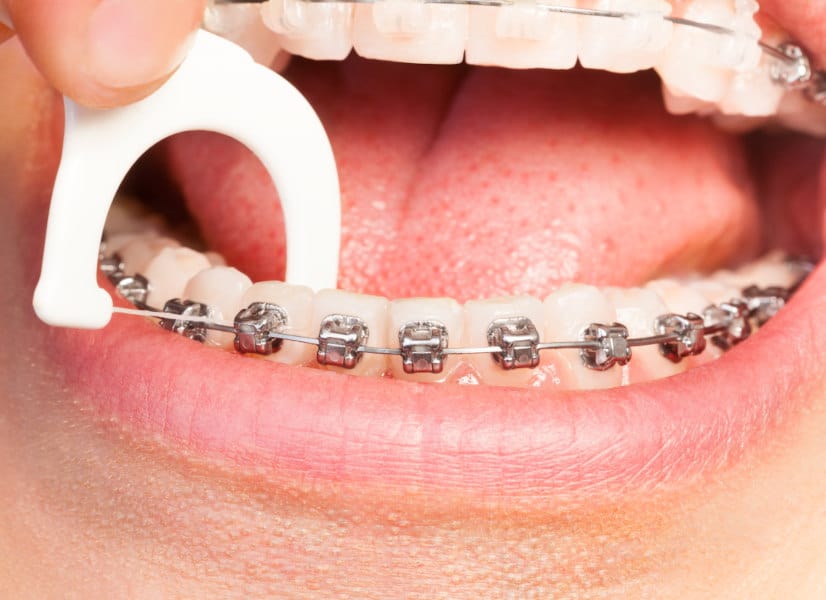 How important is flossing with braces?
Flossing is extra important with braces! While it may be tricky to navigate standard dental floss, floss picks, water flossers, or other interdental cleaners are your best friend. The brackets, wires, and bands of your braces create more hard-to-reach pockets for food to get stuck in.
Regular flossing is a key aspect of good oral hygiene and will make sure your teeth are happy and healthy when those braces come off.
Does flossing work?
The original request from the AP reporter elicited something of a we-don't-really-know response, but that's because he was asking specifically about cavity prevention.
Cavities most often form on the chewing surfaces of our back molars. Those teeth have many topographical features on them, and we can easily miss some tiny bits of food or sugars when we brush back there, opening the door for cavities to begin forming.
It seems rather apparent that threading a piece of waxed string between your teeth would not do anything about food on top of the tooth, but the ADA never claimed it would.
While flossing can prevent cavities from forming between our teeth, that's not a typical place for them to develop. So, asking for proof that flossing prevents cavities is like asking for evidence that a Hall of Fame quarterback knows how to knit. He might, but nobody's claimed he could.
What are the benefits of flossing?
What does the ADA say flossing does, then? Plenty. And even if there was no science behind flossing, we all know how satisfying it is to get a piece of apple skin out from between our teeth where it's been stuck since that morning snack break. There are definite benefits of flossing.
1. Flossing removes plaque
As mentioned above, plaque builds up quickly, and you must remove it. It will eat into tooth enamel. Once that's gone, it's gone for good, so we want to do our best to keep it. Regular plaque removal stands as a solid defense against decay and potential tooth loss.
2. Keep tartar buildup under control
Plaque eventually hardens into tartar, which doesn't just brush off. Plus, it's rough, which irritates your gums.
3. Prevent gum disease
That irritation of your gums causes inflammation as a result of gingivitis. This early stage of periodontal disease can result in bleeding gums. If you spit out blood when you brush your teeth, you probably have some gingivitis going on. Flossing regularly would have prevented the condition.
Since your dental health is connected to your overall health and wellness, it's important to reverse gingivitis quickly (or prevent it altogether!).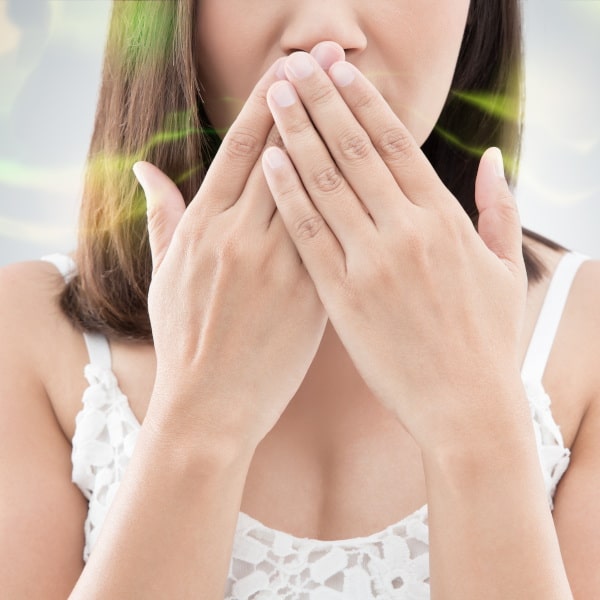 4. Does flossing help bad breath?
Did you know morning breath is caused by bacteria growing and thriving as we sleep? Our saliva can break down bacteria, but our mouths are dryer asleep than when we're awake. And, if we don't floss, some of those odor-causing organisms take root between our teeth and give us bad breath.
Using mouthwash can help kill some of the bad-breath bacteria, as well as cover up the smell. However, only flossing can get the built-up bacteria or plaque hiding under the gumline. Good dental hygiene will prevent bad breath instead of just covering it up!
5. Enjoy easier dental visits
Dentists are usually nice people, but for most of us, seeing them is low on our list of desired activities. By flossing regularly, you help minimize the things your dentist will need to do while you're there. You know the dental hygienist is going to ask if you've been brushing, wouldn't it be nice to honestly answer "yes"?
Don't want to deal with deep cleaning, root planing, or scaling? Brush and floss regularly! No plaque or tartar buildup means you won't need those procedures. Daily flossing will help your dental visits be more about the checkup than deep cleaning or damage control.
How often should you floss?
Floss at least once a day, and brush your teeth at least twice daily (with toothpaste!). Curve the dental floss into a c-shape and gently slide it along the tooth and under the gumline. Then, gently pull the floss back up while hugging the tooth. This will pull out any accumulated plaque or bacteria that's hiding under the gums. Repeat daily until it becomes another boring habit instead of a painful chore!
Can you floss too much?
With proper flossing (gently, to prevent damage to your gums), not really. While you can't overdo it, once a day will be fine.
Why choose MD Periodontics for your periodontal care?
Two of the most trusted and respected periodontists and holistic dentists in Southern California are the board-certified husband and wife team of Dr. Abdy Moshrefi, DDS, and Dr. Nazanin Daneshmand, DDS.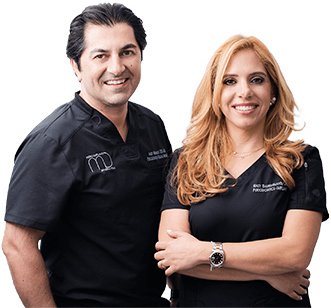 At our beautiful Beverly Hills offices, MD Periodontics offers patients the best periodontic treatment that Los Angeles has to offer. Our holistic approach to dentistry ensures that your treatment utilizes the least toxic materials available, the most advanced technology, and amenities including aromatherapy to minimize discomfort and stress during procedures. You'll experience a supportive atmosphere you would never expect to find at a dental office and results that you will love.
To schedule a consultation, click here or call us at (855) 245-1100. Your smile will thank you!
We are conveniently located for patients throughout Southern California and the Los Angeles area. Our board-certified periodontists and implant dentistry experts are available at locations in or near Santa Monica and Beverly Hills. We are conveniently located near West Los Angeles, Culver City, West Hollywood, Downtown Los Angeles, Marina del Rey, Pacific Palisades, Malibu, Manhattan Beach, Sherman Oaks, and Encino.
At MD Periodontics we take our patients' safety very seriously. That's why our facility's Covid-19 patient safety procedures far exceed all CDC recommendations.

Latest posts by Dr. Abdy Moshrefi
(see all)