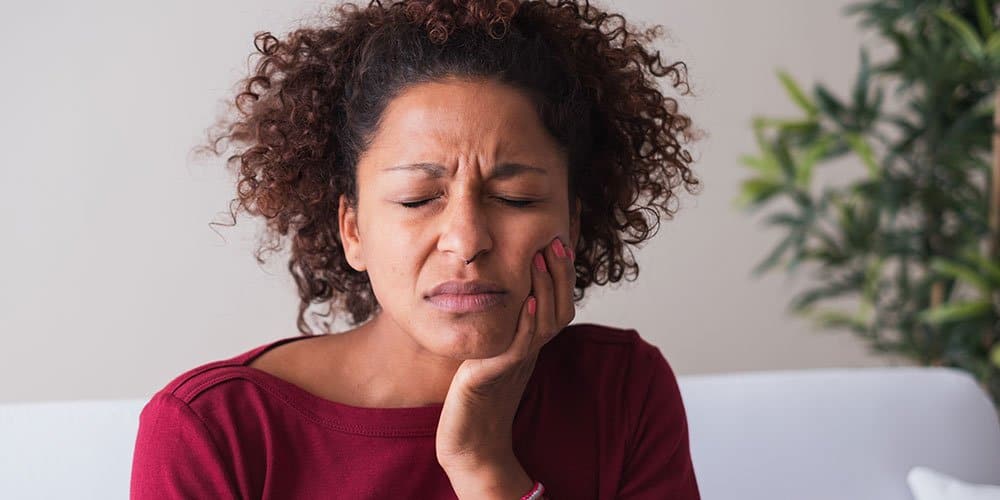 Up until a couple of decades ago, it was generally assumed that most heart disease was a function of accumulated cholesterol converging with high blood pressure. However, around the turn of the 21st century, researchers learned that prolonged levels of chronic inflammation are also related to an increased risk of heart disease. The relationship between chronic inflammation and heart disease was found to be at least as strong as that between cholesterol and cardiovascular disease.
What is chronic inflammation and why it is so harmful to our health?
The redness and swelling that characterize inflammation are ordinarily a sign that our body's immune system is doing its job: fighting off micro-invaders of one kind or another.
Inflammation is a byproduct of our immune defense system's response to injury or infection. It's usually an indication of a microscopic battle scene, where white cells, T-cells, and other tiny defenders are battling invasive bacteria.
But chronic inflammation, where the invisible conflict drags on, is a sign that our immune system has literally turned against us. The irritation caused by prolonged low-level inflammation can promote a buildup of plaque on arterial walls (a.k.a. atherosclerosis). The plaque then loosens and thereby triggers blood clots – a primary cause of heart attacks and strokes.
According to a scientific statement published by the American Heart Association in 2012, observational studies support an association between periodontal disease and cardiovascular disease.
So, what does gum disease have to do with heart disease?
There are two primary sorts of gum disease: gingivitis and periodontitis. Gingivitis causes red, painful, and tender gums, while periodontitis leads to infected pockets of bacterial pus. Bacteria are overabundant in each condition.
While a strict cause-and-effect relationship between oral health and heart health has not yet been completely established, several studies indicate that periodontal disease really does increase the risk of heart disease. In fact, people with gum disease have two to three times the risk of having a heart attack, stroke, or other serious cardiovascular event.
How can gum disease result in heart disease?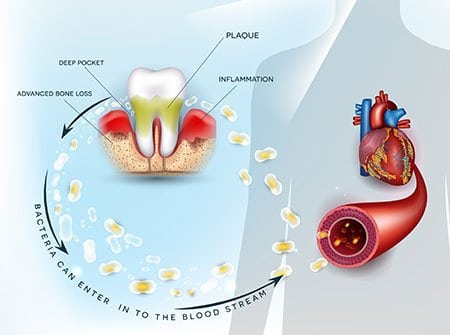 The bacteria that are generated by gum disease can travel throughout the body, perhaps triggering chronic low-level inflammation in the heart's vessels and infection within the heart.
Poor oral health increases the risk of a bacterial infection in the bloodstream. The oral bacteria generated by gum disease can travel throughout the body, perhaps triggering coronary artery disease in the heart's blood vessels, as well as endocarditis, an inflammation involving the heart's valves. That outcome can be particularly troublesome for patients with artificial heart valves.
What are the symptoms of gum disease?
The American Academy of Periodontology lists the signs of periodontal disease as the following:
Red, swollen, or tender gums
Bleeding while brushing, flossing, or eating crisp or hard food
A receding gum line
Tooth loss and/or teeth that are starting to separate from each other
Pockets of pus between the gums and teeth
Other sores in the mouth
Persistent bad breath
A change in the way that dental appliances fit
How to prevent gum disease
Here's some good news – preventing and treating most types of gum disease are straightforward processes of standard dental care.
Irrespective of the status of your heart health, it's important to have regular visits to your dentist as part of your long-term preventative care program.
A good oral hygiene protocol includes brushing at least twice a day (for at least two minutes each time). Get dental checkups at least every six months, for both cleaning and an evaluation. And don't forget to floss every time you brush. Flossing is still just as important as your mother always said it was.
A diet rich in fruits and vegetables and replete with foods containing Omega-3 fatty acids, such as fatty fish, has been shown to reduce chronic inflammation.
Your dental health is important to your overall health
It's always been important, for a multitude of reasons, to brush your teeth and maintain good oral hygiene.
Now, with the news about the linkage between poor oral health and coronary heart disease, there is another, even stronger reason to practice diligent oral care. Anyway, you have nothing to lose, other than that additional four minutes each day with toothbrush in hand. And you might be warding off a heart attack or stroke.
Why MD Periodontics should be your Los Angeles periodontists
Two of the most trusted and respected periodontists and holistic dentists in Southern California are the board-certified husband and wife team of Dr. Abdy Moshrefi, DDS, and Dr. Nazanin Daneshmand, DDS.
At our beautiful Beverly Hills offices, MD Periodontics offers patients the best periodontic treatment that Los Angeles has to offer. Our holistic approach to dentistry ensures that your treatment utilizes the least toxic materials available, the most advanced technology, and amenities including aromatherapy to minimize discomfort and stress during procedures. You'll experience a supportive atmosphere you would never expect to find at a dental office and results that you will love.
To schedule a consultation, click here or call us at (855) 245-1100. Your smile will thank you!
We are conveniently located to patients throughout Southern California and the Los Angeles area. Our board-certified periodontists and implant dentistry experts are available at locations in or near Santa Monica and Beverly Hills. We are conveniently located near West Los Angeles, Culver City, West Hollywood, Downtown Los Angeles, Marina del Rey, Pacific Palisades, Malibu, Manhattan Beach, Sherman Oaks, and Encino.
At MD Periodontics we take our patients' safety very seriously. That's why our facility's Covid-19 patient safety procedures far exceed all CDC recommendations.

Latest posts by Dr. Abdy Moshrefi
(see all)