What is a Sinus Lift Surgery?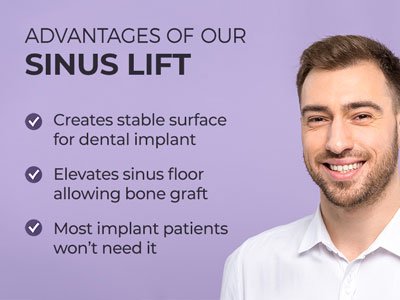 A Sinus Lift (also known as Sinus Augmentation) is a bone grafting procedure that is sometimes needed to prepare your mouth to receive a dental implant. The bone graft is used to build the height of your upper jaw bone so that it can adequately contain and properly fuse with a dental implant.
A sinus lift is the most common bone grafting surgical procedure performed on patients with an insufficient amount of bone in the upper jaw. It is performed using local anesthesia to numb the area.
Is a Sinus Lift required before every dental implant procedure?
Not necessarily. Our upper jawbone (called the maxilla) lies just below a sinus cavity (known as the maxillary sinus) that is located at the back of our cheek. A thin sinus membrane separates the sinus from our upper jaw ridge.
When a person has an especially large or deep sinus, or when their upper jaw height is shallow due to their particular anatomy or bone loss resulting from missing teeth or prior procedures, this can leave the jaw without enough bone depth to securely hold a dental implant in place.
Another problem that occurs when the jawbone lacks the necessary depth is that the roots of a natural tooth or the tip of an implant can punch through the very thin layer of bone and sinus membrane that separates the jaw and the sinus, creating an undesirable connection between your maxillary sinuses and your mouth. The most likely location for this to occur is in the back of the mouth over the molars or premolars.
What Happens During a Sinus Lift Procedure?
During a sinus lift, one of the highly experienced periodontists in our Beverly Hills office will access the jawbone by making a tiny window in the gum lining the tooth socket to access the jawbone. Next, they will gently and carefully separate the thin lining of the floor of the maxillary sinus from the upper jaw bone, elevate the sinus floor, and inject bone graft material through the socket window, thus building up the volume of bone between the tooth socket and the sinus floor.
This bone grafting material will be secured in place with dissolving stitches that will hold the gum tissue shut.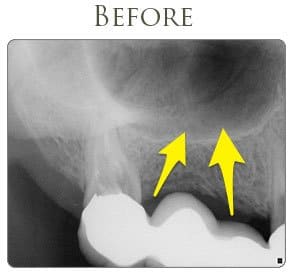 What is the Healing Process Like After Sinus Lift Surgery?
Following a sinus lift surgery, you can expect to experience some pain, local swelling, and bleeding from the mouth or nose. During the first couple of weeks of recovery, you will be asked to avoid blowing your nose or sneezing forcefully, as this could force open the incision in your gum, causing the bone graft material to displace.
Your doctor will prescribe medications for pain and give you tips that will help make your recovery more comfortable. You will also be prescribed antibiotics and perhaps an antiseptic oral rinse to prevent your surgical site from developing an infection. You will be cautioned to avoid chewing hard foods on that side until your gum fully heals.
Ten days following your procedure, you will follow-up in our office for a wound check. Your doctor will check your healing progress and give you further instructions regarding your oral care if needed.
Following a sinus lift procedure, it will take several months for the sinus graft to heal and consolidate with the jawbone (a process known as osseointegration). Once this is complete, there is an adequate bone height to support a long-lasting dental implant so that your periodontist can proceed with your implant placement.
Why choose Los Angeles' MD Periodontics for Sinus Lift and Periodontal Surgery?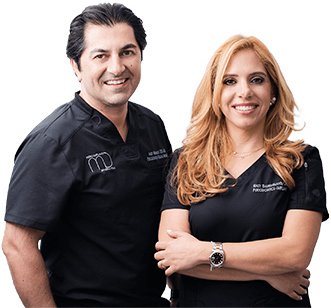 Dr. Abdy Moshrefi and Dr. Nazanin Daneshmand have been successfully placing dental implants since 1999. This board-certified husband and wife team have a hard-earned reputation for performing the best sinus lifts and periodontal surgical options Los Angeles has to offer.
Your dental care takes place in a state-of-the-art facility that's conveniently located in Beverly Hills. Our professional and highly experienced staff always makes sure that all your questions are answered and that you are comfortable throughout your treatment. We also diligently follow up with you after your oral surgery to keep a close watch on your progress and ensure that you are doing well.
To schedule a consultation, click here or call us at (855) 245-1100. Your smile will thank you!
At MD Periodontics, we take our patients' safety seriously. Our facility follows Covid-19 patient safety procedures that exceed all CDC recommendations. Masks are required in our institutes at all times.
We are conveniently located to patients throughout Southern California and the Los Angeles area. Our Beverly Hills office is conveniently located near West Los Angeles, Culver City, West Hollywood, Downtown Los Angeles, Marina del Rey, Pacific Palisades, Malibu, Manhattan Beach, Sherman Oaks, and Encino.