From Paul Wall to Lil Wayne, and from Nelly to Madonna, Grillz are now one of the most popular ways to add a bold (but temporary) fashion statement to your mouth.
Although occasionally maligned by the dental establishment, teeth Grillz are here to stay. At MD Periodontics, we are embracing the opportunity to play with our artsy sides – we're just ensuring it's done right!
Thanks to our new partnership with Gabby Elan Jewelry, we can now offer custom Grillz designs and installation. Their finely-crafted pieces and our medical expertise will guarantee a safe and pain-free experience.
What Are Grillz?
Sometimes known as "fronts" or "grills," these are removable teeth covers worn for decoration's sake. Unlike traditional solid gold teeth or gold plated teeth caps, they do not require removing the tooth, chipping it, or creating permanent damage. Instead, grillz are meant to fit around and on top of your teeth.
Grillz jumped to fame just a few years ago thanks to the influence of hip-hop artists. Pretty much every famous rapper will sport diamond dust grillz at some point, but the trend is now also embraced by athletes, influencers, and actors.
This popularity means that there are now many options for custom gold Grillz, ranging from cheap grillz made from heavy alloys to 18K gold grillz, although they don't all offer the same materials, quality, or safety standards.
At MD Periodontics, our goal is to ensure your Grillz can be as safe as regular jewels – even if that means adding a couple of steps to the process.
The best way to wear Grillz safely is to ensure they are well-fitted and cleaned frequently and thoroughly.
Custom Grillz: Models, Designs, and Materials
Just like most types of body jewelry, Grillz are made from high-quality, hypoallergenic metals such as gold, platinum, titanium, or diamond grillz. Keep in mind that not all of them will be equally safe!
What are the safest materials for Grillz?
Gold and white gold
Solid gold is non-reactive, hypoallergenic, doesn't tarnish, and has anti-bacterial properties. This is why it's the most popular material for yellow gold Grillz.
That being said, not all gold shines the same. Grillz can be made with gold alloys ranging from 10K to 24K. Lower carats (like 10K gold grillz) produce stronger Grillz, but this is not necessarily better, as they could harm your tooth instead.
If you want to play it safe, stick to 18K or 24K gold or white gold Grillz, instead of other alloys such as rose gold or two-tone metals.
Polished platinum
Grillz lean pretty heavily towards the "gold and diamonds" look. However, if you seek a lighter (or spookier) effect, you may be looking at silver or black-coated fang Grillz instead.
For silver Grillz, the metal of choice should always be platinum. It is more hypoallergenic than sterling silver, although it is relatively easy to scratch.
Materials to stay away from
Alloyed metals
Unless you are dealing with well-known "biocompatible" metals, it is always pretty hard to predict how your body will react to a material ahead of time.
Cheaper gold alloys (like 14K gold grillz or below) are more likely to contain nickel, cobalt, or chromium. They are much more likely to cause an allergy and tarnish easily, which could permanently stain your surrounding teeth.
Glass or bijouterie beads
Colored glass or cheap plastic beads can chip or break, and you could swallow them by accident.
Are you looking for the most resilient and bling-worthy Grillz? VVS diamonds are nearly indestructible, and it will be nearly impossible to break them while eating.
Details, models, and styles
Grillz have been around for a couple of decades, but since most pieces are custom-made, the top trends are changing all the time. If you don't know what will go best with your fashion style or music video, explore the following options:
Open face grillz
This is a lighter option that simply outlines a tooth (or a row of them). They will make the contours pop, but won't cover the tooth's "face" completely.
Cap grillz
Cap grillz are essentially a slip-on cover for one or two adjacent teeth. If they go directly on top of your canines, they are known as Grillz with fangs instead. They work great with a discreet diamond dust finish, or as the starting point for a complex pendant.
Deep cut grillz
Deep cut models cover the entire tooth up to the edges of your gums, which makes them look more like traditional gold teeth. They offer a comfy and stable alternative for full-row bottom grillz, whether smooth or with a diamond-cut texture.
Are Grillz Safe for My Mouth?
According to the American Dental Association, no studies prove grills are safe for the long-term, but there is no conclusive proof showing that they are harmful either.
Some dentists have linked the use of Grillz with:
Faster tooth decay
Canker sores
Increased risk of cavities
Allergic reactions
Preventing damage or side effects of Grillz
The best way to wear Grillz safely is to ensure they are well-fitted and cleaned frequently and thoroughly.
The following tips will also minimize the risk of any side effects:
When putting them in, don't force them onto your teeth. Instead, slide your Grillz gently on top of your teeth.
Always brush and floss before and after donning your Grillz.
Avoid wearing them when eating hard foods or biting directly with them.
Don't leave Grillz on teeth overnight or sleep with them.
Make sure you always let your teeth "rest" without Grillz at least two days per week.
When removing your Grillz, always inspect them for any bent or tarnished edges.
Clean them with soapy, warm water and a soft-bristled toothbrush. If you have a textured model (such as diamond dust or diamond cut grillz), make sure you scrub every edge!
Never use commercial jewelry cleaners or glue to hold them in place (custom-fitted Grillz should NOT need any glue!)
Finally, the most important thing you can do to protect your teeth while wearing Grillz is to ensure they are well-fitted. They should fit snugly around your teeth, without scratching, pressing, or leaving any spaces for bacteria to hide. When you get your Grillz from a skilled periodontist, you know they'll be properly designed to fit your teeth.
What is the Process to Get Custom Grillz?
When well-fitted, you should have no problem getting your Grillz on and off at home without any help. However, there's a lot of work to be done before getting to that point!
Custom Grillz should be made from a 3D image of your teeth and surrounding gums. While you can technically do this with a DIY home mold kit, this can quickly turn messy and has a high chance to yield inaccurate results. In turn, this can make your expensive set of jewelry useless or dangerous to use.
Examining your teeth
During the initial consultation, your dentist will look at your teeth to make sure they are in good starting condition.
Then, we will make sure we give your oral contour a fresh start through deep cleaning. This will help us make the best possible digital impression.
Getting a 3D Model of Your Mouth
Traditionally, Grillz were made using a physical impression of your teeth. This involved covering your teeth with a soft putty, which you would then have to bite until it hardened. No moving, talking, or gagging in the meantime!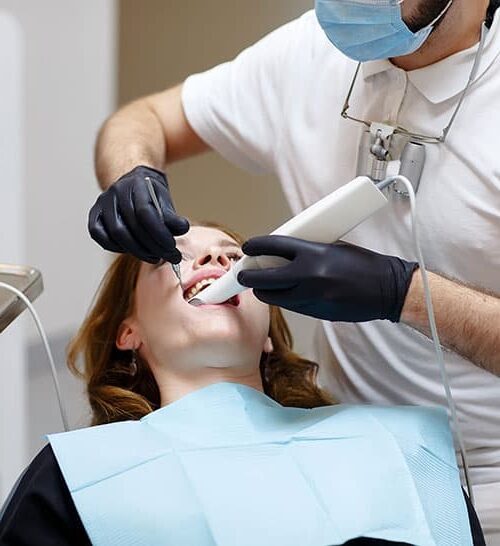 Fortunately, technology has allowed us to simplify this step. At MD Periodontics, we now use a TRIOS 3D digital scanner. With this, we can create a digital image with the exact size and shape of your entire mouth in less than two minutes.
Sending your virtual impression to the jewelers
Then, we'll send your dental "blueprint" to Gabby Elan Jewelry, one of the top custom jewelry makers in the country.
Their expert artisans will adapt your chosen model according to your dental impressions. Then, they will ship them back to us.
Trying on your grills for the first time
As soon as we receive your customized grills, we will contact you for a trial fitting. Here, we will show you how to put them on safely and answer any questions you may have.
Why trust MD Periodontics for Custom Grillz?
Experience: Board Certified Periodontist Drs. Moshrefi and Daneshmand, DDS, have almost 40 years of combined experience in periodontics, and dental implant surgery. These specialties are things that general dentists lack, but they guarantee the most accurate impressions for your Grillz.
Personalized service: At MD Periodontics, we know that every patient is different. Our experienced specialists will take the time to examine your teeth and recommend the best Grillz model for your teeth and sense of style.
Attention to detail: At every step of the process, you will receive the least toxic materials available and the most advanced technology.
To schedule a free consultation, click here or call us at (855) 245-1100.
We are conveniently located to patients throughout Southern California and the Los Angeles area. Our Beverly Hills office is conveniently located near West Los Angeles, Culver City, West Hollywood, Downtown Los Angeles, Marina del Rey, Pacific Palisades, Malibu, Manhattan Beach, Sherman Oaks, and Encino.
Grillz FAQs
Can you eat with Grillz?
While it is technically possible to eat with dental grillz, it is generally not recommended. The grillz can hinder proper chewing, potentially leading to digestion issues and discomfort. Additionally, they can trap food particles, increasing the risk of dental hygiene problems.
Are Grillz are not permanent?
Grillz are not permanent dental fixtures. They are removable accessories that can be taken off and put back on as desired. They are designed to be temporary, allowing you to wear them for special occasions or for aesthetic purposes with the option to remove them when needed.
Can you get Grillz with braces?
Yes, it is possible to get Grillz with braces, but it is not recommended. The Grillz may not fit properly, which can cause discomfort and potentially damage the braces. It's best to wait until the braces are removed before considering getting Grillz.
Can you get a gold Grillz with missing teeth?
Yes. Grillz can be custom-made to fit over your existing teeth, and cover the gaps left by missing teeth. However, it's important to consult with a dental professional to ensure proper fit and consider other dental options to address the issue of missing teeth for long-term oral health.
Can you get Grillz with an overbite?
Yes. Grillz can be custom-made to fit over your existing teeth, regardless of their alignment. However, it's important to consult with a dental professional to ensure proper fit and address any underlying orthodontic concerns associated with the overbite for optimal oral health.
How do you clean gold Grillz?
Start by rinsing them with warm water to remove any loose debris. Then, create a cleaning solution by mixing equal parts water and hydrogen peroxide or vinegar.
Soak the Grillz in the solution for a few minutes, gently scrub with a soft toothbrush, and rinse thoroughly with water before patting them dry with a soft cloth.