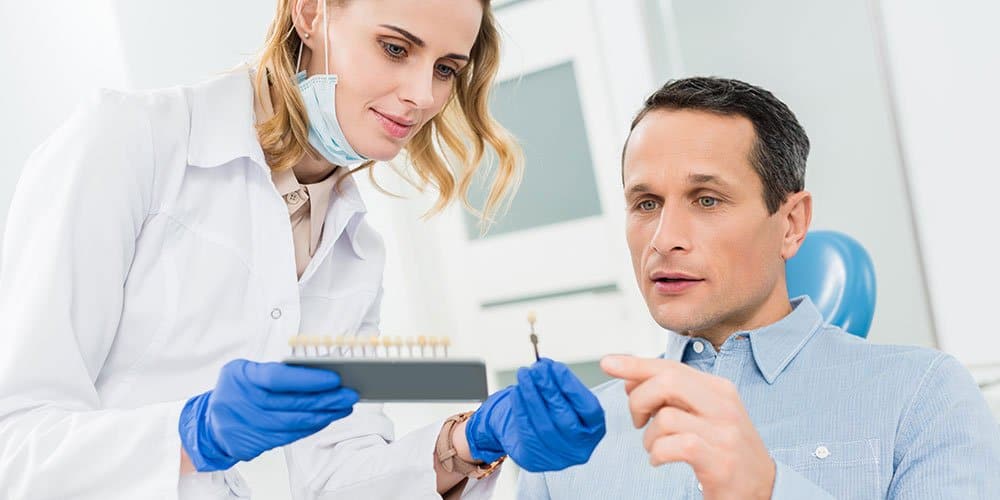 Your smile is often the first thing people notice about you. When your smile is damaged due to inadequate dental care, missing teeth, or trauma, it has a negative impact on your self-confidence, as well as your overall health. If you have gaps in your smile or are looking for an alternative to the inconvenience of dentures, dental implants can restore your oral health and give you a beautiful smile.
At MD Periodontics, we have nearly two decades of experience designing smiles, placing dental implants, and restoring healthy, natural-appearing teeth.
What are dental implants?
Dental implants are a whole lot more than artificial teeth! A dental implant is actually a prosthesis that replaces a single or several teeth. Even better, dental implants feel and perform like your own natural teeth!
Each implant consists of three components: first, a titanium post that is inserted into your jaw and grows into your natural bone. After the post fully integrates into your bone, a connecting piece (abutment) is threaded onto the dental implant post. This post holds and supports part three: the artificial porcelain tooth (known as the crown).
What are dental implants made of?
Dental implants primarily use one of two materials: titanium or zirconia (ceramic). The type of implant used will depend on the individual patient's needs.
Titanium implants have been in use for almost 60 years, are highly biocompatible, and bond well with the natural bone (a process called osseointegration).
Ceramic zirconia implants came into use more recently, but have several advantages. Three big advantages are that they are completely metal-free, less prone to temperature sensitivity, and are almost indistinguishable from your natural teeth.
What do dental implants look like?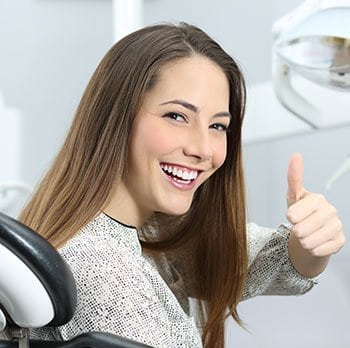 Many prospective patients with tooth loss ask us "do dental implants look real?" This question makes a lot of sense. Plus, if the patient needs front teeth replaced, we would be shocked if they did not have some apprehension as well.
Fortunately, the answer is "YES!" With a success rate of about 100% when done by a very experienced periodontal specialist, tooth implants are designed to look and feel just like real teeth. And if you compare well-made dental implants to other tooth restorative options like removable dentures, partial dentures, or bridges, implants are the most natural-looking option by far.
If you aren't yet convinced of how natural implants can look, check out our before-and-after gallery.
What are the advantages of dental implants?
There are a number of reasons why dental implant procedures have become so popular. These include:
Better appearance – When placed by experienced and skilled oral surgeons, your new teeth look and feel like natural teeth.
Greater comfort – Because implants fuse to your jaw bone, they look, function, and feel natural. Meaning they don't slide while you eat or speak as dentures sometimes do. With implants, you can eat and talk with confidence and without discomfort.
Better self-esteem – Dental implants can restore a natural-looking smile, making you feel better about your appearance.
Better oral health – Because applying dental implants doesn't involve grinding down or removing your natural teeth, more of your own teeth are left intact. Thus improving your future oral health by reducing bone loss and gum disease. What's more, individual dental implants can replace a single tooth without impacting the surrounding healthy teeth.
Convenience – Your life is made so much simpler when you don't need to fuss with removing and cleaning dentures. Plus, no one likes dealing with messy denture adhesives while also maintaining your natural teeth and gums.
Durability – Unlike natural teeth, implants can't develop disease or decay. That said, keeping your gums healthy with diligent flossing and regular professional cleanings is essential for lasting implant success.
How long does it take to replace teeth using dental implants?
The fact is, procedure time varies with each patient, so a consult with a dental implant specialist will be needed. Your oral surgeon can provide you with a precise treatment plan that includes the estimated time needed to complete the entire process.
Treatment time depends upon many factors including (but not limited to):
Your oral needs
Your medical and dental history
The condition of your jawbone
Number of implants (single dental implant to a full set)
Depending on these variables, an implant process can be as short as a few months or take over a year for more complex conditions.
The consultation may also include X-rays and/or CT scans to evaluate your bone and gum health. You may require bone grafting or a sinus lift to prepare your jaw for implants. These additional procedures will, of course, increase the total amount of time it takes to get your new smile.
What is the dental implants procedure?
Implants are placed in a several-step process. During your initial consultation, you'll discuss your specific needs and goals with your implant surgeon. Your surgeon will take a 3D CT scan in our dental office which forms the basis for designing your personalized treatment plan. You will leave our office with an understanding of not just the cost of dental implants, but what your tailored treatment plan will cost.
You return to the clinic to remove the tooth and tooth root that will be replaced with a single implant. If your bone or gum tissue is infected, this must be treated with antibiotics before proceeding to the next step. If the bone in your jaw lacks sufficient thickness or enough bone density, you might require a bone graft, which can take anywhere from three to six months to fully heal.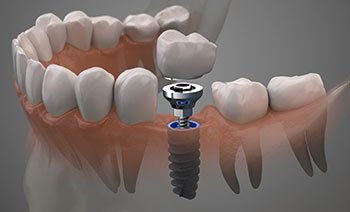 Next, you'll return to the clinic to have your implant placed. The implant will require three to six months to fully fuse with the grafted bone and jaw. Finally, the abutment (connector piece) and crown are fastened onto the implant.
If you are replacing all of your upper or lower teeth (known as a full arch), your surgeon will remove all of the required teeth. Then, they will smooth out the bone around the area where the implants will be inserted before fastening them to your jaw. Next, the abutments and prosthetic teeth are fastened onto the implant posts. Most full arch procedures can be completed in one day.
What are All-on-4 dental implants?
You may have seen commercials advertising "Teeth in a Day," a full set of upper or lower teeth replaced in one visit.
All-on-4 implants are exactly what they sound like: four implant posts are inserted into the jaw, then a full arch of artificial teeth is affixed to the posts.
Technically, you go home with a full set of temporary teeth. But, they will allow you to continue eating, talking, and carrying on as normal while your gums heal. After 8 to 12 weeks, you return to the office to have your permanent teeth attached.
Is dental implant surgery painful?
Dental implant surgery is always performed using local anesthesia and, in case you require it, sedation is available for your comfort. You should not feel any pain whatsoever during your procedure. Once your surgery is over and the local anesthetic wears off, you may feel discomfort similar to that of tooth extraction.
Most patients manage their discomfort with over-the-counter pain medications like Tylenol or Advil and cool ice packs applied to the cheek over the treated area. If the surgery is more invasive, your surgeon may prescribe prescription pain medicine. You may also require a prescription for antibiotics and oral rinses to help expedite healing during the next week or two.
Can I eat after dental implant surgery?
On the day of your surgery, you probably won't feel like eating very much. You will be instructed to eat a soft diet to minimize the pressure you exert on your implant site, allowing it to heal quicker.
A soft diet can include foods that can be easily cut with a fork, such as:
Soft fruits and vegetables
Fish
Eggs
Tofu
Pureed soups
Soft breads, pancakes, and muffins
Rice and pasta
Yogurt and ice cream
You'll be asked to avoid chewing hard foods or eating foods that can leave particles stuck in between your teeth. Bits of food stuck between your teeth (like popcorn or seeds) can decay and potentially cause an infection.
Are Dental Implants Right for Me?
If you are considering dental implants for tooth replacement, you need to have healthy gums and bone tissue to which the implant post can be affixed. If the bone is not stable enough to support an implant, a bone graft may be required to prepare the area.
When evaluating your suitability for implants, your cosmetic dentist will use X-rays of your mouth to check bone density. If bone grafting is required, you'll have to wait a few months between the bone graft and implant placement. This gives the bone time to fully fuse, creating a stable surface for your new implants.
Also, you must commit to good oral hygiene and periodic checkups to maintain the integrity of your new teeth once they've been placed.
Why Should I Choose MD Periodontics when considering dental implants in Los Angeles?
MD Periodontics is Beverly Hills' premiere dental group for implant dentistry. Our periodontists' care and expertise attract clients not just from the Los Angeles area, but around the globe. A free consultation with either Dr. Moshrefi, DDS, or Dr. Daneshmand, DDS is the first step on your journey to a healthy solution to tooth restoration, and a smile you can happily share.
At MD Periodontics, we take our patients' safety seriously. Our facility follows Covid-19 patient safety procedures that exceed all CDC recommendations. Masks are required in our institutes at all times.
To schedule a consultation, click here or call us at (855) 245-1100.
We treat patients throughout Southern California and the Los Angeles area. Our Beverly Hills office is convenient to West Los Angeles, Culver City, West Hollywood, Downtown Los Angeles, Marina del Rey, Pacific Palisades, Malibu, Manhattan Beach, Sherman Oaks, and Encino.

Latest posts by Dr. Abdy Moshrefi
(see all)