What is a tooth extraction?
Though adult natural teeth are meant to last a lifetime, circumstances sometimes dictate that a tooth must be pulled. Common reasons for extractions include impacted wisdom teeth, injuries, infection, decay, gum disease, crooked teeth, or just having too many teeth.
What is the importance of choosing a periodontist for tooth extraction?
Think of a periodontist as your dental care expert. At MD Periodontics, our board-certified doctors operate out of a state-of-the-art Beverly Hills periodontist's office. Our experts specialize in the prevention, diagnosis, and treatment of periodontal disease, as well as the placement of dental implants for tooth replacement.
Our non-invasive approach to periodontal therapy preserves gum tissue and bone surrounding the extracted tooth. We also make you comfortable during the procedure using the proper amount of sedation. We prescribe antibiotics to facilitate healing and reduce any possible infection from the extraction.
The result: tooth extraction leads to wellness and excellent oral health.
A softer, gentler way of extracting teeth
When many people think of having a tooth pulled, they visualize a burly man with a pair of pliers yanking in a suffering person's mouth. While that scenario may have been true at one point, at MD Periodontics we have removed anguish and replaced it with comfortable Piezotome CUBE technology.
This minimally invasive approach to dental removal uses ultrasonic instruments, which are less upsetting to the jaw.
Piezotome technology acts on the tooth and not on the bone. Our periodontists use six thin ultrasonic tips of different widths inserted between the tooth and periodontal ligament. Once separated from the ligament, the doctor quickly removes the tooth without force.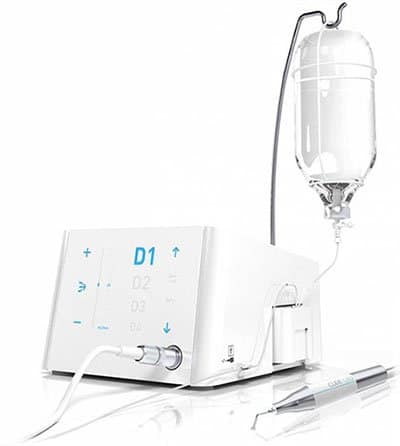 A partial list of patient benefits from Piezotome technology include:
Reduce post-operative pain and swelling by more than 50%
Less soft-tissue trauma
Easier to clean the surgery site
Allows for same-day extraction and implant placement
Wisdom teeth extraction
Wisdom tooth extraction is a common outpatient surgery to remove a person's third set of molars, which most often appear between the ages of 17 and 25.
Our doctors have board-certified expertise in extracting impacted wisdom teeth (almost everyone has at least one impacted tooth). By removing the impacted wisdom teeth, you avoid damage to the surrounding teeth, tissue, and bone.
Healing from wisdom teeth extraction
Though wisdom teeth surgery can be uncomfortable, most of our patients recover within four days. However, if your teeth were impacted at an awkward angle, it may take a week to recover.
For the first 24 hours after the surgery DO NOT:
Forcefully rinse your mouth
Drink through a straw
Drink alcohol
Use mouthwash with alcohol
Brush your teeth next to the extraction site
Smoke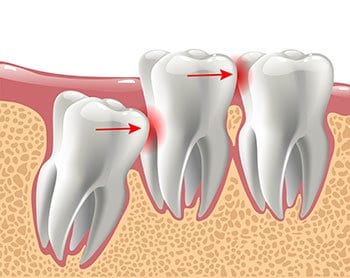 Remember to avoid energetic activities for at least a week after surgery to avoid dislocating the blood clot or displacing the stitches. Swelling, pain, and bleeding are common after wisdom teeth removal. Call our office immediately if the pain becomes unbearable or the bleeding is excessive.
How do you avoid a dry socket?
By some estimates, a dry socket occurs in up to 30 percent of wisdom teeth removals.
A dry socket describes inflammation of the jawbone after tooth extraction. A dry socket typically occurs within three days of oral surgery when the blot clot filling the area of the missing tooth is dislodged. This can cause surrounding teeth to shift and become crooked, inviting gum disease and tooth decay. If left untreated, the bone in the area will begin to reduce and be absorbed by the body.
Dry socket can be relatively painful, and usually requires a visit to our office.
At MD Periodontics, we bolster the bone where the tooth used to be immediately after tooth extraction.
When we perform an extraction, the empty socket is first disinfected to eliminate any bacteria that may be present. Often, we then perform a bone graft, which is the process of placing donor bone material in the socket. This not only reduces the bone's tendency to be resorbed but also sparks the generation of new bone.
Once the bone grafting is done, we place a collagen membrane over the graft site for protection. That gradually integrates into the bone and surrounding tissues. The gums over the extraction site can then heal completely without a dry socket.
What is tooth extraction aftercare?
As with any gum surgery, we monitor your healing process to be sure it is going as planned. We schedule patients for follow-up visits two weeks and two months post-surgery. If necessary, we take digital X-rays and 3D imaging during these visits to ensure the healing process is progressing adequately.
Our non-invasive approach to periodontal therapy preserves gum tissue and bone surrounding the extracted tooth.
Extractions and Immediate Implant Placement
We often perform extractions to facilitate dental implants. It may be possible to place an implant immediately after an extraction. The advantage to the patient is less treatment time and fewer office visits.
However, sometimes the site needs to heal before an implant. This is especially true when a bone graft was required to build up the bone.
If your plan includes an implant or other restoration to be completed at a later date, we put a temporary tooth in place, so you feel confident to smile, talk, and eat. We'll discuss this with you during your consultation before the extraction.
MD Periodontics: The safest tooth extractions in Beverly Hills and Los Angeles
Both Dr. Moshrefi and Dr. Daneshmand are board-certified periodontists. Their masterful dental skills and state-of-the-art equipment enable them to perform extractions and other periodontal procedures, such as treating gum recession, with exceptional results and marginal discomfort. They always listen to their patients and answer their questions. The best periodontics office in Beverly Hills has a friendly office staff that helps you get a healthy smile.
To schedule a consultation, with one of our experts, click here or call us at (855) 245-1100.
Our doctors
About Dr. Abdy Moshrefi
Dr. Moshrefi is considered one of the leading periodontal artisans in California, known for fearlessly handling the most complicated dental reconstruction cases. His remarkably real-looking dental implants and restorations set him apart from other periodontic professionals. His warm and confident bedside manner combined with honesty and transparency lead to rave patient reviews.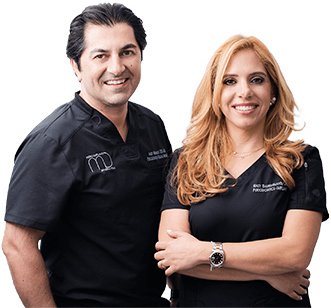 Dr. Moshrefi graduated from UCLA with Phi Beta Kappa and Magma Cum Laude honors. He then graduated from the University of Southern California School of Dentistry with a doctoral and specialty training in periodontology and holds a Master of Science degree in craniofacial biology. He is also a board-certified periodontist in addition to a dedicated holistic dentist.
About Dr. Nazy Daneshmand
Dr. Daneshmand is a board-certified periodontist. After studying biology at UCLA, she also graduated from USC's Dental School with a doctoral and specialty training in periodontics.
Dr. Daneshmand also specializes in the practice of "holistic dentistry," which uses metal-free and toxin-free dental options. She offers patients solutions to dental problems that are beneficial to her patient's overall health. Dr. Daneshmand also excels in the field of antimicrobial therapy. Her articles have been published and syndicated in numerous publications, including the Journal of Periodontal Research.
Dr. Abdy and Dr. Nazy have been married for 20 years and have three children together.
At MD Periodontics, we take our patients' safety seriously. Our facility follows Covid-19 patient safety procedures that exceed all CDC recommendations. Masks are always required in our institutes.
We are conveniently located to patients throughout Southern California and the Los Angeles area. Our Beverly Hills office is conveniently located near West Los Angeles, Culver City, West Hollywood, Downtown Los Angeles, Marina del Rey, Pacific Palisades, Malibu, Manhattan Beach, Sherman Oaks, and Encino.