World-class periodontists deliver skillful frenectomy surgery
Even though the frenectomy — a common surgical practice performed on infants, children, and adults — may be common, it is extremely important to have the surgery performed by the very best dental expert.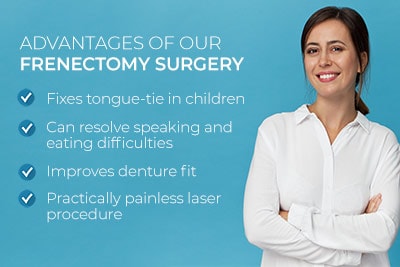 Our goal at MD Periodontics is to establish and maintain your oral health through accurate diagnosis and care of your periodontal disease. We use the most effective and scientifically proven surgical procedures available.
During the 20 years of practicing our periodontal specialty in Beverly Hills and Los Angeles, our patients have come to recognize us for our caring, concierge-level service.
What is a frenectomy?
A frenectomy is a surprisingly common procedure that involves removing connective tissue under the lip and tongue that are too tight (which is also called "tongue-tied). This procedure allows for normal movement and range of motion for the lip and tongue.
There are two main frena in the mouth: labial frenum (under the lip) and lingual frenum under the tongue.
Who is a candidate for a frenectomy?
Sometimes people are born with a frenum that grows too short, tough, or tight. In adults, this may make talking and eating problematic. Children may experience difficulty speaking or latching on. A frenectomy can also facilitate the orthodontist's work to fit braces correctly.
Adult frenum surgery
When a frenulum is tight, it may restrict movement and be particularly noticeable and troublesome when eating. Instead of getting help from your tongue to push food down the esophagus, an abnormal frenulum may create difficulty swallowing.
In addition, because chewed food is not effectively moving, it may become stuck in your teeth. Pieces of food stuck to your molars are unable to be removed with your tongue. This can impair your dental health.
Our goal at MD Periodontics is to establish and maintain your oral health through accurate diagnosis and care
Dentures may also require a tongue frenectomy. Sometimes the doctor cannot position the dentures to fit because of the frenum positioning.
A tight frenum may also make it difficult to speak because of impaired movement of the tongue. This can make it difficult for others to understand what you are saying.
Most of the time, frenectomy lingual and frenectomy labial abnormalities are corrected at birth or shortly thereafter. However, it is not uncommon for people to wait until adulthood to correct the problem.
Childhood frenum surgery
Frenectomy labial and frenectomy of the tongue are common procedures with infants and children. If a child has tongue-tie (ankyloglossia), they may have difficulty breastfeeding.
A child may have tongue-tie (ankyloglossia) if they present any of these symptoms: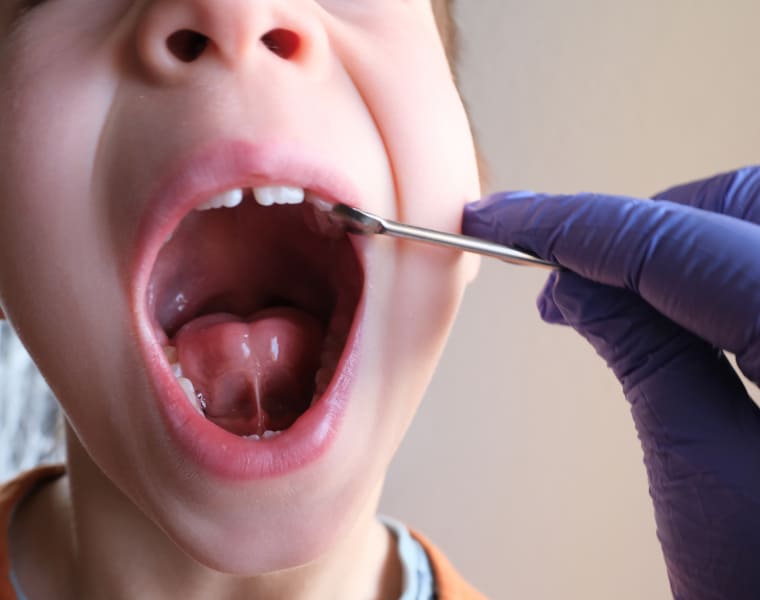 Trouble breastfeeding
Struggling with speech
Tongue getting caught between the front teeth
Inability to stick tongue out
Diminishing gums that cause dental problems
Though some lactation consultants recommend that newborns undergo correction for an abnormal frenum upon birth, others take a wait-and-see approach and believe the problem may correct itself, or not cause problems at all.
If a child's tongue is interfering with talking or eating or is unable to reach their molars, a lingual frenectomy may be indicated. This can occur because the child has a large frenum under their tongue that stops it from moving freely.
The frenum can be relocated during a simple frenectomy.
What's the recovery from a frenectomy?
Recovering from frenectomy surgery is relatively simple. The surgery typically takes about 15 minutes. It's performed by cutting the frenum or with a laser beam, which reduces the chance of infection.
Steps to follow after a frenectomy: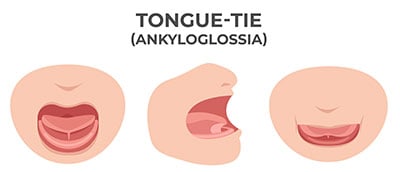 Use your tongue as soon as possible.
Try to keep food away from the surgical area. Avoid using a straw.
Avoid rinsing your mouth for the first 24 hours.
Brush your teeth carefully. Rinse your mouth with lukewarm saltwater.
Don't be concerned if your tongue bruises at the site of the surgery. Typically over-the-counter pain relievers will remove discomfort.
Expect some bleeding after the surgery. If bleeding continues, place a sterile gauze pad in the area.
Reduce swelling by putting ice chips on the area.
Recovery time is usually about a week. Most people return to daily activities the next day, while always keeping the area clean.
Why choose MD Periodontics when having a frenectomy?
Both Dr. Moshrefi and Dr. Daneshmand are board-certified periodontists. Their masterful dental skills and state-of-the-art equipment enable them to perform extractions, gum recession, frenectomies, crown lengthening, implant surgery, and other periodontal procedures with exceptional results and marginal discomfort.
About our doctors
Dr. Abdy Moshrefi
Dr. Moshrefi, DDS, is considered one of the leading periodontal artisans in California, known for fearlessly handling the most complicated dental care reconstruction cases. His remarkably real-looking dental implants and restorations set him apart from other periodontic professionals treating gum disease. His warm and confident bedside manner combined with honesty and transparency lead to rave patient reviews.
Dr. Moshrefi graduated from UCLA with Phi Beta Kappa and Magma Cum Laude honors, then graduated from the University of California School of Dentistry with a doctoral and specialty training in periodontology. He also holds a Master of Science degree in craniofacial biology. In addition, Dr. Moshrefi is a board-certified periodontist and dedicated holistic dentist.
Dr. Nazy Daneshmand
Dr. Daneshmand, DDS, is a board-certified periodontist. After studying biology at UCLA, she also graduated from USC's Dental School with a doctoral and specialty training in periodontics.
Dr. Daneshmand also specializes in the practice of "holistic dentistry," which uses metal-free and toxin-free dental options. She offers patients solutions to dental problems that are beneficial to her patient's overall health. Dr. Daneshmand also excels in the field of antimicrobial therapy. Her articles have been published and syndicated in numerous publications, including the Journal of Periodontal Research.
We are currently accepting new patients. Schedule a consultation or call (855) 245-1100.
At MD Periodontics, we take our patients' safety seriously. Our facility follows Covid-19 patient safety procedures that exceed all CDC recommendations. Masks are always required in our institutes.
We are conveniently located to patients throughout Southern California and the Los Angeles area. Our Beverly Hills office is conveniently located near Santa Monica, West Los Angeles, Culver City, West Hollywood, Downtown Los Angeles, Marina del Rey, Pacific Palisades, Malibu, Manhattan Beach, Sherman Oaks, and Encino.