What is a Titanium Dental Implant?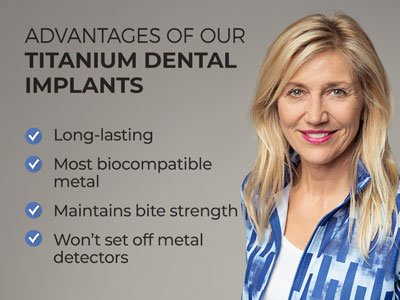 Titanium dental implants have enjoyed a high success rate since they were first introduced in the 1960s as an option for replacing natural teeth. A titanium dental implant consists of a metal screw that's inserted into your jawbone below the gum line which replaces the tooth root for a missing tooth. This screw acts as a base to which a metal post (known as an abutment) is attached to support the porcelain artificial tooth (known as the crown) which sits on top of the post.
Unlike removable dentures, titanium implants do not result in a significant loss of chewing strength. Plus, you don't have to worry about your dental implants sliding around or fitting poorly like dentures can.
Titanium implants are a great solution to tooth loss, and can even be implanted at the same time as tooth extraction (if necessary). Even better: a titanium dental implant can replace multiple teeth or even just a single tooth without negatively impacting the adjacent teeth.
Why is titanium used for dental implants?
Titanium has remained the metal of choice for use in prosthetics and implants placed from head to toe in humans such as pacemakers, spinal fusion cages, and hearing implants, to name a few.
Because titanium has been used for dental implants for almost 60 years, we also have tons of data on the efficacy and long-term durability of titanium implants.
What makes titanium the choice for metal implants?
Biocompatibility: Titanium is considered the most biocompatible metal due to its resistance to rust and corrosion from body fluids. It also has a low level of reactivity with its surrounding environment.

Strength: The strength of titanium allows it to withstand the high loading forces involved in chewing and grinding.
Durability: Titanium molecules have special properties that make them bond especially well with bone (known as osseointegration). This means that extremely high forces are needed to break the bonds formed between bone and a titanium implant, making it incredibly durable. In fact, a titanium implant can last upwards of 20 years inside a body.
Do titanium dental implants require special maintenance?
There are many factors that may cause implant failure, but most can be avoided through good dental care and hygiene.
Gum disease can cause dental implants to fail because healthy gum tissue is necessary for supporting the implant. To prevent this, make sure to take proper care of your new teeth (as well as your natural teeth). Remembering to brushing and flossing your teeth twice daily (at least) and rinsing with antibacterial mouthwash will prevent bacteria from growing below the gum line and negatively impacting your implant.
Will titanium dental implants cause metal detectors to go off?
Patients considering an implant procedure often ask us if the titanium post will trigger metal detectors at airports. Actually, it's very unlikely that a titanium abutment will trigger a metal detector. This is because titanium is non-iron-based and has a very low magnetic field, so it does not set off magnets. This also means that MRIs can be safely performed on patients after titanium implant surgery to replace missing teeth.
Are allergic reactions to Titanium common?
Throughout the nearly 60 years since titanium became popular for use in dental implants, studies have shown it to be extremely safe with very few reported cases of problems due to allergy or toxicity side effects.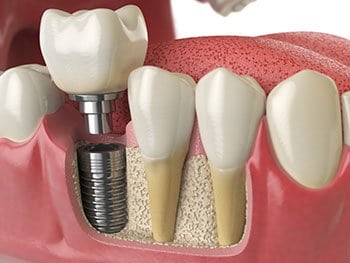 In a large-scale study that performed metal allergy tests on 1500 dental patients, only 0.6 percent had a reaction to titanium. In these very rare cases, titanium implants failed to bond to the bone due to an allergic reaction to the metal particles released from the implant. This led to an inflammatory reaction causing bone loss and implant loosening.
So technically, it is possible to have adverse reactions to titanium or any metal that is placed in your body. This is one reason that people also consider ceramic zirconia dental implants. But in most cases, allergic reactions are to metals used as titanium alloys, such as nickel or palladium, and not to the titanium itself.
In fact, nickel allergies are extremely common. According to the CDC, 10 to 20 percent of Americans have a nickel allergy.
Titanium dental implant allergy symptoms
Titanium dental implant allergy symptoms can include:
Implant loosening (known as implant failure)
Sores or swelling of surrounding soft tissue (known as peri-implantitis)
Rash or hives
Problems with wound healing at the implant site
Inflammation of the gums and face
Muscle and joint achiness
Yellow fingernails
Aggravation or initiation of autoimmune disease
Metal taste
If a patient has a history of metal allergies or is concerned with the possibility of having an allergic reaction to a metal implant, we recommend they undergo testing. This can screen for metal allergies in order to determine if metal is the right type of implant for them.
Is there a test for Titanium allergy?
Yes. The MELISA (Memory Lymphocyte Immunostimulation Assay) uses a small sample of blood from which white blood cells are extracted and exposed to titanium. The blood sample is then periodically examined over several days to look for signs of allergic reaction.
This test is far more accurate than the traditional skin patch allergy test. It is frequently used prior to joint replacements in patients with suspected metal allergies and in industries where metal allergies are a concern.
It's important to know that the MELISA test has not been completely accepted as 100 percent reliable by the medical and research communities. So it's up to each person to decide whether they feel confident in their test results before deciding to proceed with a metal implant.
You should also know that MD Periodontics does not administer the MELISA test, so if you are interested in receiving one, you must contact the company directly to arrange for testing.
If you are allergic to titanium or you suspect you may be, schedule a visit with one of our periodontists to discuss other tooth replacement treatment options available for restoring your oral health and achieving a healthy-looking smile.
Why trust MD Periodontics to create your perfect and natural-looking dental implants?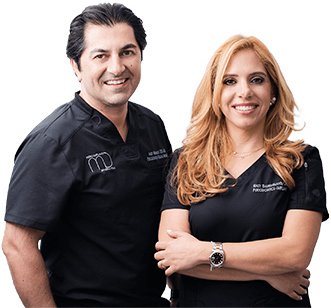 Experience: Drs. Moshrefi and Daneshmand have almost 40 years of combined experience in periodontics, dental implant surgery, and restorative dentistry. They have served as faculty at USC School of Dentistry and offer the latest technology in implant dentistry available in the US.
Personal Attention: At MD Periodontics, we know that every patient is different. That is why our experienced implant specialists take the time to fully understand your dental needs.
Affordable Dental Implants: In order to make the cost of dental implants accessible, we offer financing options to facilitate payments. Because when it comes to preserving your oral health, some interventions can't be delayed.
To schedule a consultation, click here or call us at (855) 245-1100. Your smile will thank you!
At MD Periodontics, we take our patients' safety seriously. Our facility's Covid-19 patient safety procedures exceed all CDC recommendations. Masks are required in our institutes at all times.
We are conveniently located to patients throughout Southern California and the Los Angeles area. Our Beverly Hills office is conveniently located near West Los Angeles, Culver City, West Hollywood, Downtown Los Angeles, Marina del Rey, Pacific Palisades, Malibu, Manhattan Beach, Sherman Oaks, and Encino.