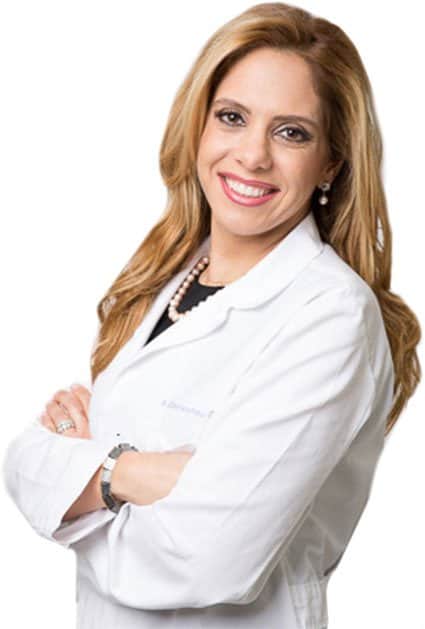 About Dr. Nazanin
Daneshmand, DDS
Since co-founding MD Periodontics over 18 years ago, Dr. Nazanin Daneshmand has been dedicated to providing unsurpassed periodontal care, holistic dental care, and state-of-the-art implant dentistry to Southern Californians. Dr. D, as she is known to her patients, received her Board Certification in Periodontics and Implantology from USC in 2003 after graduating from USC with her DDS (Doctor of Dental Surgery) in 1998.
Along with her professional and life partner, Dr. Abdy Moshrefi, Dr. Daneshmand has built a multi-specialty practice encompassing general dentistry, holistic dentistry, cosmetic dentistry, orthodontics, periodontics and implant dentistry located in a state-of-the-art facility in Beverly Hills
Top Los Angeles holistic dentist
As a leading holistic dentist in greater Los Angeles, Dr. Daneshmand considers your oral health to be intricately related to your overall health. As such, her approach to dental and periodontal care is to offer treatments that support your overall well-being.
At our Beverly Hills office, Dr. Daneshmand offers patients metal-free and toxin-free options, such as zirconia ceramic dental implants, because she feels that achieving optimal oral health shouldn't come at the expense of your general health.
Areas of particular interest
Dr. D derives a lot of satisfaction from performing cosmetic dentistry procedures not only because of the creative challenges that they pose, but more importantly because improving patients' smiles gives them greater confidence and self-esteem. And helping patients be satisfied with their appearance makes resolving challenging oral problems so worthwhile.
Giving back to her profession and community
Dr. Daneshmand feels strongly about contributing to her field and community. That is why she has lectured at medical symposia, performed research and published articles in the field of antimicrobial therapy for periodontics. She also helped form future professionals through her tenure as an Assistant Clinical Professor of Periodontics at USC's prestigious School of Dentistry.
Dr. D has lectured at medical symposia, performed research and published articles in the field of antimicrobial therapy for periodontics.
In addition to her academic pursuits, Dr. Daneshmand feels that it is important to contribute to the well-being of one's community. That is why in 2017 she founded the Los Angeles chapter of Miracle Babies, a non-profit organization dedicated to uniting families with their critically ill newborns in the neonatal intensive care unit (NICU) as well as to reducing NICU admissions through prevention, education and research.
Dr. Daneshmand has brought together a group of philanthropic and innovative women who share a common vision of improving the overall health and well-being of women, children and families to create the Miracle Circle which supports Miracle Babies through fundraising, community outreach and advocacy programs.
The Miracle Circle donated special NICView cameras for the neonatal intensive care unit of Children's Hospital Los Angeles so that families would be able to monitor their newborns using a smartphone or desktop application. Other projects have included supporting a mental health program for NICU families. More recent fundraising efforts are aimed at purchasing vans to provide transportation services to unite families with their newborns in the NICU.
Dr. Daneshmand and Dr. Moshrefi have been happily married since years and are the parents of three beautiful children who Dr. D. consider to be her greatest accomplishment in life. During her free time, Dr. D enjoys tennis, painting, playing the piano and traveling with her family.
Academic Appointments
Dental Training
University of Southern California, Los Angeles, CA
Doctor of Dental Surgery, 1998
Periodontal Training
University of Southern California, Los Angeles, CA
Specialty Certificate in Periodontology, 2001
Undergraduate Education
University of California, Los Angeles, CA
Bachelor of Science in Biology
Board Certification
Diplomate, American Academy of Periodontology and Implantology
2003-Present
Professional Memberships
American Dental Association
American Academy of Periodontology
California Dental Association
Beverly Hills Academy of Dentistry
Los Angeles Dental Society
Why choose MD Periodontics as your Los Angeles periodontists?
As one of the most trusted and respected periodontist and smile artisans in Beverly Hills, the board-certified husband and wife team of Dr. Abdy Moshrefi and Dr. Nazanin Daneshmand.
At our beautiful offices, MD Periodontics offers patients the best periodontic treatment that Los Angeles has to offer. Our holistic approach to dentistry ensures that the treatment you receive will utilize the least toxic materials available, the most advanced technology, and amenities including aromatherapy to reduce discomfort and stress during procedures. You'll experience an atmosphere you would never expect to find at a dental office and results that you will love.
We are conveniently located to patients throughout Southern California and the Los Angeles area. Our board-certified periodontists and implant dentistry experts are available at locations in or near Santa Monica and Beverly Hills. We are conveniently located near West Los Angeles, Culver City, West Hollywood, Downtown Los Angeles, Marina del Rey, Pacific Palisades, Malibu, Manhattan Beach, Sherman Oaks, and Encino.
At MD Periodontics we take our patients' safety very seriously. That's why our facility's Covid-19 patient safety procedures far exceed all CDC recommendations.