What is a Gummy Smile?
Do you have a "gummy" smile that makes you feel embarrassed when you smile, talk, or eat? Do you have teeth that need dental crowns, but they have too much gum tissue covering the tooth? Or not enough visible tooth structure present to fit a crown?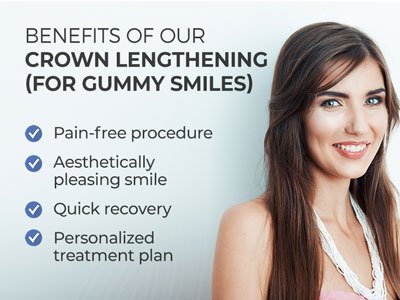 A gummy smile occurs when you have a disproportionate amount of natural tooth covered by gum tissue, causing your tooth to appear short. This can involve one or more teeth and cause a lot of angst for people concerned with their appearance.
Don't worry! This is actually a fairly common problem and we have a solution for it. It's called a crown lengthening procedure.
What causes a Gummy Smile?
A gummy smile can be caused by a number of factors:
Most commonly: it's simply the way your teeth grew in, with a limited protrusion from your gumline, causing them to appear shorter than they really are
The teeth may be naturally short in length
There may be too much gum tissue present
There may be an uneven amount of gum tissue covering one or more teeth
There may be over-elevation of the upper lip that exposes too much gum tissue when you talk or smile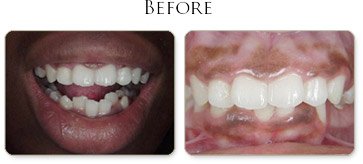 Wondering how to fix a gummy smile? It's called a Crown Lengthening Procedure
This is where modern periodontics comes in. A periodontist is a dental specialist who can correct the problem of excessive gum tissue, uneven gums, or insufficient visible tooth structure.
A non-aesthetic use for this procedure is when a tooth breaks off at the gum line, and there is not enough of it left to attach a crown. A crown lengthening procedure can enhance the height or size of the visible part of the tooth so that there is enough surface area on which to mount a crown.
What is Crown Lengthening?
As we mentioned, crown lengthening is a common cosmetic procedure that is often performed by contouring more balance between the gum and visible teeth.
Crown lengthening (or crown exposure) creates a new gum-to-tooth relationship that is perfect for a healthy mouth. A proper gum-to-tooth ratio also prevents periodontal disease to ensure excellent periodontal health. This also allows you to clean the edge of the restoration when you brush and floss to better prevent decay and gum disease.

Crown lengthening can be performed on a single natural tooth or several teeth, depending on what's needed.
Our top priority is providing exceptional results, while at the same time ensuring your comfort and absolute safety.
What happens during a Crown Lengthening procedure?
The crown lengthening procedure starts with local anesthesia so our patient feels no pain (sedation is not necessary). Then, your periodontist uses lasers and other special tools for recontouring the precise amount of gum needed to show just enough tooth structure to achieve an aesthetically pleasing amount of tooth.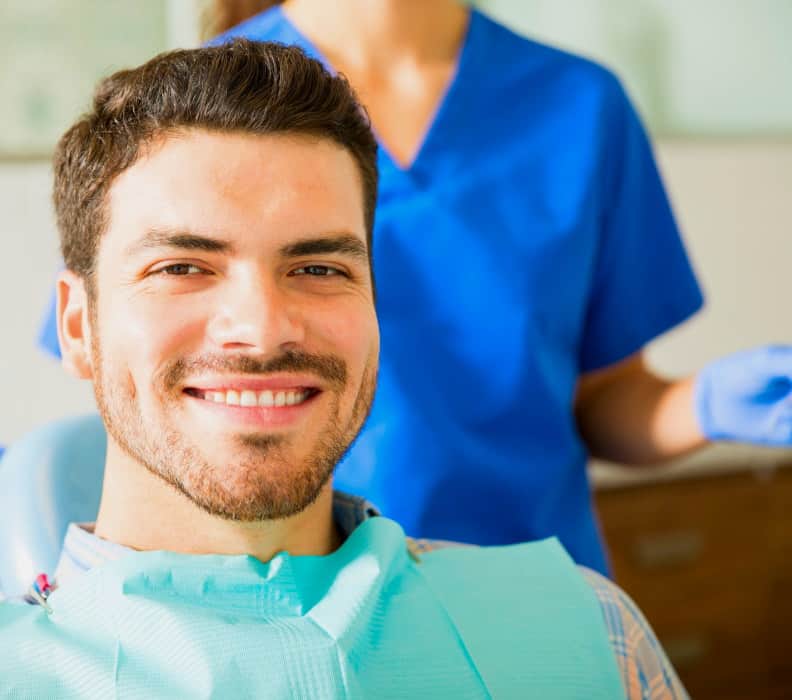 In some cases, it may be necessary to reduce a small amount of underlying bone tissue surrounding the tooth to properly support a restoration piece. Usually, neighboring teeth are not treated except when reshaping them would help create a more pleasing smile.
Once the gum reduction and reshaping are completed, the gum tissue is sutured closed and allowed to heal completely. Your periodontist may cover the surgical site with a special bandage that helps protects sutures, prevent infection, and speed up the healing of the soft tissue.
How long does it take crown lengthening to heal?
Tissue healing usually takes two or three months. You may be prescribed pain medication or an over-the-counter topical local anesthetic for any post-procedure discomfort, although this is rarely necessary.
You may also be asked to eat bland, soft foods and avoid consuming anything too hot. As well as refraining from drinking alcohol and engaging in strenuous exercise for a few days.
After your surgical procedure, you will be seen for follow-ups in our office periodically, so that we can closely monitor your healing. Once your gum is sufficiently healed, you are ready to be fitted for a temporary crown that will remain in place until your permanent crown is ready.
Increased confidence with a beautiful smile
Whether crown lengthening is needed to reshape your gums for aesthetic purposes or to prepare a tooth for a dental restoration, our board-certified periodontists will always take the time to explain your personalized treatment plan in detail and answer your questions so that you are comfortable with your decision.
Our top priority is providing exceptional results, while at the same time ensuring your comfort and absolute safety.
Why choose MD Perio for Crown Lengthening?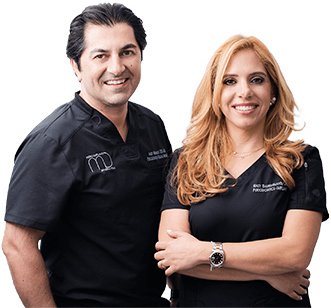 The husband-and-wife team of Dr. Abdy Moshrefi, DDS and Dr. Nazanin Daneshmand, DDS, based in Los Angeles, are two of the most trusted periodontists in Los Angeles. Both are board-certified in periodontics and implantology and, between them, they have nearly four decades of experience.
With over twenty years of experience, the dental care providers at MD Perio are uniquely qualified to perform a full range of cosmetic dentistry periodontal procedures from crown lengthening for gummy smile correction, veneers, as well as dental implants, to name a few.

If you are unhappy with your smile in any way and would like to explore the available options for acquiring the beautiful smile you desire, give us a call.
To schedule an appointment with one of our smile design professionals, click here or call (855) 245-1100.
At MD Periodontics, we take our patients' safety seriously. Our facility follows Covid-19 patient safety procedures that exceed all CDC recommendations. Masks are required in our institutes at all times.
We are conveniently located to patients throughout Southern California and the Los Angeles area. Our Beverly Hills office is conveniently located near West Los Angeles, Culver City, West Hollywood, Downtown Los Angeles, Marina del Rey, Pacific Palisades, Malibu, Manhattan Beach, Sherman Oaks, and Encino.
Crown Lengthening FAQs
Is crown lengthening painful?
The discomfort associated with crown lengthening is usually mild and should subside within a few days to a week after the procedure. Most patients can manage any discomfort with over-the-counter pain relievers, such as ibuprofen, and by following their dentist's post-operative instructions.
Is crown lengthening covered by insurance?
Crown lengthening may be covered by dental insurance if it is deemed medically necessary, such as to treat gum disease or to prepare the tooth for a necessary restoration. However, if the procedure is being done for cosmetic reasons only, it may not be covered by insurance.
Is crown lengthening necessary?
Crown lengthening may be necessary in some cases to improve the health of the gums or to prepare the tooth for a necessary dental restoration, such as a crown or bridge. It can also be done for cosmetic reasons to improve the appearance of the teeth and gums.
How long does crown lengthening take?
On average, a single-tooth crown lengthening procedure can take about 30 minutes to an hour, while more complex cases involving multiple teeth or extensive gum reshaping may take longer.
Can a general dentist perform crown lengthening?
Yes, a general dentist can perform crown lengthening if they have the necessary training and experience in the procedure. However, a dentist is a general practitioner who does regular check-ups and cleanings to ensure that oral health is maintained. A periodontist diagnoses and treats severe issues, including diseases of the gums and bone that support teeth
Do gums grow back after crown lengthening?
The gum tissue that is removed during the crown lengthening procedure does not grow back.