What are All-on-4 "One Day" Dental Implants?
You may have seen ads offering a full set of teeth implants for your upper or lower jaw completed in one office visit. The internet and airwaves are teeming with "Teeth in a Day" ads, although most people don't have a clear understanding of what exactly this involves.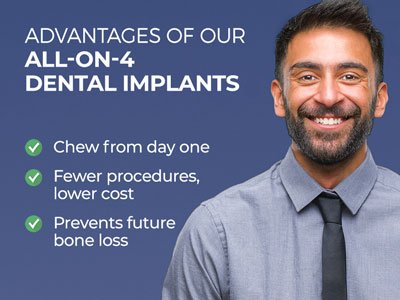 The All-on-4 procedure offers an optimal dental restoration solution if you're missing the majority of your upper or lower teeth. This is because it provides you with a full set of teeth affixed to four implant posts that are inserted in just one treatment session. This means that you go home with a full arch of functioning artificial teeth the same day as your procedure (that's why they're called "teeth in a day").
To be clear, once the implant posts have been placed into your jaw, a bridge of temporary artificial teeth is snapped onto the implants. You'll wear the temporary new teeth for 8 to 12 weeks. This allows your gums to fully heal and also lets you get used to wearing the implant. After your healing is complete, you will return to have a permanent set of acrylic or ceramic teeth affixed to the implant posts that are now fused to your jawbone.
How do All-on-4 dental implants work?
The All-on-4 implant system involves the strategic placement of four implant posts. The two posterior posts are placed precisely within the densest part of the jawbone for maximum strength, thus side-stepping the need for a bone graft. Once the posts are placed, a metal bridge containing the artificial teeth is attached.
This makes the implant placement procedure simpler, quicker, and more comfortable than that required for traditional individual implants. Traditional implants sometimes require painful bone grafts to build up the jaw prior to receiving the implant.
Because the All-on-4 implant posts are specially designed to tolerate immediate loading, the dentist is able to attach temporary crowns right after inserting the implants. This allows you to chew your favorite foods from day one.

By contrast, a traditional implant can require up to six months to heal before your bone bonds adequately with the implant and the final crowns can be applied.
Six Advantages of All-on-4 versus individual dental implants
For someone who needs a majority of their upper or lower teeth replaced, or even a full-mouth restoration, the All-on-4 procedure offers some distinct advantages including:
1. Time-saving
After just one visit, you go home with a fully functioning set of temporary teeth. After two visits, you are fitted with your permanent restorations. That means less time in the dentist's chair and a quicker path to permanent teeth.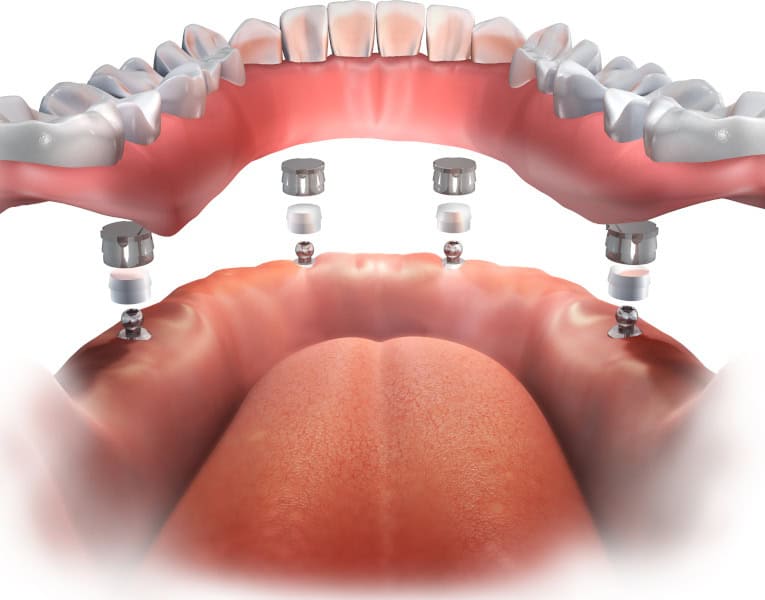 2. Simplified surgery
In most cases, just four implant posts are needed to support a full arch of upper or lower prosthesis. These are placed in about two hours and, if tooth extractions are needed, these are done on the same day.
3. Fewer procedures
The All-on-4 dental implant treatment inserts implant posts on day one. Thus, you avoid the painful bone grafting surgery that is often needed before traditional dental implants can be performed—and which requires long recovery times.
4. Lower cost
The All-on-4 approach is much more cost-effective than having multiple, individual dental implant procedures.
5. Prevents future bone loss and preserves your facial structure
Implants replace the roots of your teeth and fuse with your jawbone; this prevents future bone loss that causes your cheeks to collapse, giving you a prematurely aged appearance.
6. A well-functioning mouth
With the support of denture implants, your bite strength will be 80 to 90 percent that of natural teeth. So you can eat everything you love without hesitation or the annoying slipping of removable dentures.
What happens during an All-on-4 surgical procedure?
The All-on-4 technique replaces your upper and lower teeth in three simple steps:
All-on-4, Step 1:
During your initial consultation with your surgeon, x-rays, CT scans, and bite impressions will be taken to get a clear picture of your mouth anatomy. This is critical for planning your dental implant procedure.
Your doctor will ask how you want your final teeth to appear. Often, patients will bring pictures from when they were younger to use as a guide for fabricating their permanent set of teeth. With cosmetic dentistry, you can have the appearance of young, healthy teeth again!
Your surgery will be explained in detail, and you will be encouraged to ask questions so that you know what to expect.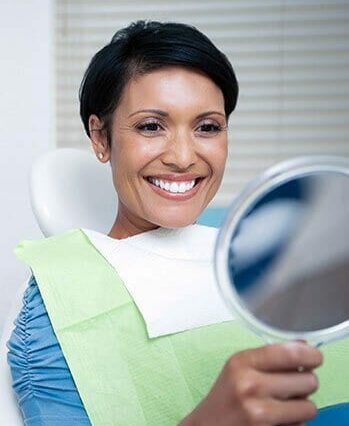 All-on-4, Step 2:
Your surgery day will include the removal of any remaining unhealthy teeth, placement of four dental implant posts, and attachment of the temporary bridge. The temporary implant will be attached to the four posts using screws.
All-on-4, Step 3:
About six months later, after your implants have bonded with your jawbone, you will follow-up with your dentist. Then, the complete denture that has been custom fabricated with your final artificial teeth will be permanently attached to your implant posts. And now you have a comfortable and well-functioning smile!
Is the All-on-4 procedure painful?
Although you will likely be sore following this procedure, most of our patients say that their discomfort is well managed with pain medications and cold compresses.
We encourage our patients to rest and limit themselves to pureed foods or liquids on the day of their surgery. Wait until the following day to eat solid food. Some patients are even able to return to work the next day.
Am I a candidate for All-on-4 dental implants?
Not everyone is ideally suited for getting dental implants. That's why it's important to talk with your dentist to see if you're a good candidate.
An ideal dental implant patient will:
Have good oral health and overall physical health
Have adequate bone density in the jaw to support implants
Be willing to follow good oral hygiene habits and checkups to maintain their implants
Not smoke
Not consume excessive alcohol
Be free of autoimmune or chronic diseases
Not suffer from severe bruxism (tooth grinding or clenching) which can cause premature deterioration of artificial teeth
How much do All-on-4 dental implants cost?
Because every mouth poses a different challenge, it's difficult to say exactly how much same-day dental implants will cost. This depends on how many missing teeth need to be replaced, the number and type of implants used, how many extractions you'll need, and the complexity of your surgery.
Schedule a consultation with our dental surgeons to discuss your candidacy for All-on-4 implants and potential cost.
Is there any risk associated with All-on-4 implants?
Just as with any surgery, oral surgery involves risk and the possibility of complications, however low that may be. As with other dental implant restoration procedures, there exists the risk of implant failure (meaning that your bone does not bond with the implant), implant movement, infection, and pain.
With meticulous surgical planning, good candidate selection, and, most importantly, a highly trained and experienced oral surgeon, these risks are greatly reduced. And while we can't promise that your recovery will be 100 percent pain-free, most of our patients do quite well with pain medications, ice compresses, and rest.
Why trust MD Periodontics for your All-on-4 restoration?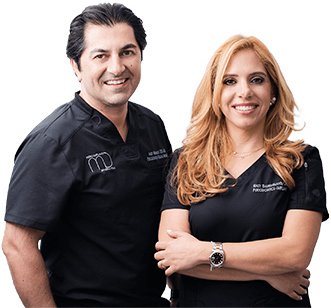 The doctors at MD Perio offer over 20 years of expertise in periodontal care and implantology in a state-of-the-art facility using the latest technology designed to improve your outcomes and comfort.
At MD Perio, you will experience a gentle approach to periodontal care because we believe that you should never have to sacrifice your oral health out of fear of going to the dentist.
To schedule a consultation, click here or call us at (855) 245-1100. Your smile will thank you!
At MD Periodontics, we take our patients' safety seriously. Our facility follows Covid-19 patient safety procedures that exceed all CDC recommendations. Masks are required in our institutes at all times.
We have convenient accessibility for patients throughout Southern California and the Los Angeles area. Our Beverly Hills office is conveniently located near West Los Angeles, Culver City, West Hollywood, Downtown Los Angeles, Marina del Rey, Pacific Palisades, Malibu, Manhattan Beach, Sherman Oaks, and Encino.
All-on-4 FAQs
How long does it take to get all-on-4 dental implants?
The duration of getting all-on-4 dental implants can vary based on individual cases, but typically it takes around 2-4 months from initial consultation to the final placement of the implants
How to clean all on 4 dental implants?
To clean all-on-4 dental implants, you should brush them twice a day with a soft-bristled toothbrush and non-abrasive toothpaste, floss between the teeth and under the bridge using a floss threader or water flosser, and rinse your mouth with an antibacterial mouthwash. Regular dental checkups and professional cleanings are also important to maintain the health of your implants.
What can you eat after all-on-4 dental implants?
After all-on-4 dental implants, it's important to stick to a soft food diet for the first few days to allow the implants to heal properly. Some examples of soft foods that are safe to eat include soup, mashed potatoes, scrambled eggs, cooked vegetables, soft fruits, yogurt, and smoothies. Avoid hard, crunchy, or chewy foods, such as nuts, popcorn, hard candy, and steak, until your dentist gives you the green light to resume your normal diet, which may take several weeks.
Are all on 4 dental implants removable?
No, all-on-4 dental implants are not removable by the patient. They are a type of permanent dental implant that is designed to be fixed in the mouth and provide stable support for a full arch of prosthetic teeth. While the prosthetic teeth can be replaced, if necessary, the implants themselves cannot be removed without professional assistance from a dentist or oral surgeon.
How long do all on 4 dental implants last?
All-on-4 dental implants can last for many years with proper care and maintenance. Studies have shown that the success rate of all-on-4 implants is around 94-98% over a period of 10 years
Do all on 4 dental implants feel natural?
Yes, all-on-4 dental implants can feel natural and comfortable for many patients. They are designed to look and function like natural teeth, and because they are anchored in the jawbone, they can provide stability and support that traditional dentures may not offer.
Are all on 4 dental implants covered by insurance?
The coverage for all-on-4 dental implants by insurance can vary depending on the specific insurance plan and individual case. Some dental insurance plans may cover a portion of the cost of the implants, while others may not cover them at all.