3D Digital Dental Impressions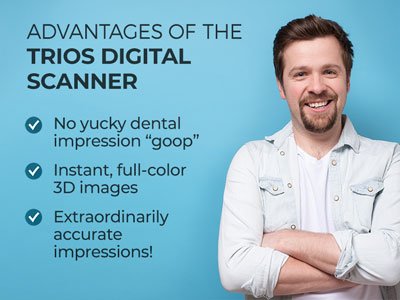 We don't know anyone who enjoys the process of having traditional dental impressions made.
The putty-like impression material oozes out of the dental tray and makes you gag while you're trying not to swallow it while counting the endless seconds until the material hardens. Ugh!
Thanks to new technology, those messy analog impressions have become a thing of the past.
Introducing the 3Shape TRIOS® Intraoral Scanner for Digital Dental Impressions
MD Periodontics is dedicated to making your dental experience as simple and comfortable as possible. That's why we use state-of-the-art technology for taking 3D images of your teeth and gums that has made goopy conventional impressions obsolete.
Winner of the dental device industry's top accolades for five years in a row, the 3Shape TRIOS® Scanner is a hand-held scanning wand. The wand allows dental professionals to scan your teeth and instantaneously send digital impressions to a laptop where you can see high-definition color images of your entire bite right away.
These precise high-definition 3D images of your teeth and gums are emailed directly from our dental practice to the dental lab. These images are used as the basis for creating virtual models used for fabricating dental implants and other restoration pieces with exquisite precision. That's because digital impressions taken with the TRIOS are more consistent and accurate than those obtained using the traditional goopy analog impression material.
Advantages of digital dental impressions
There are a number of reasons why TRIOS's intraoral scanning technology benefits you. These include:
Better patient experience: No gagging on goopy impression material.
Better diagnostic tool for your dentist: Real-time precise visualization heightens your dental provider's diagnostic capacity.
Better communication with your dentist: High-definition impressions allow your doctor to explain your treatment clearly using precise images of your bite with real colors.
Better use of your time: In just seconds your provider obtains exquisitely accurate high-quality digital impressions which are used to fabricate 3D models needed to make your restoration piece. There's no need for you to return to our office to take additional impressions or make revisions once the piece is made. So less time in the chair and fewer office visits, yay!
Greater accuracy: The TRIOS generates a more accurate impression of your teeth and soft tissues. This translates to a better fitting and more natural-looking prosthesis that requires fewer adjustments.
Quicker turnaround of your restoration piece: Because the scans are sent to the dental lab the moment they're taken, a digital model can be created from the series of images and the fabrication process can begin right away. With traditional impressions, the dental office had to ship materials to the lab and wait.
Seamless interface with digital dentistry software: Digitized images from the TRIOS intraoral scanner can be uploaded to treatment planning software such as the Smile Design Studio to form the basis for re-designing patients' smiles using CAD/CAM technology.
At MD Periodontics, your well-being is Priority #1
At MD Periodontics in Beverly Hills, our commitment to providing our patients with unsurpassed care means that we invest in state-of-the-art dental technology to provide the best available diagnostic and surgical capabilities available anywhere today.
To schedule a consultation, click here or call us at (855) 245-1100. Your smile will thank you!
At MD Periodontics, we take our patients' safety seriously. Our facility follows Covid-19 patient safety procedures that exceed all CDC recommendations. Masks are required in our institutes at all times.
We have convenient accessibility for patients throughout Southern California and the Los Angeles area. Our Beverly Hills office is conveniently located near West Los Angeles, Culver City, West Hollywood, Downtown Los Angeles, Marina del Rey, Pacific Palisades, Malibu, Manhattan Beach, Sherman Oaks, and Encino.