The warning came first from an article in the Canadian Journal of Psychiatry back in 2016 – but soon after, voices from the CDC, the United Kingdom's National Health Service, and researchers as far as Finland and India: depression, anxiety, and other mental health conditions can also jeopardize our oral health.
Ironically enough, both dental health and mental health are often relegated to the back burner of public health – as if they were somehow less real or not as serious as other conditions. However, new evidence now shows oral health is inextricably linked to nearly every aspect of overall health. This includes our chances of developing dementia, heart disease, or even stroke!
And just like with all these other parts of wellness, the relationship between mental health and oral health is a complex one. Let's examine all its different facets and how they impact one another.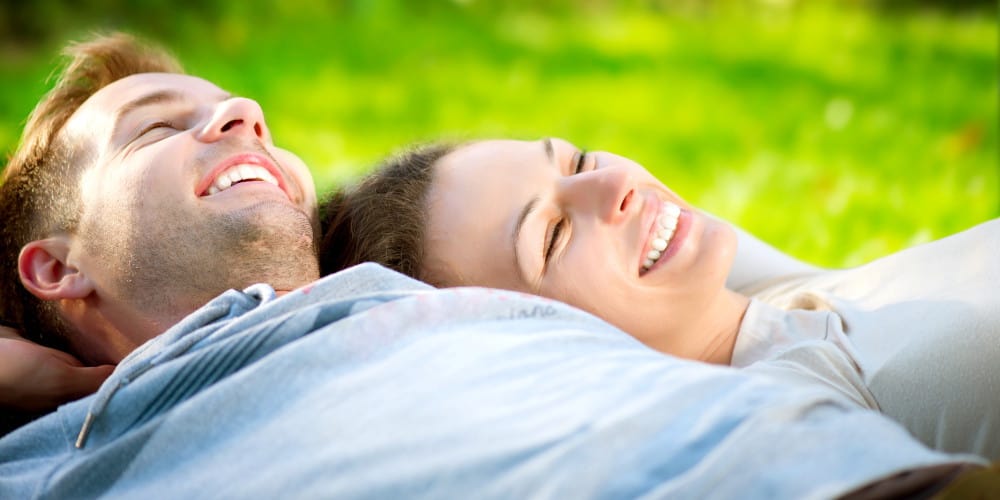 How does mental health affect oral health?
People with mental health problems are more likely to develop problems with their oral health than the general population. This includes a higher risk of severe gum disease, caries, and even tooth loss.
Public health researchers have identified four main causes for this.
Mental health problems can impair dental hygiene
The easiest link to establish, and unfortunately the most common one, joins poor dental hygiene and mental health.
Why? Because even the milder and more common forms of mental illness, such as anxiety and depression, can zap away your energy and motivation. This is known as anhedonia, and it is one of the most common symptoms of depression, anxiety, and bipolar disorder.
People with severe anhedonia may forget to brush their teeth or groom themselves, or cancel "non-essential" appointments (such as dental visits) because it feels like it doesn't matter anymore.
The same is true for those with attention problems, such as ADD or ADHD. These diseases make it hard to keep track of routines and pending tasks. The tendency to hyperfocus on a single activity or completely lose track of time also gets in the way of their daily oral care routine.
The symptoms of mental health problems can harm your teeth and gums
Just like there are many aspects to mental health, there are also many ways in which it can accidentally harm your oral health.
Mental health issues that cause impulsive or reckless behavior (such as manic episodes or borderline personality disorder) also bring about substance use problems. Anything from tobacco to harder drugs can increase your likelihood of gum disease and tooth loss.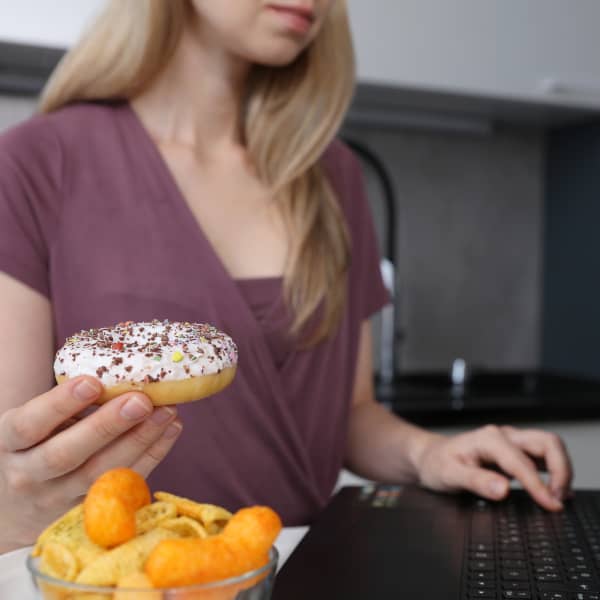 And what about food addiction? Do eating disorders affect teeth? Yes – and not just compulsive eating disorder. Frequent binges of sugary foods or unhealthy snacks can also create a comfortable environment for mouth bacteria. Compulsive dieters or people with anorexia nervosa, on the other hand, may lack key nutrients that protect their teeth — especially calcium and vitamin C.
However, the highest risk occurs among people with bulimia, especially those who use vomiting as their purging method. When we vomit, we bring stomach acids into the mouth, which can damage tooth enamel, increasing the chances of cavities. As a result, up to 47% of all people with bulimia show signs of dental erosion or periodontal disease.
Finally, some types of anxiety disorder can also cause canker sores or bruxism (teeth grinding). The former is directly painful and can make it impossible to brush our teeth or floss for a few days. Teeth grinding, on the other hand, can trigger dental erosion, leaving you exposed to tooth decay.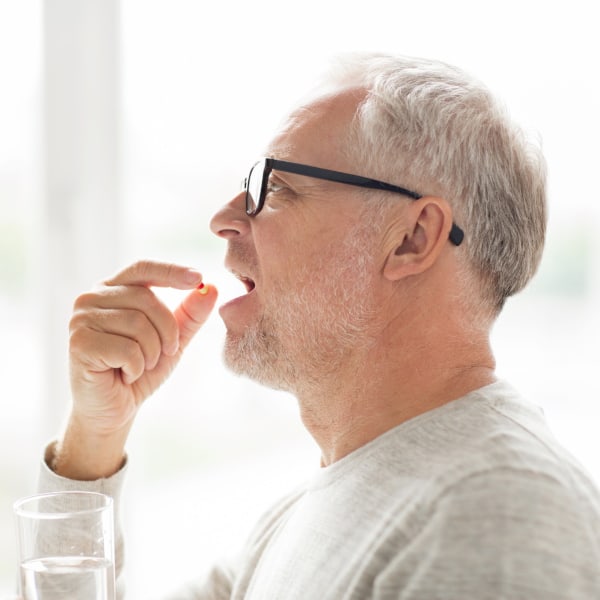 Medication side effects can affect your oral health
With the right meds, many people with mental health problems can enjoy healthy and productive lives. Unfortunately, psych meds can also indirectly jeopardize your oral health.
Three side effects are particularly common among antidepressants and mood stabilizers:
Xerostomia or dry mouth. Many popular antidepressants, such as the ubiquitous fluoxetine (Prozac) or venlafaxine (Effexor) list this as a common side effect. While not serious by itself, a chronically dry mouth can heighten your risk of developing gingivitis.
Bruxism or teeth grinding. Although less common, some medications for depression, anxiety, and obsessive-compulsive disorder can cause this. Fortunately, you can prevent damage to your teeth by using mouth guards.
Burning mouth syndrome (BMS). A scarier but fortunately rarer symptom linked to anti-depressants, anti-psychotics, and even sleeping pills. BMS feels like an intense burning feeling around your lips, the inside of your mouth, tongue, or palate – just like if you've just eaten a jalapeño. It usually comes and goes, but in severe cases, it can become near-permanent.
Chronic health issues can make it harder to access dental care
Unfortunately, dealing with a chronic illness of any kind can make it harder for you to have dental coverage. Mental disorders are no exception.
In general, even milder mental health conditions like anxiety or depression can often get in the way of routine cleanings. When we're talking about more severe mental illness, the impact can be dramatic: here, it's easy to spot higher rates of everything from cavities to oral cancer.
For example, people with schizophrenia, psychotic symptoms, or even uncontrolled bipolar disorder are at a higher risk of homelessness and poverty – which will affect every aspect of healthcare.
Even if well managed, bipolar disorder may make it harder to find a stable, long-term job. As a result, their insurance coverage may be interrupted or sporadic, leaving necessary dental treatments incomplete.
How does oral health affect mental health?
As we said before, the link between depression, anxiety, bipolar disorder, and oral health issues is a two-way street. The impact that poor oral hygiene has on mental health may be a lot less obvious, but it's still there.
Does this mean that it could be your tooth infection causing mental illness? Not quite. But if you are already struggling with your mental health, your oral health could trigger a relapse.
This is particularly common among people with panic disorder. Dental anxiety (the common fear of visiting the dentist) can trigger a panic attack. If this happens repeatedly and it's not addressed, it could create a full-blown dental phobia, leaving your oral health needs unmet.
If you suffer from severe body image problems or body dysmorphic disorder, then submitting yourself to the "scrutiny" of a dentist can be difficult. Teeth defects (whether real or not) can also harm the self-esteem of people with eating disorders or body image problems.
People with mental health problems are more likely to develop problems with their oral health than the general population.
Could oral health and mental health share a common enemy?
There's only one piece of the puzzle left to explore now: what if, rather than one causing the other, both poor mental health and dental disease are caused by a third, invisible enemy?
According to some researchers, this missing link could be stress.
When we let our bodies believe they are under constant attack, our brain triggers the release of cortisol – a hormone meant to give us one final push while we reach safety.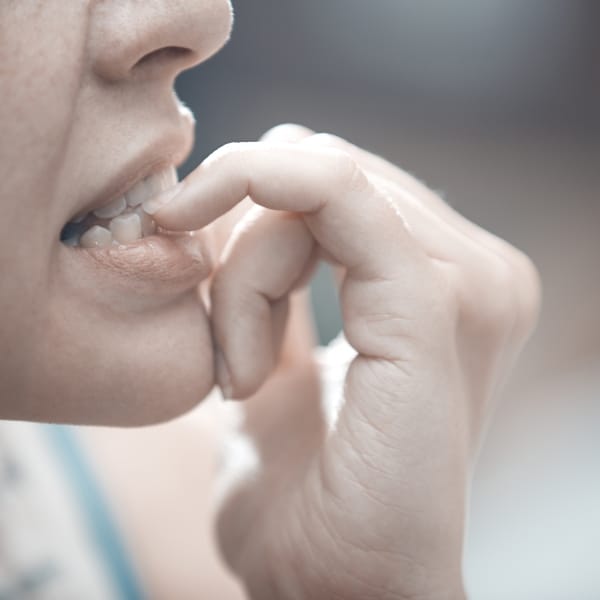 As useful as this was during primitive times, chronically-high cortisol levels can cause insomnia and leave us fatigued or ill at ease. We are basically left with an invisible enemy in the room, which never manifests itself. In this way, a stressful week can turn into a series of sleepless nights – and eventually, into a new depressive episode.
But don't forget, cortisol's main job is to keep your body going, so its physical effects shouldn't be ignored. Cortisol increases levels of inflammatory cytokines around the body, meant to help us heal physical injuries faster. Once again, chronically high cortisol levels do the exact opposite: they dampen our immune system and raise our blood sugar levels.
Once sugar is abundant, and gum tissue is left defenseless, it's time for oral bacteria to move in and wreak havoc. Some studies have shown that high cortisol levels in the saliva are linked to worsened periodontitis, new canker sores, and ulcerative gingivitis. The same test has been used in other studies to try to predict insomnia and panic symptoms.
Other researchers have noticed that stressful periods – such as job loss, a death in the family, or the ongoing COVID-19 pandemic – raised the chances of developing both gum disease and depression.
MD Perio: The last piece of the holistic health puzzle in LA
Just because you struggle with your mental health, it doesn't mean you should resign yourself to a lifetime of poor oral health or its complications.
For Dr. Abdy Moshrefi, D.D.S., and Dr. Nazy Daneshmand, D.D.S., oral health care is an essential part of your wellbeing. At their Beverly Hills office, they combine state-of-the-art dentistry with a warm and nurturing environment.
In addition to their knowledge of all things dental, they can also collaborate with your other health providers. They have at their disposal advanced technology and tools that minimize discomfort, reduce intimidating noises, and amenities such as aromatherapy. Combined, they can help you overcome dental anxiety and even give you a safe haven that will lower your overall stress levels.
As part of their holistic approach to health, they can also help you design a low-stress to improve your quality of life. This may include healing the damage left by bulimia, protecting you from bruxism, or taking a more active role against recurrent gingivitis. Their support and understanding can help you recover much of what was lost during your darkest periods!
Schedule a consultation online or call us at (855) 245-1100. Your smile will thank you!
At MD Periodontics, we take our patients' safety seriously. Our facility follows Covid-19 patient safety procedures that exceed all CDC recommendations. Masks are always required in our institutes.
We are conveniently located throughout Southern California and the Los Angeles area. Our Beverly Hills office is conveniently located near West Los Angeles, Culver City, West Hollywood, Downtown Los Angeles, Marina del Rey, Pacific Palisades, Malibu, Manhattan Beach, Sherman Oaks, and Encino.

Latest posts by Dr. Nazanin Daneshmand
(see all)