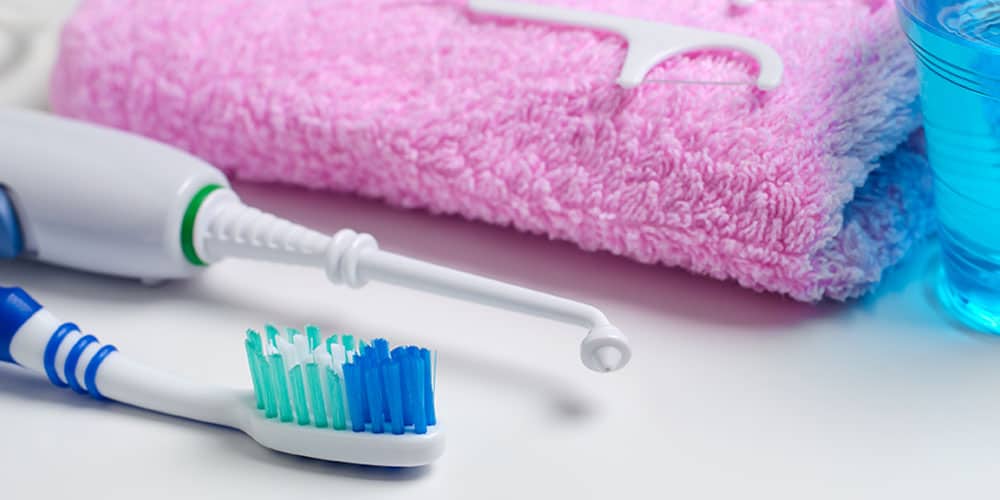 We've said it before and we'll keep saying it: half of Americans over the age of 30 have some form of gum disease. By age 40, 80% of Americans will have some form of periodontal disease. And 4 out of 5 people with gum disease don't even know it!
While we here at MD Periodontics are renowned for our dental implants, we also want to help you keep your natural teeth!
To that end, today we'll be answering two very important questions: "How do I know if I have gum disease?" and "How to prevent gingivitis?"
How do I know if I have gum disease?
There are multiple stages of gum disease depending on severity. The early stage (gingivitis) is the best time to catch and reverse it.
Early-stage periodontal disease is generally painless and light on symptoms. Early-stage gingivitis symptoms to look out for include:
Inflammation of the gums
Dark or red gums
Tender gums
Bleeding gums when brushing or flossing
Gingivitis is caused by bacteria and plaque build-up along the gum line. This infection causes inflammation, which is responsible for the swelling, discoloration, and bleeding of your gums.
Can gingivitis be reversed?
The advantage of catching periodontal disease in its early stages is that it's easier to treat.
Regular dental checkups and dental cleanings can help address gingivitis early. Good oral hygiene can also help reverse gingivitis.
Gingivitis Treatment at Home
The steps to treat gingivitis at home are the same as the steps to prevent it! If you notice signs of gingivitis or your dentist points out signs of gum disease during your regular checkup, make sure you're following these steps for good dental health.
Good Oral Hygiene
Many people are tired of hearing it, but the American Academy of Periodontology keeps emphasizing that flossing at least once a day is important for gum health. Brushing your teeth at least twice a day with toothpaste and a soft-bristled toothbrush removes food particles that mouth bacteria feed on. Rinsing with mouth wash helps reduce plaque between teeth.
Regular Dental Checkups
A professional cleaning by your dental hygienist can help prevent gum disease, but can't completely make up for poor oral hygiene. The real benefit of professional cleaning is the reduction of tartar – when plaque isn't properly removed from teeth it hardens into tartar, which can't be removed by a normal toothbrush.
During your regular checkup with your dentist, they'll also check for warning signs of gingivitis or more advanced periodontitis and tooth decay.
Good Health Practices
Good oral health isn't just based on cleaning your teeth. Eating healthily and not smoking will decrease your risk of gum disease.
Tobacco (whether smoked or chewed) can damage otherwise healthy gum tissue, resulting in receding gums and an increased risk of gum disease. Nicotine also narrows blood vessels, slowing the healing process. In short: tobacco makes you more likely to get a gum infection and also makes it harder to heal from it. So, if you were looking for a sign to quit, maybe this is it.
Gingivitis Risk Factors
Anyone can develop gingivitis, but some factors increase your risk. Some of these risk factors include:
smoking or chewing tobacco
dry mouth
vitamin C deficiency
some drugs
hormonal changes, such as those related to pregnancy or use of birth control pills
Because gingivitis is a bacterial infection, medical conditions that weaken your immune system – HIV/AIDS, leukemia, cancer treatment, etc. – can increase your risk. Poorly managed diabetes can also make your gingivitis more severe or take longer to heal.
What many people don't know is that a family history of gum disease also puts you at a higher risk for developing gingivitis.
If you have any of these risk factors, it is extra important to see your dentist regularly and keep an eye out for symptoms of gingivitis.
Gingivitis Treatment
We discussed home treatment options, but your dentist or periodontist can also provide gingivitis treatment.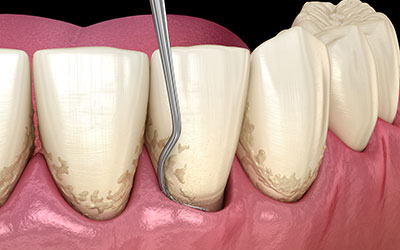 A brief note: if left untreated, gingivitis can worsen and result in loose teeth, bone loss, and even tooth loss. So it's important to get treatment early before it escalates to serious gum disease.
When going in for gum disease treatment, your oral care provider will perform X-rays to check for tooth decay and bone loss; bone loss is a symptom of more advanced gum disease.
When gingivitis has progressed into periodontitis, the first line of treatment is a deep cleaning. Also known as "scaling and root planing", a deep cleaning uses special tools to clean below the gumline.
Bacteria and tartar that have built up under the gums are removed. Then rough patches on the teeth are smoothed out, removing the places bacteria can hide.
If you suspect you have gingivitis, MD Periodontics can help!
Two of the most trusted and respected periodontists and holistic dentists in Southern California are the board-certified husband and wife team of Dr. Abdy Moshrefi, DDS, and Dr. Nazanin Daneshmand, DDS.
At our beautiful Beverly Hills offices, MD Periodontics offers patients the best periodontic treatment that Los Angeles has to offer. Our holistic approach to dentistry ensures that your treatment utilizes the least toxic materials available, the most advanced technology, and amenities including aromatherapy to minimize discomfort and stress during procedures. You'll experience a supportive atmosphere you would never expect to find at a dental office and results that you will love.
To schedule a consultation, click here or call us at (855) 245-1100. Your smile will thank you!
We are conveniently located to patients throughout Southern California and the Los Angeles area. Our board-certified periodontists and implant dentistry experts are available at locations in or near Santa Monica and Beverly Hills. We are conveniently located near West Los Angeles, Culver City, West Hollywood, Downtown Los Angeles, Marina del Rey, Pacific Palisades, Malibu, Manhattan Beach, Sherman Oaks, and Encino.
At MD Periodontics we take our patients' safety very seriously. That's why our facility's Covid-19 patient safety procedures far exceed all CDC recommendations.

Latest posts by Dr. Nazanin Daneshmand
(see all)