Oral care is easy to maintain, just follow a few steps: brush your teeth, floss, use mouthwash, and… brush your tongue?
This easily overlooked step has more benefits than most people realize.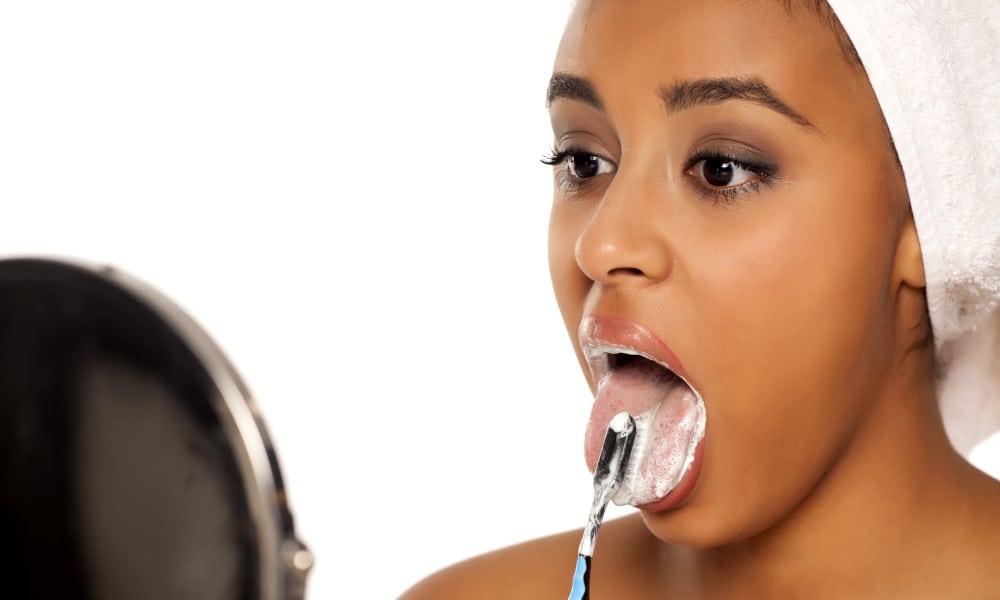 Benefits of brushing your tongue
You absolutely do not want to miss out on the many benefits of tongue brushing. These are just a few of the dental hygiene benefits you get from brushing your tongue.
Decreased risk of periodontal disease
Also known as gum disease, periodontal disease is one of the worst ailments you can get from not brushing your tongue. This disease will cause your gums to become infected to the point where the soft tissue suffers damage that can seriously harm your teeth.
It's not uncommon for periodontal disease to lead to severe tooth decay and tooth loss, but it can also lead to heart disease. Thankfully, you can prevent periodontal disease by maintaining good oral health.
Tongue cleaning removes bacteria from the tiny crevices and elevations in the tongue. If left to multiply, these bacteria can move from the tongue to the teeth and gums – resulting in gingivitis.
Prevent bad breath
The bacteria living on your tongue also lead to halitosis or bad breath. Halitosis is more potent and longer-lasting than the typical bad breath you get from eating certain foods or morning breath, and it's relatively common.
Generally, you can get rid of halitosis by simply brushing your teeth and tongue and flossing every day; a healthy mouth won't cause bad breath. Chronic bad breath is also a sign of periodontitis, so if brushing your tongue is helping your breath, visit a periodontist for a checkup.
Many people think that they get better breath by simply brushing their teeth. This is only partially true. Ideally, you want clean teeth and a clean tongue for the best smelling breath. Having clean teeth and a dirty tongue will lead to bad breath not long after the initial brushing.
Boost your immune system
The body's immune system is one complete machine that is constantly affected by all its working parts, including the tongue.
By practicing good oral hygiene, you're keeping many toxins from entering your body through your tongue and boosting your immune system's ability to function efficiently. So, it's extra important to keep your tongue clean whenever you're sick or in a state where your immune system is under more stress.
Consequences of not brushing your tongue
Now that you know some of the main benefits of brushing your tongue, let's go over some consequences of not brushing your tongue.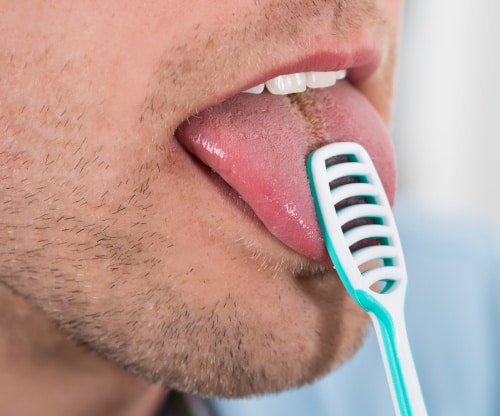 Weakened taste buds
If you notice a general lack of flavor when you eat or drink something, it can indicate poor oral hygiene. Taste buds are naturally subject to many different things getting on them, and not keeping them clean will result in a lessened ability to taste.
The harmful bacteria and plaque that build up on your taste buds are no different from those on your teeth. Once they're there, they won't go away until you brush them off.
Yeast infection
Yes, you can get a yeast infection in your mouth if you do not know how to brush your tongue correctly. It's not very common, as the tongue has to have lots of bacteria build-up on it for a yeast infection to occur, but it absolutely can happen.
If you look at your tongue and notice white patches on it, that is generally a sign of a yeast infection.
Being able to detect a yeast infection visually makes it very easy to see, but once it's there, it isn't going to go away just by brushing. So make sure to visit your periodontist for diagnosis and treatment. You'll likely need an antifungal medication to remove it initially. From there, regular brushing will keep it from forming again.
Bacteria build-up
Like a yeast infection, general bacteria build-up in your mouth will occur when you do not practice good brushing. It's not as severe as a yeast infection, but it's a common cause of a yeast infection, so you don't want to risk having the bacteria grow to that point.
It is also important to note that bacteria can grow on the backside of the tongue. To avoid this, make sure to clean the back of your tongue just as much as you clean the front of your tongue.
Black hairy tongue
Your tongue is covered in small bumps known as papillae. These bumps can get covered with dead cells, biofilm, and food particles. When they sit on the tongue for too long, the papillae get stained, giving the tongue a black, hairy appearance. As bad as this sounds, it's far from the worst thing that can happen to your tongue due to a lack of a proper oral hygiene routine. 
Unlike with a yeast infection, you don't need any medication to get your tongue to return to a normal appearance. Proper brushing will have the black hairy surface clean and pink again as long as you stay consistent.
How to brush your tongue properly
You can break down how to clean your tongue in four simple steps.
Wet your toothbrush and apply toothpaste.
Begin brushing at the back of the tongue and gradually brush your way to the front. Don't rush.
Go over your entire tongue two times to ensure you cover as much surface area as possible.
Rinse your mouth with warm water to eliminate excess toothpaste and leftover bacteria.
Do tongue scrapers work?
Yes! Tongue scraping is another popular method of cleaning. A tongue scraper can be purchased at any drugstore and is used similarly to a toothbrush.
Starting at the back of the tongue, gently drag the tongue scraper to the front of the tongue, rinse it with water, and repeat two to three times. Rinse your mouth with water when you're done.
Does mouthwash clean your tongue?
Mouthwash can be helpful in maintaining oral health, but it isn't a substitute for brushing and flossing. Rinsing with antiseptic mouthwash kills bacteria in the mouth, but can't remove bacteria hiding in the crevices of the tongue.
Why Choose MD Periodontics for your periodontal care?
At our beautiful offices, MD Periodontics offers patients the best periodontic treatment that Los Angeles has to offer. Our holistic approach to dentistry ensures that the treatment you receive will utilize the least toxic materials available and the most advanced technology. We practice expert dental care focusing on not only your oral health but your overall health. You'll experience an atmosphere you would never expect to find at a dental office and results that you will love.
MD Periodontics is Beverly Hills' premiere facility for dental implants. Our periodontists' care and expertise attract clients not just from the Los Angeles area, but around the globe. A consultation with either Dr. Moshrefi or Dr. Daneshmand is the first step on your journey to a healthy solution to tooth restoration, and a smile you can happily share.
To schedule a consultation, click here or call us at (855) 245-1100.
At MD Periodontics, we take our patients' safety seriously. Our facility's Covid-19 patient safety procedures exceed all CDC recommendations. Masks are required in our institutes at all times.
We are conveniently located to patients throughout Southern California and the Los Angeles area. Our Beverly Hills office is conveniently located near West Los Angeles, Culver City, West Hollywood, Downtown Los Angeles, Marina del Rey, Pacific Palisades, Malibu, Manhattan Beach, Sherman Oaks, and Encino.

Latest posts by Dr. Nazanin Daneshmand
(see all)