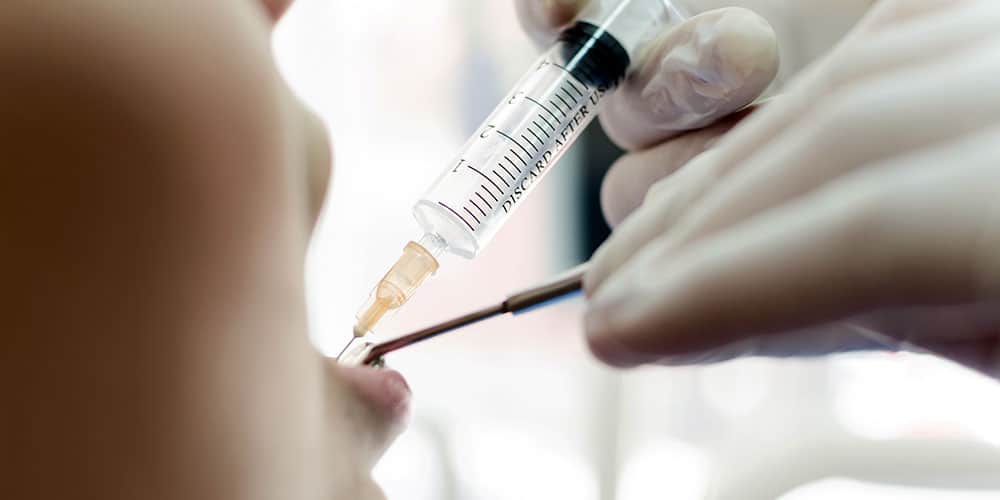 Last week a 20-something patient came in for some extensive dental work. We were surprised when he asked that we use enough Novocain because he had a low tolerance for pain.
We were not surprised that a patient has a low tolerance for pain, but that one, especially so young, even knew what Novocain was. Why? Because most dentists phased out Novocain in 1948 and replaced it with Lidocaine, which is less allergenic, faster-acting, and longer-lasting.
So, we thought this would be a good topic for a blog post. We hope you agree!
What do dentists use to numb their patients' mouths?
These days, we use Lidocaine, Septicaine, Carbicaine (without epinephrine), Marcaine, and sometimes Nitrous oxide (to help with anxiety) for dental procedures.
Novocain is actually the trade name of a drug officially called Procaine. Like Xerox for copying and Coke for any kind of soda, Novocain has come to represent any numbing medicine. All these drugs belong to the alkaloid family – like Novocain – but present fewer side effects.
The road to safe, local anesthesia
Long before Novocain was discovered, dentists used good, old-fashioned booze to knock out patients when they underwent a painful procedure. That method was better than nothing but didn't do much numbing. Besides, who wants a sloppy drunk flopped in your dentist chair?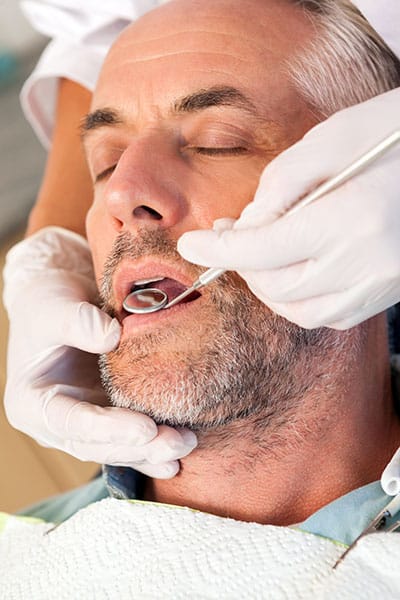 Shortly before the Civil War, vast amounts of coca leaves were taken from Peru to Europe, where cocaine was then isolated. In 1894, Sigmund Freud, who himself was somewhat of a connoisseur of cocaine, suggested to a doctor friend that he try cocaine as anesthesia during eye surgery.
While the use of cocaine as a local anesthetic spread like wildfire through Europe and America, there was a problem, which I am sure you can guess: patients and medical staff quickly became addicted to the drug or even died.
Help came around the turn of the century when a chemist named Alfred Einhorn created Procaine, which he gave the name Novocain. Originally, Einhorn thought his discovery would be good for amputations, but, by that time, surgeons were using general anesthesia.
Heinrich Braun, a surgeon, introduced the drug to his practice shortly thereafter, and dentists quickly jumped on board.
The problems with Novocain
It took a while, but dentists began to notice that Novocain wasn't the end-all and be-all for local anesthetic. Because Novocain depresses the nervous system, patients would often become hypersensitive, restless, or go into convulsions, which were sometimes severe.
Because the central nervous system is stimulated, other issues such as nervousness and dizziness can occur and it can lead to respiratory failure.
Allergic reactions to Novocain included problems breathing, rashes, and swelling.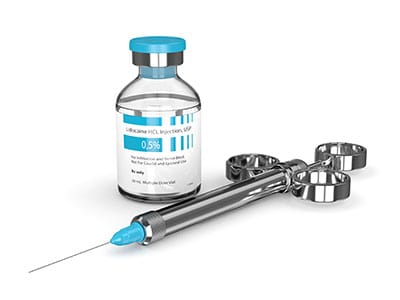 Lidocaine to the rescue
Dentists were quite pleased when Lidocaine was discovered by Swedish chemist Nils Lofgren in 1943 and began being marketed in 1949.
Today, the World Health Organization (WHO) includes Lidocaine on its List of Essential Medications. As of 2018, Lidocaine was the 233rd most commonly prescribed medicine in the United States, with more than two million prescriptions.
So let it be known to Millennials, Gen X, and everyone else –Novocain is never used when you visit the dentist. And it hasn't been used since Truman was president. Who was Truman? Google it, he was a great man.
Why choose MD Periodontics as your Los Angeles periodontist?
At our beautiful offices, MD Periodontics offers patients the best periodontic treatment that Los Angeles has to offer. Our holistic approach to dentistry ensures that the treatment you receive will utilize the least toxic materials available, the most advanced technology, and amenities including aromatherapy to reduce discomfort and stress during procedures. You'll experience an atmosphere you would never expect to find at a dental office and results that you will love.
At MD Periodontics we take our patients' safety very seriously. That's why our facility's Covid-19 patient safety procedures far exceed all CDC recommendations.
To schedule a consultation, click here or call us at (855) 245-1100. Your smile will thank you!
We are conveniently located to patients throughout Southern California and the Los Angeles area. Our board-certified periodontists and implant dentistry experts are available at locations in or near Santa Monica and Beverly Hills. We are conveniently located near West Los Angeles, Culver City, West Hollywood, Downtown Los Angeles, Marina del Rey, Pacific Palisades, Malibu, Manhattan Beach, Sherman Oaks, and Encino, to name a few.

Latest posts by Dr. Nazanin Daneshmand
(see all)