Are you unhappy with your smile? Now you can "try on your new smile before you buy!"
We often hear from patients that they're unhappy with their smile. And it's understandable that if you're unhappy with your smile, it may be difficult to feel confident. If you're not comfortable with your smile, you might feel self-conscious when taking pictures, talking in public, or meeting new people.
If you are one of those folks who wish you could change your smile, good news! Now you can have a smile makeover that actually lets you try on your new smile before your treatment work begins! With Digital Smile Design (DSD) you can get a smile that makes you feel confident and a positive dental treatment experience that lets you be in the driver's seat in designing the smile of your dreams.
MD Periodontics belongs to a small group of Digital Smile Design providers. These are dental professionals that have been selected based on their passion for combining dentistry, aesthetics, and state-of-the-art technology in the pursuit of excellence in creating truly customized smiles.
What is Digital Smile Design?
Digital Smile Design is a dental treatment planning tool that uses digital technology such as videos, photography, X-rays, and 3D imagery to give the dental provider (and you) a better sense of the relationship between your lips, gums, and teeth, as well as how they work in combination to create your unique smile.
By combining visual input from several sources, your provider can make a detailed analysis of your dental and facial proportions and combine these physical factors with the emotional component of your smile. In other words, how your face and mouth physically express your reactions.
With this facial analysis information in hand, your dental provider can show you a visual simulation and actually create a try-on model of the smile you can expect from various treatment options. This means you can literally try on a temporary model of your new smile and see how it looks before you commit!
Working closely with you, your dentist will listen to your aesthetic wants and needs to refine your treatment plan. You will be heavily involved from start to finish.
Everyone's smile makeover plan is as unique as their smile.
What kind of problems can Digital Smile Design address?
Whether you have crooked, chipped, discolored, or misaligned teeth, we can create a natural-looking and aesthetically pleasing smile. Using a variety of treatments and our years of expertise in cosmetic dentistry we'll craft your smile over several visits.
We have at our disposal a variety of cosmetic dentistry treatments including porcelain veneers, crowns, composite bonding, Invisalign tooth realignment, and teeth whitening. With these, we'll create the beautiful smile you always dreamed of.
What is the Digital Smile Design process?
Defining your ideal smile
During your initial visit, we'll go over your goals for your new smile. You will be given photos and case studies of our prior cosmetic treatments to help refine your choices as you select the new size, shape, and color of your teeth. Alternatively, you can bring us a photo of a smile that we can replicate for your mouth (say, Julia Roberts' smile). Taking your face shape, eye and nose position, lip line, and jaw angle into consideration, your dental care practitioner will make suggestions for creating a smile that will complement your facial features.
Video analysis
We'll also take video footage of you smiling and talking to see how you emote through your smile. This is an important step because lip movements in natural speech are different from those in a posed smile.
Enhanced digital photography
The design process begins with 3D photos and videos of your mouth. An intraoral scanner takes all the preliminary photos from every angle and sends the captured data into the DSD software. The scanner accurately captures "before" images that will be used as the starting point for your treatment planning.
Smile Design blueprint formulation
After your imaging data is uploaded onto the DSD program, your smile designer uses special design software to create a solution. The smile solution takes into account your facial features, personality, dental analysis, and treatment goals. It's important to communicate your wants and needs to your smile designer throughout the process. They will incorporate your desires into your smile design. Then, we give these specifications to our dental technicians and ceramists who advise on what it will take to execute the ideal smile. With their input, we can further refine your blueprint.
Test drive your "try in" smile
Once everyone agrees on the blueprint, the dental lab creates a three-dimensional resin model simulating what your final smile will look like. You'll try on the model over your natural teeth during an office visit. The model gives you a sense of what your new smile will look like.
This is the most fun step of the process; you get a sneak preview of how your appearance will change. We once again take photographs and videos from different angles and in motion. With these, you can evaluate the look of your teeth and your future smile. And we can make adjustments if needed.
In some cases, your smile designer may even be able to place portions of the model in your mouth temporarily so you can get an idea of what your teeth will look like over time. Many patients are so eager to get their new smile they start the restoration work on the very day of their try in smile.
Preparation of the final design
After your test drive, once you've approved the final design, your dental professional will have a full idea of what your process will entail. They will inform you of what your restoration treatment will consist of, all of the costs involved, and how long it will take to complete. You will also receive all relevant information regarding any preparations that may be needed before your restoration begins. Once we have your approval, the restoration work begins.
Predictable results
Everyone's smile makeover plan is as unique as their smile. As such, your plan may involve: dental implants, Invisalign tooth alignment correction, crowns, bridges, bleaching, or porcelain veneers. Once your treatment is complete, we'll take pictures and videos of your beautiful new smile, since you won't be able to stop smiling!
What are the advantages of a Digital Smile Design?
Predictability
The DSD concept puts you in the driver's seat. You will work closely with your dental provider every step of the way to achieve a smile that will make you feel confident and attractive. If you've ever been frustrated by poor communication or mixed messages resulting in disappointing results, you know the importance of everyone being on the same page regarding your treatment goals.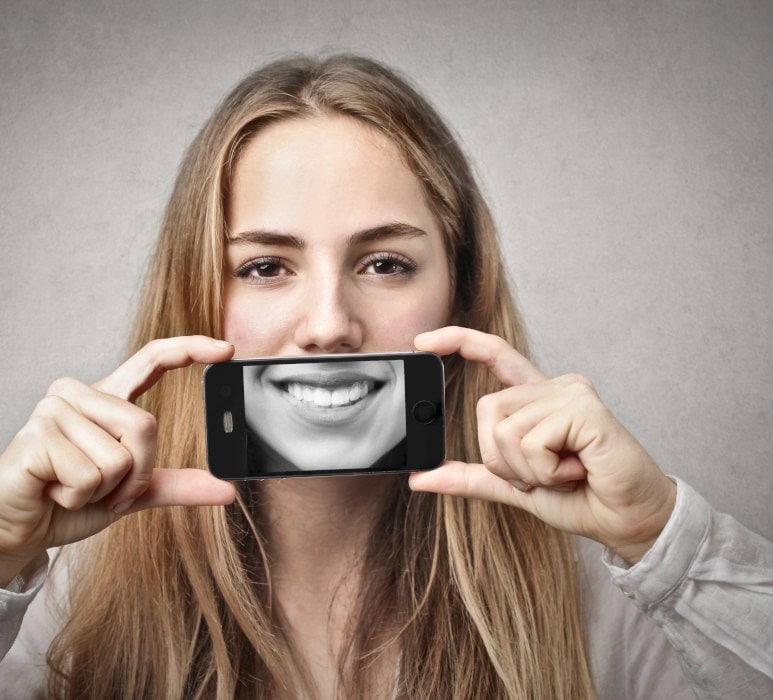 No surprises
The DSD approach creates open communication between everyone involved in your treatment. You are kept in the loop with your dental provider and the dental technicians responsible for creating your restoration components. By making you part of the decision-making team, you can feel confident that we are creating a smile that meets your expectations exactly. And our mock-ups and simulations let you test drive before you commit.
Custom-tailored
The bottom line is that every patient has unique needs and wants, and a one-size-fits-all treatment plan doesn't actually fit everyone. The DSD concept is considered the most advanced, patient-centered design approach available. Because your smile is important to the way you look and feel, our team is dedicated to transforming it to fit the personality that you want to project. Isn't it time your smile reflected the real you?
Why choose MD Perio for state-of-the-art cosmetic dentistry?
If you're ready to have a smile that reflects the real you, perhaps it's time to give us a call.
With over twenty years of experience, the dental care providers at MD Perio are uniquely qualified to perform a full range of cosmetic dental procedures including Digital Smile Design. If you are unhappy with your smile and would like to explore the available options for acquiring the beautiful smile you desire, give us a call.
To schedule an appointment, click here or call (855) 245-1100. Your smile will thank you!
At MD Periodontics, we take our patients' safety seriously. Our facility follows Covid-19 patient safety procedures that exceed all CDC recommendations. Masks are required in our institutes at all times.
We have convenient accessibility for patients throughout Southern California and the Los Angeles area. Our Beverly Hills office is conveniently located near West Los Angeles, Culver City, West Hollywood, Downtown Los Angeles, Marina del Rey, Pacific Palisades, Malibu, Manhattan Beach, Sherman Oaks, and Encino.