About Dr. Abdy Moshrefi, DDS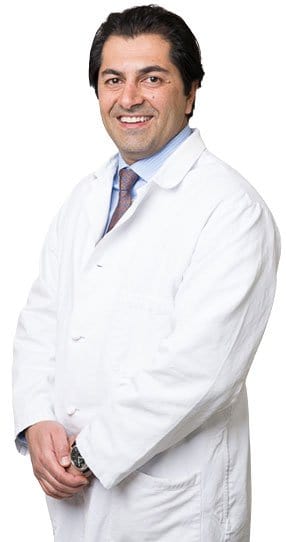 Dr. Abdy, as his patients like to call him, co-founded MD Periodontics with his wife and partner, Dr. Nazanin Daneshmand, in 2002. Their mission was to offer Southern Californians a state-of-the-art multi-disciplinary dental practice offering holistic, cosmetic, orthodontic, and implant dentistry, in addition to unsurpassed periodontal care, in a single clinical setting.
From the day the practice first opened its doors, the overriding goal was to provide patients with excellent care in a comfortable and welcoming environment. Dr. Moshrefi and his team of professionals succeeded in earning the trust of their patients so well that, after just 3 years, they opened a second location in Long Beach to meet growing demand for their services.
Dr. Moshrefi is passionate about using his masterful dental skills to help his patients recover their oral health. That said, he feels strongly that the doctor/patient relationship is the foundation for a successful treatment plan. That is why he and his staff dedicate time to getting to know each patient to better understand their concerns and needs.
In creating this dialogue with the patient, they are able to teach them about their oral health condition and the proposed treatment plan. Letting patients know what to expect goes a long way toward decreasing treatment anxiety. This inclusive approach has earned Dr. Abdy and his team high praise from satisfied patients.
Best Los Angeles Implant Dentist
Dr. Abdy Moshrefi is an award-winning Beverly Hills implant dentist with almost two decades of experience in providing state-of-the-art implant dentistry. Having personally placed thousands of dental implants and tooth restorations, his experience, great skill, and artistic eye have made him among the very best in his field.
Thanks to modern dentistry and Dr. Moshrefi's skill, artistry, and experience using the latest high-tech procedures can correct almost any smile and make it absolutely picture perfect.
A Holistic Dentistry Pioneer
Doctor Moshrefi approaches your oral health from the perspective that it is intricately connected to your overall health. And so, his approach is to offer dental and periodontal treatments that not only address your oral needs but that also support your overall health. That is why we offer metal-free dentistry and toxin-free treatment options such as zirconia ceramic dental implants and metal-free fillings. Because at MD Periodontics we feel that achieving optimal oral health shouldn't come at the expense of your general health.
Giving back to his profession
Dr. Moshrefi believes that to whom much is given, much is expected. That is why he has contributed to his profession by helping to form future dentists, serving as an Assistant Clinical Professor of Periodontics at USC's prestigious School of Dentistry.

In addition, Dr. Moshrefi has advanced knowledge in his field as an invited lecturer at dental and periodontal symposia throughout the U.S. and has given talks to educate the public on the state of the art implantology.
Education
Dental Training
University of Southern California, Los Angeles, CA
Doctor of Dental Surgery, 1999
Periodontal Training
University of Southern California, Los Angeles, CA
Specialty Certificate in Periodontology, 2002
University of Southern California, Los Angeles, CA
Master's of Science in Craniofacial Biology, 2002
Undergraduate Education
University of California, Los Angeles, CA
Bachelor of Science in Biology, 1995
Board Certification
Diplomate, American Academy of Periodontology and Implantology, 2003-Present
Academic Appointments
Assistant Clinical Professor, Department of Periodontology, University of Southern California, Los Angeles, CA, 2002-2005
Clinical Instructor to Surgical Residents
Professional Memberships
American Dental Association
American Academy of Periodontology and Implantology
California Dental Association
Beverly Hills Academy of Dentistry
Los Angeles Dental Society
Holistic Dental Association
Lecturer
T-cell Response to Actinobacillus Actinomycetemcomitans in Chronic Periodontitis, American Academy of Periodontology Scientific Session
Boston, MA, September 1999
Fundamentals of Dental Implants, Lecture
Los Angeles, CA, February 2005
Knowledge of Current Trends and Technologies in Implant Dentistry, Biohorizons Tapered Implant System Featuring Laser Lok Technology
Sacramento, CA, September 2009
Implants and Tooth Replacement
Los Angeles, Rancho Park Rotary, March 2011
Etiology and Treatment of Gingival Recession
Charter College, Long Beach, CA, August 2012
Grafting for Root Coverage, Lecture
Los Angeles, CA, November 2012
Hard and Soft Tissue Site Development for Implant Therapy
Beverly Hills, CA, August 2013
Ceramic Implants as a Viable Treatment Option in Treating Partial Edentulism
Beverly Hills, CA, September 2016
Ceramic Implants as a Viable Treatment Option in Treating Partial Edentulism, Annual Meeting of Holistic Dental Association
Atlanta, GA, February 2017
Comparison of Ceramic Implants: One Piece vs. Two Piece Systems and Clinical Applications, Z Systems Annual Global Symposium
Carlsbad, CA, April 2017
Why choose MD Periodontics as your Los Angeles periodontists?
As one of the most trusted and respected periodontist and smile artisans in Beverly Hills, the board-certified husband and wife team of Dr. Abdy Moshrefi and Dr. Nazanin Daneshmand.
At our beautiful offices, MD Periodontics offers patients the best periodontic treatment that Los Angeles has to offer. Our holistic approach to dentistry ensures that the treatment you receive will utilize the least toxic materials available, the most advanced technology, and amenities including aromatherapy to reduce discomfort and stress during procedures. You'll experience an atmosphere you would never expect to find at a dental office and results that you will love.
We are conveniently located to patients throughout Southern California and the Los Angeles area. Our board-certified periodontists and implant dentistry experts are available at locations in or near Santa Monica and Beverly Hills. We are conveniently located near West Los Angeles, Culver City, West Hollywood, Downtown Los Angeles, Marina del Rey, Pacific Palisades, Malibu, Manhattan Beach, Sherman Oaks, and Encino.
At MD Periodontics we take our patients' safety very seriously. That's why our facility's Covid-19 patient safety procedures far exceed all CDC recommendations.