What is Periodontal Disease?
Commonly known as gum disease, periodontal disease is a progressive infection involving the gums, ligaments, and bones surrounding teeth. Periodontal disease, even in its mildest stages, shouldn't be ignored.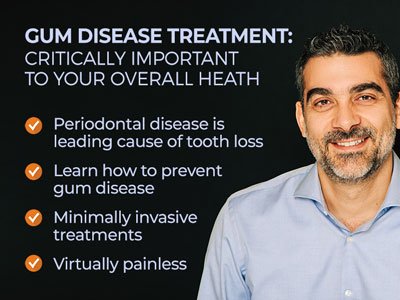 Untreated periodontal disease is the main cause of tooth loss among adults in the United States because it can lead to bone destruction in the jaw ridge where the teeth attach. Your gums (known as gingiva) are an integral part of your oral health. Keeping them healthy will help keep tooth decay at bay and increase the likelihood of saving your teeth.
What's more, if left untreated, chronic inflammation of the gums and their supporting tissue can increase your risk of heart disease! According to the American Academy of Periodontology, severe gum disease has also been associated with serious medical conditions such as strokes, diabetes, hardening of the arteries, osteoporosis, and even cancer.
What causes periodontal disease?
In a word: plaque – a sticky film that continuously forms on your teeth. Plaque contains bacteria that can irritate and inflame your gums, setting off a chain of events that can very well cost you your tooth if not managed in a timely fashion by an experienced periodontist.
Periodontal Disease has two stages
Periodontists grade the level of disease two ways. They are:
Gingivitis: the early stage of periodontal disease
Gingivitis literally means inflammation of the gingiva (the gums). The early stages of gingivitis may go unnoticed at first. This is because people in this stage often do not experience pain or tooth discomfort, however, they may notice that their gums are red, swollen, or bleed easily with brushing or flossing.
Signs of gingivitis include:
Red or purple gums
Swollen gums
Sensitive or painful gums
Bleeding gums
Bad breath (halitosis)
Gums that are soft
Gum recession that begins to expose the base of the tooth
Periodontitis: advanced gum disease
As gingivitis becomes more severe, the infection begins to involve the ligaments and bone supporting the teeth, threatening the very viability of the teeth. Aggressive bacteria begin to destroy not just the soft tissue of your gums, but also the jawbone supporting the tooth. Periodontitis is diagnosed when bone loss becomes apparent.
Signs of Periodontitis include
Gums pulling away from the teeth, creating a pocket between the gum and the base of the tooth where dangerous bacteria can breed
Red, swollen and tender gums
Pus visible along the gum line
Loose teeth
A change in your bite pattern
What are the risk factors for periodontal disease?
There are a number of variables that increase your odds of developing gum disease, such as: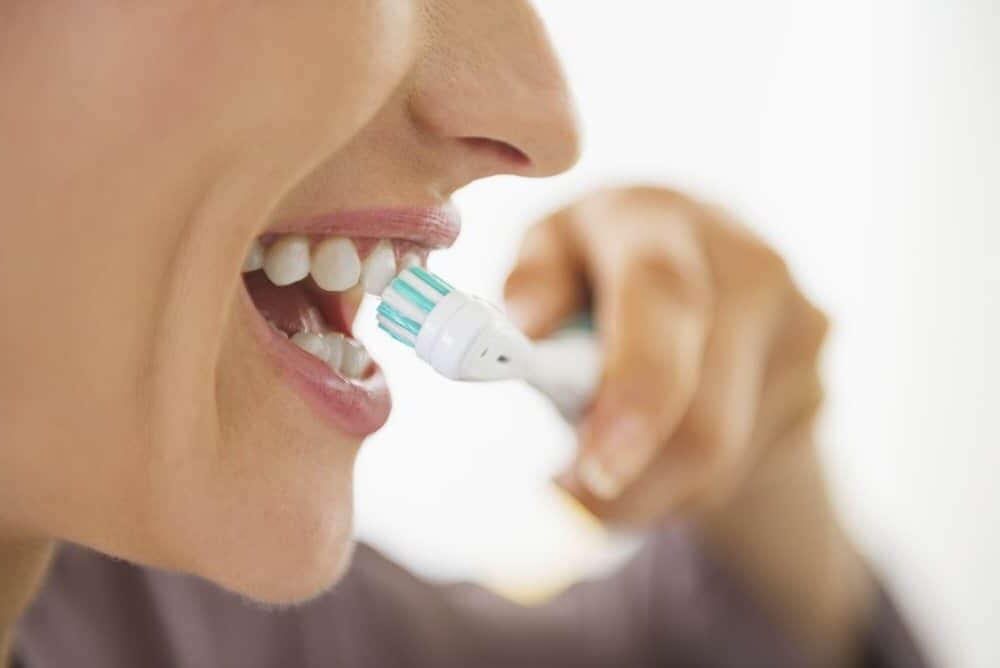 Poor oral hygiene
Dentists and periodontists recommend brushing your teeth for two to three minutes twice a day. In addition, floss twice daily and rinse with antibacterial mouthwash to prevent tooth decay and maintain healthy gums.
Tobacco use
It makes little difference if you use chewing tobacco or you smoke it, they both make it harder for your body to fight off a gum infection. In fact, smokers are twice as likely as non-smokers to have gum disease.
Illness
Systemic illnesses such as autoimmune disease or uncontrolled diabetes increase your odds of having periodontal disease.
Hormonal changes
Hormonal changes in women – such as those that occur during puberty, pregnancy, or menopause – can increase your risk for periodontal disease.
Direct Transmission between people
Yes, you can get gum-destroying bacteria by sharing cutlery, storing toothbrushes together, or kissing on the lips.
Can gum disease be prevented?
The good news is that gum disease is easily preventable. For most people, practicing good oral hygiene habits will keep them out of trouble.
Steps for preventing gum disease include:
Brushing your teeth twice daily for two to three minutes each time.
Flossing carefully and thoroughly two times a day to remove plaque buildup.
Using an anti-plaque mouthwash every time you brush and floss your teeth.
Regular checkups at your dental office to eliminate plaque and tartar buildup. See your dentist at least twice a year to have your teeth professionally cleaned by a dental hygienist.
Brushing and flossing after eating high carbohydrate foods like sweets. Your body converts carbohydrates into sugar that stimulates bacterial growth that can break down your tooth enamel, gum tissue, and bone.
How is early gum disease (Gingivitis) treated?
The good news is that it's very easy to treat gum disease if caught early. During the early stage of gum disease (known as gingivitis), you can be treated with relatively simple in-office non-surgical procedures performed by an experienced periodontist.
Untreated periodontal disease is the main cause of tooth loss among adults in the United States…
In-office deep cleaning treatments are the first step in treating early gum disease.
This procedure is known as periodontal scaling and root planing (aka a "deep cleaning"). This dentistry treatment removes the dental plaque and tartar build-up on and around your teeth.
After applying local anesthesia to one-quarter of your mouth (either one-half of your upper teeth or one-half of your lower teeth), your periodontist uses special tools to scrape dental plaque and tartar from the surface of your teeth (scaling) and to work below the gum line to polish away tartar, toxins, and micro-organisms from any exposed roots (root planing).
Because this is slow and meticulous work, many periodontists prefer to treat one-quarter of your mouth at each visit and space the visits out over several weeks.
As you can imagine, a number of specialized tools are used for these dental care procedures, ranging from hand tools to ultrasonic and laser instruments that help blast away tartar.
How is advanced gum disease (Periodontitis) treated?
Once gum disease has continued to progress, resulting in bone loss, this is known as periodontitis and requires more drastic treatments. For instance, it may be necessary to perform surgery to open the infected gums to expose the tooth root for more thorough scaling and planing.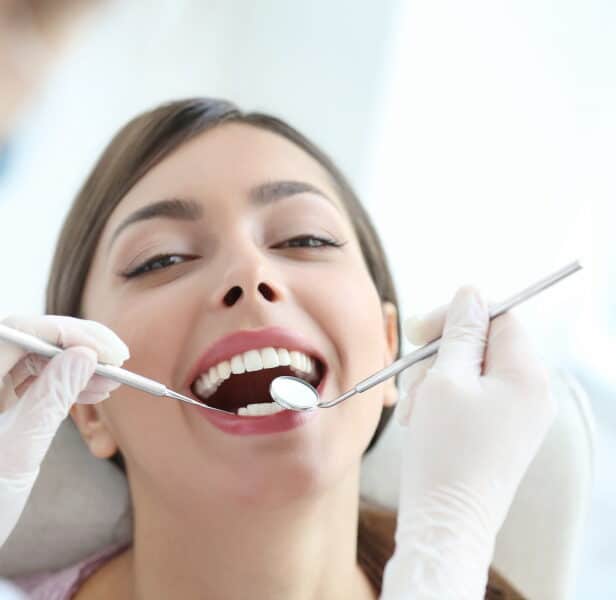 If the infection is particularly serious, your dental professional might take a saliva sample to identify the offending bacteria. Then they can prescribe oral antibiotics or insert time-released antibiotic granules directly into your gum pockets. If significant bone and gum tissue has been lost due to untreated periodontitis, grafting procedures might be able to fill in bone and gum tissue defects.
How is severe Periodontitis treated?
Severe periodontitis is treated with osseous surgery. This procedure requires anesthesia. It involves cutting a flap in the gum and folding it back to expose any diseased tissue in the gum and tooth-root surfaces that need removing with scaling and planning. Flap surgery is a fairly common procedure being widely performed nowadays.
Once the dead tissue is gone and the surrounding bone and gums are clean, your periodontist might attempt to re-contour one or more teeth to eliminate pockets where bacteria can breed before sewing the gums back in place.
If your gums have receded significantly and have pulled away from your teeth enough to expose your tooth root, your periodontist might recommend grafting gum tissue. Donor tissue is harvested from the roof of your mouth (or another source) to fill in the area with inadequate gum coverage. The tissue grafts are sutured into place to fill defects and, over time, heal with a natural appearance.
Similarly, if the bone foundation underlying a tooth is eroded to the point that it can't support the tooth, bone graft material can be inserted where it's needed before the gums are sutured closed.
Once you have undergone treatment for gum disease, whether, in its early stage or advanced stage, it's vital that you adopt the oral care regimen recommended by your periodontist in order to avoid the loss of more gingival tissue and bone.
Why trust your periodontal care to MD Periodontics?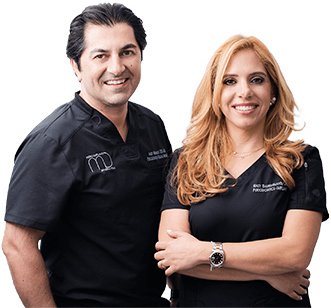 Dr. Abdy Moshrefi and Dr. Nazanin Daneshmand are board-certified periodontal specialists who have been delivering outstanding results in treating gum disease for two decades. What's more, they have been acknowledged by their peers for contributions to the field and are among the very best gum specialist Los Angeles.
It is our patient-centric philosophy that has made us one of the top specialty practices that Los Angeles dentists refer their patients to for years. We work closely with our referring doctors to coordinate all dental work, keeping your comfort and well-being as our top priority.
We take pride in making sure that our patients have all available treatment options presented to them in terms that they can understand. This way, they are well-informed before they make an important decision about their oral health care. We always make sure that you understand every step of the treatment plan before we proceed because we want you to be comfortable and relaxed, knowing that you are in professional hands.
When it comes to your oral health, do your research and look for the best. You deserve it.
To schedule an appointment, click here or call (855) 245-1100.
At MD Periodontics, we take our patients' safety seriously. Our facility follows Covid-19 patient safety procedures that exceed all CDC recommendations. Masks are required in our institutes at all times.
We are conveniently located to patients throughout Southern California and the Los Angeles area. Our Beverly Hills office is conveniently located near West Los Angeles, Culver City, West Hollywood, Downtown Los Angeles, Marina del Rey, Pacific Palisades, Malibu, Manhattan Beach, Sherman Oaks, and Encino.