It's taken a little while for modern dentistry to catch up with the glitzy trend of dental Grillz. These flashy decorative covers are removable dental jewelry and made from jewel-encrusted precious metals that snap over one or more teeth.
The trend of custom gold Grillz evolved a few years ago primarily from hip-hop icons and rappers who began the trend of dental fashion by wearing permanent gold teeth covers (solid gold crowns). Then, these creative (and wealthy) musicians and their jewelers began to get a lot more inventive and started to decorate their teeth with removable grills made of yellow or white gold and platinum.
The artistry of the jeweler really shines when these design custom-made tooth gems are crafted with elaborate encrusted precious stones such as diamonds (called Diamond Grillz), sapphires, and rubies, as well as different precious metals.
But today, dental bling has exploded in popularity with mainstream artists and athletes such as Katy Perry, Rihanna, Odell Beckham, LaMelo Ball, Jay-Z, Madonna, Kim Kardashian, and Nelly all wearing "gem-encrusted teeth."
How are Grillz for teeth created?
Though seemingly never discussed, the first step in the process does not involve a jeweler, but a dental expert.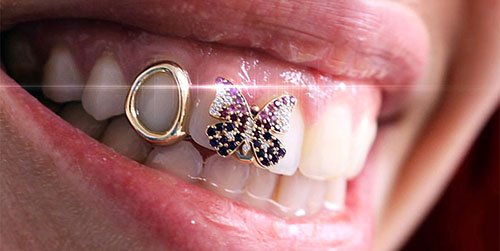 Not that long ago people who wanted Grillz (also called (Grills teeth)) had to endure an uncomfortable impression of their teeth. It's impossible for a jeweler to fit custom Grillz without an impression to work from.
But it can be a sloppy ordeal. Dental professionals or those using a home-impression mold kit typically mix a powder to concoct something resembling Silly Putty. Then that mixture is poured into a horseshoe-shaped plastic mold and pressed uncomfortably hard against your teeth for up to two minutes.
But wait a minute, not so fast, as this type of impression is not only messy but often does not produce accurate results. That can make these fancy (and expensive) Grillz ill-fitting and unpleasant to wear. As well as potentially damaging to your teeth health for several reasons, including the prongs that hold them in damaging your tooth enamel. The fit is important so the Grillz stays in the mouth and doesn't put unwanted pressure on the teeth.

Are grills bad for your teeth?
We get asked, "do Grillz ruin your teeth?" Unfortunately, there are no definitive answers, just some anecdotal evidence. There are no studies that state Grillz harms the mouth. But there are also no studies yet that demonstrate long-term wear is safe either. We do know that grills made from nonprecious (base) metals are known to cause oral irritation and even allergic reactions. And sometimes, those made from precious metals do as well.
This is why it is so important to use high-quality materials that are nonreactive and compatible with use in the mouth.
Los Angeles Grillz fans love 3D Digital scanner
Word has spread quickly through the Beverly Hills and Los Angeles celebrity community that expert periodontists Dr. Abdy Moshrefi and Dr. Nazanin are now applying their 3D digital dental scanning skills for those desiring custom Grillz.
With digital impressions, unlike the old-fashioned methods, there's no need for yukky materials placed in the mouth. There's no potential for gagging or discomfort, and it's more sanitary. But more importantly, they are dead-on accurate.
How a 3D dental scanner works
When doctors Moshrefi and Daneshmand take your image with a state-of-the-art TRIOS 3D scanner, you simply sit still while the doctors insert a small wand in your mouth. The image is projected onto a small screen in real-time. Absolutely no discomfort and your impressions are ready in less than a minute. Plus, there's no radiation exposure.
Independent studies report that the TRIOS 3D scanner has statistically higher accuracy compared to conventional impressions. Thus, your custom Grillz will fit precisely with the help of these two Beverley Hills stars of "Dentalogogy."
MD Periodontics work directly with the nation's top jewelers
Doctors Moshrefi and Daneshmand don't stop after creating hyper-accurate impressions of your teeth. They've established a close relationship with Gabby Elan, the premier maker of Grillz in the United States. They send your impressions directly to the jeweler.
In fact, many people call Gabby Elan "the Dolly Cohen of the United States." Ms. Cohen is considered one of the first and premier creators of custom mouth jewelry
Gabby Elan is a father-son duo based in New York City's diamond district who has been perfecting the art of grill-making since 1991.
Extra precautions are critically important when wearing custom grills.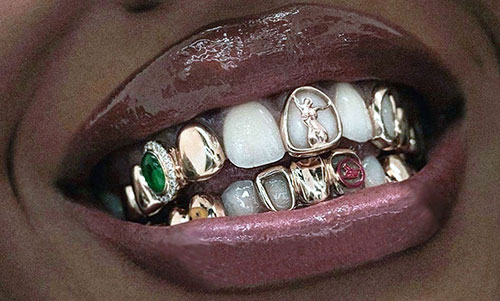 Drs. Moshrefi and Daneshmand insist their grill-wearing patients take extra precautions to preserve the integrity of their existing teeth.
"People who wear these diamond grills need to be exceptionally careful about brushing and flossing to prevent potential problems" states Dr. Moshrefi. "Food and other debris often become trapped between the teeth and the grill, which is an open invitation for bacteria to collect and produce unwanted and harmful acids that cause tooth decay and harm gums." That same bacteria also contribute to bad breath.
"Lastly," says Dr. Daneshmand, "the biggest dental danger with grills is they can easily irritate the oral tissue around them and wear away the enamel on the opposing teeth if not properly fabricated."
Why MD Periodontics should be your Los Angeles periodontists
Two of the most trusted and respected periodontist and holistic dentists in Beverly Hills are the board-certified husband and wife team of Dr. Abdy Moshrefi and Dr. Nazanin Daneshmand.
At our beautiful offices, MD Periodontics offers patients the best periodontic treatment that Los Angeles has to offer. Our holistic approach to dentistry ensures that the treatment you receive will utilize the least toxic materials available, the most advanced technology, and amenities including aromatherapy to reduce discomfort and stress during procedures. You'll experience an atmosphere you would never expect to find at a dental office and results that you will love.
To schedule a consultation, click here or call us at (855) 245-1100. Your smile will thank you!
We are conveniently located to patients throughout Southern California and the Los Angeles area. Our board-certified periodontists and implant dentistry experts are available at locations in or near Santa Monica and Beverly Hills. We are conveniently located near West Los Angeles, Culver City, West Hollywood, Downtown Los Angeles, Marina del Rey, Pacific Palisades, Malibu, Manhattan Beach, Sherman Oaks, and Encino.
At MD Periodontics we take our patients' safety very seriously. That's why our facility's Covid-19 patient safety procedures far exceed all CDC recommendations.

Latest posts by Dr. Nazanin Daneshmand
(see all)