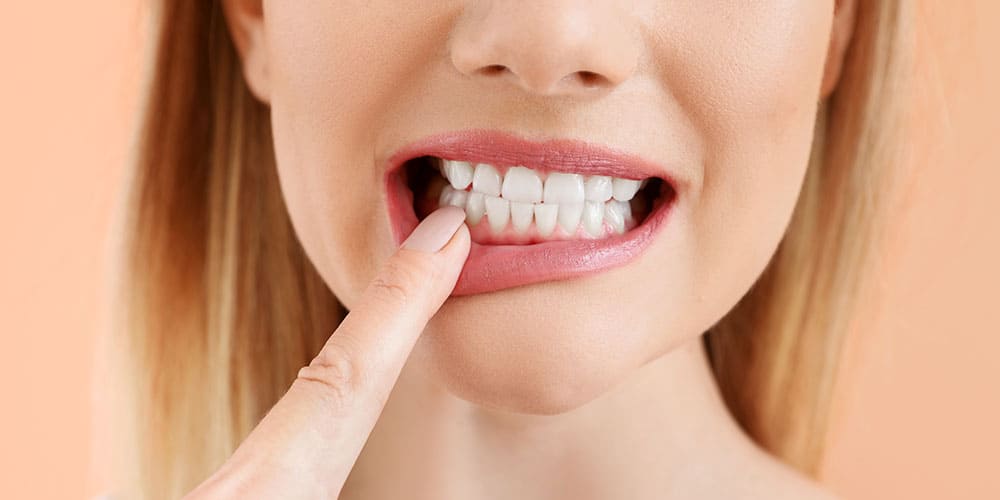 You might be surprised to find that the hardest substance in the human body isn't a bone; it's the thin outer layer that shields the surface of your teeth. This is known as the tooth's enamel.
This protective coating keeps teeth healthy by protecting them from the daily wear of chewing, biting, and teeth grinding.
What is Tooth Enamel?
Tooth enamel is a semi-translucent layer of calcium phosphate that covers the teeth. Enamel has a light white or beige color, though the color of teeth is actually from the dentin layer that appears through the enamel.
Since enamel is so hard, it protects the teeth from chipping related to biting. It also protects the nerves inside the teeth from hot or cold temperatures. Enamel contains no living cells and cannot repair itself from damage.
Tooth Enamel Erosion
Over time, the enamel on teeth can erode, resulting in the yellowing of teeth, cavities, severe tooth pain, and even infection. Several factors cause enamel erosion, many of which are preventable.
What causes tooth enamel loss?
Knowing the causes of enamel erosion can help prevent future enamel erosion. As previously stated, this is essential for dental hygiene as enamel cannot repair itself.
Some of the most common causes of tooth enamel erosion include:
Sugars
Sugar from food and drink wears away the tooth's surface when bacteria in the mouth use the sugar to produce acids that erode your enamel.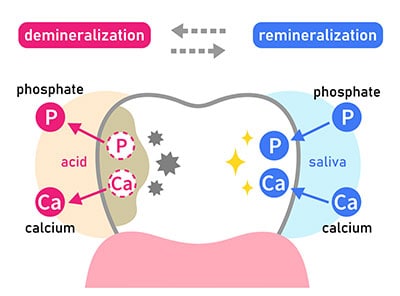 Acids
Acids found in food and drinks eat away at tooth enamel, speeding the tooth decay process. Soft drinks are some of the worst offenders due to their acid and sugar content. Studies show the long-term effects of drinking soda can be detrimental to dental health.
Citrus fruits and fruit juices are also high in acid that contributes to dental erosion.
Plaque
Plaque contains bacteria that convert starchy foods into acids causing enamel erosion. Good oral care, such as brushing twice a day and after meals, removes plaque from teeth, slowing the rate at which your tooth wears away.
Grinding Teeth
Teeth grinding and jaw clenching also erodes enamel through the friction between teeth. Another term for teeth grinding is bruxism.
Stomach Acid
Stomach acid can aid in tooth enamel loss, as well. Acid reflux, GERD, alcohol misuse, and bulimia all expose the teeth to higher levels of stomach acid.
Genetics
In rare cases, there can be abnormal formation of enamel stemming from inherited traits. This is known as amelogenesis imperfecta.
What Are the Symptoms of Tooth Erosion?
Signs and symptoms of tooth enamel erosion can begin at very early stages. Recognizing these signs will enable actions to prevent further damage to tooth enamel:
Sensitive teeth can occur in the earliest stages of damage to tooth enamel, manifesting as a small twinge of pain when eating sweets or hot or cold food. In later stages, tooth sensitivity becomes more aggressive and causes severe pain.
Discoloration of the teeth begins when the semi-translucent layer of enamel erodes. The erosion exposes the softer dentin layer of the tooth. You may also notice your front teeth appearing less opaque.
Small cracks can appear as a sign of enamel erosion, specifically from grinding teeth or clenching the jaw. Once these cracks appear, cavity-causing bacteria can get inside the tooth. Extreme cases can call for a root canal.
Smooth, shiny tooth surfaces begin to appear. These stem from the enamel's demineralization, also known as loss of structure.
Cupping, or erosion lesions, are small indentations that appear on the surface of teeth. These dents show where enamel eroded unevenly.
Stages of Enamel Erosion
Enamel serves on the frontlines of strong teeth. When enamel breaks down, this is just one stage of tooth decay. As all five stages of tooth decay relate to enamel erosion, recognizing the first two signs will prevent further enamel erosion.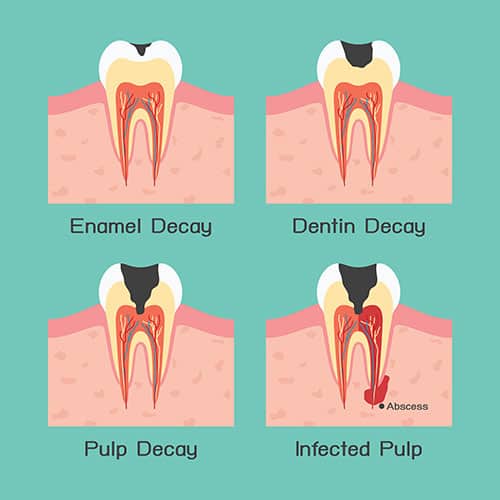 Demineralization
This stage signals future enamel erosion by creating light spots on the teeth. These spots are generally clear or white and are different from the normal color of your teeth. Eventually, as the enamel wears away, the teeth start to appear overly smooth and shiny.
Enamel Decay
As the enamel continues eroding, white or yellow-ish spotting on the teeth will turn brown. At this point, small holes called cavities begin to form in the teeth.
Further Stages of Tooth Decay
Once tooth enamel has decayed, damage can occur to the dentin, the layer of tissue underneath the enamel. If unchecked, the decay will then work its way into the inner layer of the tooth, known as the pulp. The pulp can become infected and cause an abscess, which requires the immediate removal of the tooth.
How is Enamel Erosion Treated?
Remineralization strengthens eroded tooth enamel. In this process, minerals are bonded to the teeth and drawn to weak spots in the enamel. This is often the first step against damaged teeth and includes fluoride gel.
Tooth bonding may be necessary for further stages of enamel decay. Also known as a filling, this process repairs spots of damage in the enamel by applying a resin to the teeth and letting them harden.
In more extreme cases, part of the tooth may be cut off and sealed with a dental crown. A root canal will be necessary if the damage has reached the pulp.
Can Tooth Enamel be repaired?
Tooth enamel cannot restore itself. Fortunately, enamel erosion is a long process. Taking steps to protect and bolster tooth enamel ensures the remaining enamel will protect the tooth indefinitely. With good oral hygiene and regular dental cleaning, it's easy to keep the enamel you have.
How to Prevent the Loss of Tooth Enamel
Tooth enamel loss is preventable. Moderating intake of sweet, starchy, and acidic foods and drinks is a great place to start. Having a dry mouth allows acid to build up and eat away at the enamel. Drinking water is helpful if you don't produce much saliva and chewing sugar-free gum greatly increases saliva production.
Practicing good oral hygiene, which includes brushing with a soft toothbrush and flossing daily, will also mitigate early enamel erosion. Fluoride (either fluoride toothpaste or mouthwash) can aid in remineralizing your teeth.
The Final Word on Tooth Enamel Erosion
Tooth enamel is the hardest part of the body, but it will not regenerate. It takes care and consideration to fight tooth enamel damage. Protected tooth enamel will continue protecting teeth.
Everyone should have their teeth cleaned in six-month intervals as part of preventative dental care. With regular checkups, a dental professional will spot the earliest stages of enamel erosion. Upon noticing signs of weak enamel, schedule a dentist visit.
Why Choose MD Periodontics for dental care?
At our beautiful offices, MD Periodontics offers patients the best periodontic treatment that Los Angeles has to offer. Our holistic approach to dentistry ensures that the treatment you receive will utilize the least toxic materials available and the most advanced technology. We practice expert dental care focusing on not only your oral health but your overall health. You'll experience an atmosphere you would never expect to find at a dental office and results that you will love.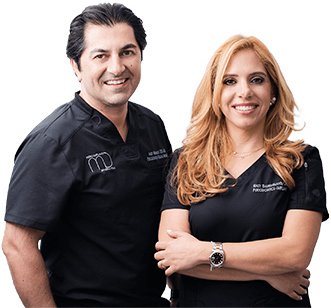 MD Periodontics is Beverly Hills' premiere facility for dental implants. Our periodontists' care and expertise attract clients not just from the Los Angeles area, but around the globe. A consultation with either Dr. Moshrefi or Dr. Daneshmand is the first step on your journey to a healthy solution to tooth restoration, and a smile you can happily share.
To schedule a consultation, click here or call us at (855) 245-1100.
At MD Periodontics, we take our patients' safety seriously. Our facility's Covid-19 patient safety procedures exceed all CDC recommendations. Masks are required in our institutes at all times.
We are conveniently located to patients throughout Southern California and the Los Angeles area. Our Beverly Hills office is conveniently located near West Los Angeles, Culver City, West Hollywood, Downtown Los Angeles, Marina del Rey, Pacific Palisades, Malibu, Manhattan Beach, Sherman Oaks, and Encino.

Latest posts by Dr. Abdy Moshrefi
(see all)