Tooth loss is a surprisingly common problem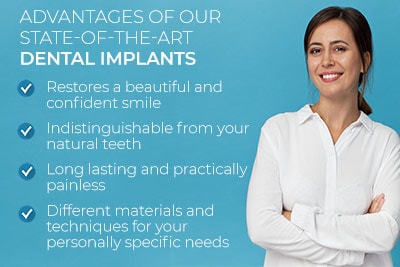 You might be shocked at how often tooth loss occurs among all adults. It is estimated that more than a third of all adult Americans have lost at least one tooth.
Missing teeth can be embarrassing, cause people to hide their smiles, and be a source of anxiety, discomfort, and insecurity. The gaps missing teeth create easily become infected with bacteria, which causes other teeth to shift out of place, making it difficult for people to speak or eat correctly.
MD Periodontics' award-winning implant specialists and dental practice is sensitive to the pain and shame of missing teeth. We provide state-of-the-art dental implants, restoring our patient's natural smiles and self-esteem, as well as preventing future oral health problems based on their specific needs.
What are Dental Implants?
Dental implants are the closest substitute you can get to a natural tooth. Up to 3 million people in the U.S. use implants to improve their smiles, eat more comfortably, and fill out their faces for a healthier look. A dental tooth implant can replace a single tooth or multiple teeth.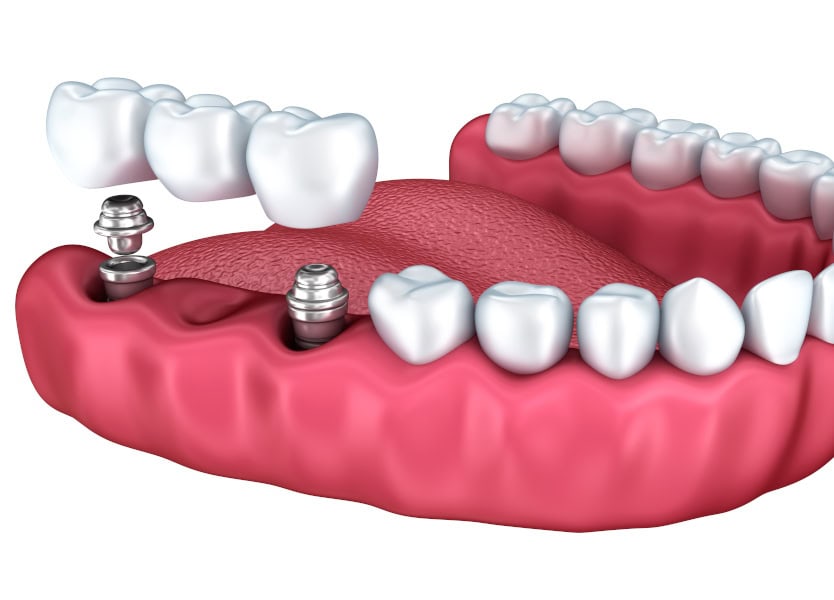 Our satisfied implant patients exceed national averages of a 98% success rate. That means rock-solid support for your dental restoration – quite an improvement over an ill-fitting fixed bridge.
Dental implants are small posts that take the place of the tooth's original root in your jawbone. Because the post is fused to the jawbone, implants do not make noise or cause bone damage like bridgework and dentures.
After the post has firmly joined the jawbone, we screw an abutment (a metal connector) into the implanted post. A custom crown is fabricated and placed on the abutment to complete the process and give you a natural look.
Are all Dental Implants the same?
The short answer is no; they are not identical. Our dental implant specialists know that one size cannot fit all when it comes to new teeth.
What are the different types of Dental Implants?
Ceramic Dental Implants
Ceramic dental implants have been available in the United States for a little more than a decade, but have been a tremendously popular type of implant in Europe for several decades.
Also known as Zirconia dental implants, ceramic implants are made of one material that looks completely real. So much so that you cannot tell the difference between them and your real teeth.
FDA-approved ceramic implants are the best esthetic option, bar none. It is also the only option for anyone with a metal sensitivity interested in keeping metal out of their mouth (Holistic Dentistry).
One thing to know about Zirconia dental implants is that they require great precision when placed in the jaw by your implant specialist. Thus, a top-flight periodontist is highly recommended to perform the procedure for optimal long-term results.
Learn more about ceramic dental implants.
Our dental implant specialists use state-of-the-art technology…
Titanium Dental Implants
Titanium was a preferred material for dental implants in the 1960s. The reason is that the material is quite durable and integrates fairly well with the bone in your jaw. Titanium can be somewhat more affordable than ceramic and is slightly more resistant to cracks and fractures than ceramic.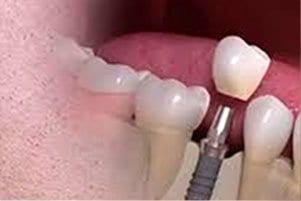 Titanium implants don't look bad, but they do have some downsides. Besides the aforementioned metal allergy issue that some patients develop, there are potential aesthetic concerns.
Since titanium dental implants cannot be completely tooth-colored (like ceramic dental implants), some of the metal can become visible when you smile. For example, if a patient develops (or is prone to) gum recession, the metal at the implant's base becomes visible, which is not ideal.
Learn more about titanium dental implants.
All-on-4 dental implants
Full arch, like All-on-4, dental implant treatment provides patients the opportunity to replace all or part of their upper and lower teeth with a custom-designed smile that uses the implants for anchorage. This option has a much more natural look than dentures.
Our periodontist surgically inserts four to six titanium posts into your jawbone as the main anchors during this procedure. A temporary prosthesis is then attached to those implants, and the area(s) are allowed to heal—the result: a seamless look across your mouth.
Learn more about all-on-4 dental implants.
What to expect during the dental implant procedure
The first step in obtaining a dental implant involves evaluation and consultation to ensure you are a good candidate.
Your periodontist will check and ensure enough underlying bone support to resist chewing forces. This often depends on the degree of tooth loss, how long the tooth has been missing, and the location of the missing tooth or teeth. In cases where there has been extensive bone loss, a bone graft might be necessary. A bone graft increases the bone density to create the support needed to accommodate implants.
Our dental implant specialists use state-of-the-art technology, including special 3-D imaging (combining the information from a digital scan of the mouth and CBCT of the jawbones), to assess the quantity of
The underlying jawbone at the proposed implant site
The configuration of the damaged tooth or gap
And its position relative to your other teeth.
We use state-of-the-art technology for this step because detailed imaging is critical for accurate treatment planning.
Then, we review the CT scan and X-rays with you, explain your situation, and review available treatment strategies for replacement teeth and restoring your oral health. We consider your dental needs and your financial situation to develop an affordable solution for you.
Permanent Dentures and Removable Dentures are now possible with implants!
Full dentures are artificial teeth for the upper, lower, or jaws. These are even more uncomfortable than partial dentures that only replace a few teeth. Full dentures are attached to your gums using messy adhesives that are not completely effective in keeping them from shifting.
With dental implant rehabilitation, it is now possible to secure full dentures to the upper and lower jaw using several implant posts, making the dentures strong and stable. They can be permanently inserted or, if needed, formatted to be removable.
Removable implant dentures snap onto the implant posts and can be removed for cleaning. There is no longer any need to fuss with gooey, messy adhesives or worry about your dentures shifting and making noise while talking or chewing.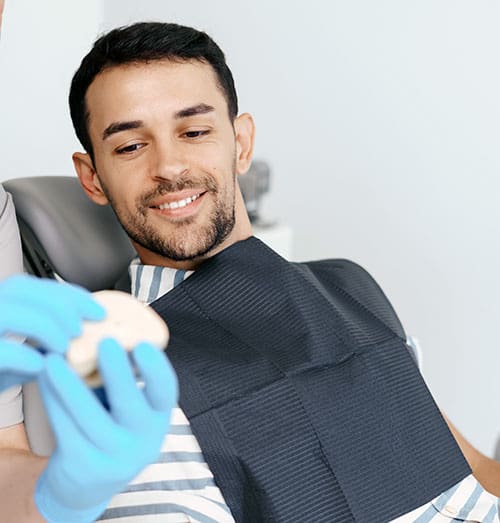 If a patient requires full mouth reconstruction, a full set of permanent implant dentures can be fabricated. The entire upper and lower teeth arcs can be permanently affixed using four to six posts.
Look at our dental implant before and after pictures to see for yourself.
Why trust MD Periodontics to create your perfect and natural-looking smile?
Experience: Board-certified Drs. Moshrefi and Daneshmand have almost 40 years of combined experience in periodontics, dental implant surgery, periodontal disease, and restorative dentistry. They have served as faculty at USC School of Dentistry and offer the latest technology in implant dentistry available in the US.
Dental Artistry: A periodontist and oral surgeon are dental implant specialists, but simply placing implants does not create the most beautiful smile. That takes a special talent, and only the most gifted artisans can deliver the best results. That is what our doctors are known for. Our full-arch restorations are second to none in the Los Angeles and Beverly Hills areas and are one of our most demanded services.
Trust: Given their longstanding prominence in the Los Angeles dental community, Drs. Moshrefi and Daneshmand have collaborated closely with many area dentists who are confident that the patients they refer to MD Periodontics are receiving the utmost care in our state-of-the-art dental facility.
Personal Attention: At MD Periodontics, we know that every patient is different. That is why our experienced implant specialists take the time to understand your dental care needs fully.
After performing a comprehensive examination that includes digital x-rays and 3D imaging to capture the most precise imaging available, our implant specialists will carefully explain available treatment options for creating a not only functional but extraordinarily natural-looking mouth.
Affordable Dental Implants: To make the cost of dental implants accessible, we offer financing options to facilitate payments no matter the number of implants that may be necessary. Because when it comes to preserving your oral health, some interventions can't be delayed.
State-of-the-Art Dental Office: Besides having the very best equipment available for our patient's care, we also provide our patients with a beautiful facility where they can relax, something unexpected but comforting. We are also conveniently located in Beverly Hills, with ample parking to make your experience distraction-free.
To schedule an appointment, click here or call 310-496-1792. Your smile will thank you!
Dental Implant FAQs
How much do dental implants cost?
Many of our patients ask us, "how much are dental implants?" The cost of dental implants depends on your situation and requirements. A thorough examination of your mouth during your free consultation allows us to estimate the potential cost accurately. We can also discuss what insurance may and may not cover.
We believe that cost and affordability should not stand in the way of getting needed dental work, so we offer a wide range of payment options. With our convenient dental implant financing, you can take care of your dental problems now and pay off the cost of your treatments monthly. We go out of our way to find the right financial answer to your dental needs.
Does dental insurance cover implants?
Different insurance providers offer varied coverage for dental implants. Most providers do not cover the procedure because it is considered cosmetic. However, some providers provide implant coverage, but it often comes with limits, exclusions, or a hefty deductible. Sometimes, some needed services, such as tooth extraction, may be covered if necessary.
Does Medicaid cover dental implants?
While straight Medicaid and Medicare may not cover dental implant procedures, it is possible to apply for a federal grant. The grants are often approved when implants are not just a cosmetic procedure but a necessity to prevent further damage to the jawbone and gums.
Do you offer mini-implants?
We offer short implants; we do not do mini-implants anymore because there are better options. However, we occasionally use mini-implants for temporary anchorage and orthodontic treatment.
Are dental implants painful?
At MD Periodontics, our patients report no pain during the procedure and minimal discomfort during recovery.
How long do dental implants last?
It's not unreasonable to ask "do dental implants last forever?" The implant screw itself can last a lifetime, assuming the patient receives regular dental check-ups every six months and brushing and flossing regularly. However, the crown usually lasts about 10 to 15 years before being replaced due to wear and tear.
How long does a dental implant procedure take?
A single implant procedure takes 60-90 minutes. The entire dental implant process can take as little as three months.
How long after dental implants can I eat normally?
Typically, most patients can begin eating a full, normal diet within one week after their surgery. The first few days following your procedure, you should be careful only to eat soft foods or liquids to protect your vulnerable gums.
Who is best qualified to do dental implants?
Because they have received the highest level of specialized training for dental implant surgery, periodontists are the best choice for dental implants.
How long do dental implants take to heal?
It takes about an average of six months for dental implants to heal completely from start to finish.
Can you get dental implants if you have bone loss?
Yes, you can get implants if you have bone loss. In some cases of bone loss, dental bone grafting may be required.
Do they put you to sleep for dental implants?
At MD Periodontics, we offer several different types of sedation including nitrous oxide, oral sedation, IV sedation, and general anesthesia; though being put to sleep is rarely required.
Can you have dental implants with receding gums?
Yes. Bone and gum grafting may be necessary, but we will discuss what is necessary for your exact situation.
Can you have dental implants with gum disease?
Patients will need to have their gum disease treated before becoming candidates for dental implants.
Can a dental implant be replaced?
What causes dental implants to fail?
When dental implant procedures are done by less experienced dentists or, basically, non-experts, this is usually the cause of implant failure. We have extensive experience in restoring failing (or failed) implants. You can learn more about dental implant rehabilitation here
Are there side effects of dental implants?
Temporary side effects for dental implant surgery include swelling, bruising, and minor bleeding.
Are dental implants safe?
Although extremely rare, infection and nerve damage can occur following dental implant surgery. To avoid complications, it is important to do your homework and find a highly qualified periodontist and be sure to share your complete medical history with your surgeon.
Dental implants vs. veneers, which is better?
Dental implants are the best option for those missing teeth. Veneers are the best option when you have your natural teeth but want to improve their appearance.
What is the best maintenance of dental implants?
The success of your implants will depend greatly on how well you maintain them. They need to be professionally cleaned at dental check-ups once every three to six months. Also, brushing and flossing daily is necessary to maintain your new teeth, as well as overall systemic health.
Where can I get Dental Implants Near Me?
We are conveniently located to patients throughout Southern California and the Los Angeles area. Our Beverly Hills office is conveniently located for West Los Angeles, Culver City, West Hollywood, Downtown Los Angeles, Marina del Rey, Pacific Palisades, Malibu, Manhattan Beach, Sherman Oaks, and Encino, to name a few.
At MD Periodontics, we take our patients' safety seriously. Our facilities' Covid-19 patient safety procedures exceed all CDC recommendations. Masks are required in our institutes at all times.