MD Periodontics tests bacteria that cause periodontal disease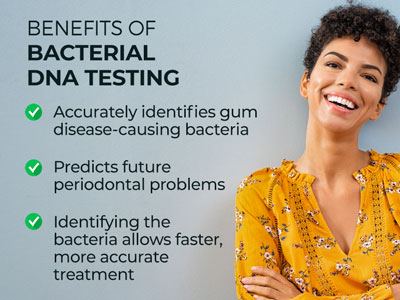 Doctors at cutting-edge MD Periodontics use a DNA test for gingivitis bacteria to assess your oral health and better understand the underlying reasons causing your periodontal problems.
The saliva test tells doctors which type of bacteria is associated with your gum disease. Armed with this critical information, the doctors can prescribe the correct antibiotic to apply locally to the tooth and gum line before root planing.
The oral DNA test allows DNA dentistry to:
Gain knowledge of bacterial levels
Assess gum recession and tooth loss
Explain scientific test results
Identify and observe periodontal disease
Identify what bacteria causes gingivitis
Board-certified Beverly Hills periodontists, our office specializes in the prevention, diagnosis, and treatment of periodontal disease. We're also committed to your ongoing wellness and periodontal maintenance.
What is a bacterial DNA test?
There are three types of bacteria in gingivitis that cause periodontal disease, but more than 350 species of bacteria can be found in plaque samples of periodontal patients. A saliva DNA test can accurately identify the bacteria that cause gingivitis.
The oral bacterial DNA test, also known as a saliva test, identifies the pathogens causing periodontal problems. This allows the dentist to approach the soft tissue with an effective antibiotic.
The test also alerts doctors to current oral diseases, as well as predicting future issues.
The test is used pre-therapy to establish a baseline of the problem and post-therapy to ensure the pathogens have been eradicated.
In refractory periodontal (unresponsive) cases, the DNA test serves as a marker denoting the possibility of a poor response to therapy.
Taking the DNA bacteria test
Put simply, periodontal disease is a bacterial infection. Each type of bacteria has its genetic material. DNA testing provides a more accurate result than culturing the bacteria.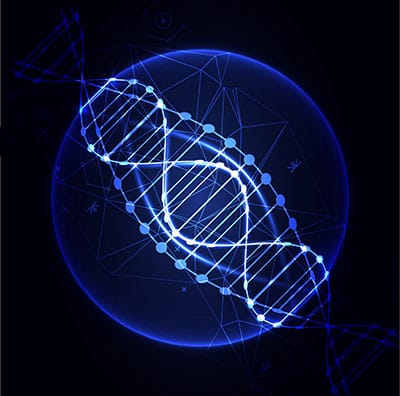 The doctor places a small paper point in the gum tissue they believe may be infected. In only a few seconds, the paper absorbs the genetic material needed for a DNA sample. The sample is put in a vial and forwarded to the lab, where the lab techs analyze it.
Sedation is not necessary for this test.
What does the saliva test DNA results tell us?
The lab results help the doctor determine the risk of bone loss. The test breaks up the results into negative, low, moderate, or high levels of bacteria. Moderate and high denote an advanced risk of periodontal disease which can cause bone loss if left untreated.
…more than 350 species of bacteria can be found in plaque samples of periodontal patients.
How is the bacterial DNA test used?
After the doctor knows what type of bacteria is present, they can prescribe an effective antibiotic to halt infection. The antibiotics help rid the tooth of any infection and promotes better surgical success on the tooth.
After your periodontal treatment, the dentist will administer another DNA test to measure your response. If they find that you still have an infection, they may try another course of the same antibiotics or a different one that may be more effective.
Your dentist will likely administer subsequent DNA tests to measure the continued effectiveness of the therapy.
How does DNA for periodontal disease benefit you?
Here are some of the ways MD Periodontics' saliva test helps patients:
It is less invasive and less expensive than a traditional blood test
DNA saliva test results become available much sooner than a blood test, so you can begin treatment sooner
It greatly assists the doctor in determining the correct course of treatment
The test helps us identify biological markers that put you at risk for inflammation and can make periodontal problems worse
There is no need for X-rays
The MD Periodontics healthcare advantage
Dental professionals Drs. Moshrefi and Daneshmand are board-certified periodontists and members of the American Academy of Periodontology. Their masterful dental care skills and state-of-the-art equipment enable them to perform extractions and other periodontal procedures with exceptional results and marginal discomfort. They always listen to their patients and answer their questions. The best periodontics in Beverly Hills get you the results you want.
We are conveniently located to patients throughout Southern California and the Los Angeles area. Our Beverly Hills office is conveniently located near Santa Monica, West Los Angeles, Culver City, West Hollywood, Downtown Los Angeles, Marina del Rey, Pacific Palisades, Malibu, Manhattan Beach, Sherman Oaks, and Encino.
We are currently accepting new patients and offer state-of-the-art procedures including ceramic dental implants, laser crown lengthening, bone grafting, periodontal maintenance, and holistic dentistry.
To schedule an appointment, click here or call (855) 245-1100. Your smile will thank you!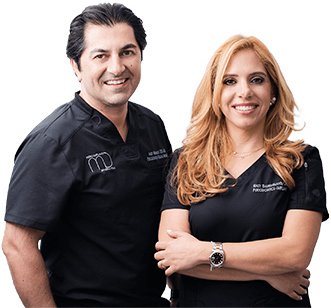 About Dr. Abdy Moshrefi, DDS, MS
An expert in implant dentistry Dr. Moshrefi is considered one of the leading periodontal artisans in California, known for fearlessly handling the most complicated dental reconstruction cases. His remarkably real-looking dental implants and restorations set him apart from other periodontic professionals. Patient reviews rave about his warm and confident bedside manner combined with honesty and transparency.
Dr. Moshrefi graduated from UCLA with Phi Beta Kappa and Magma Cum Laude honors. He then graduated from USC Dental School with a doctoral and specialty training in Periodontics. The doctor also holds a Master of Science degree in craniofacial biology and is a board-certified periodontist in addition to a dedicated holistic dentist. He is (of course) a member of the American Dental Association.
About Dr. Nazy Daneshmand, DDS
Dr. Daneshmand is a board-certified periodontist and member of the American Dental Association. After studying biology at UCLA, she graduated from USC's Dental School with a doctorate and specialty training in periodontics.
Dr. Daneshmand also specializes in the practice of "holistic dentistry," which uses metal-free and toxin-free dental options. She offers patients solutions to full-mouth dental problems that are beneficial to their overall health. Dr. Daneshmand also excels in the field of antimicrobial therapy and non-surgical treatment of chronic periodontitis. Her articles have been published and syndicated in numerous publications, including the Journal of Periodontal Research.
Dr. Abdy and Dr. Nazy have been married for over 20 years and have three children together.