Do you have an extreme fear of dentistry? We can help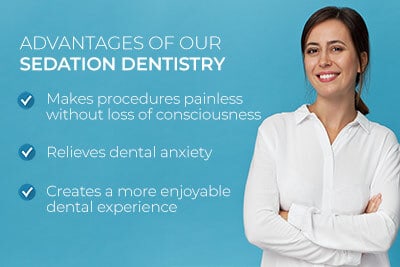 Did you know that up to 36% of adults avoid going to the dentist due to fear? Dentophobia (yes, it's a real term) can be related to a prior bad dental experience, embarrassment with the condition of their mouth, fear of loss of control, needle phobia, or anxiety provoked by the sight of instruments and sounds of drills used during dental treatment.
Unfortunately, neglecting regular checkups due to fear and dental anxiety puts you at higher risk of developing dental diseases such as tooth decay, gum disease, and other oral health problems that can have serious implications for your smile.
Sadly, people with dental phobia often present to the dental office when they're in severe pain or have developed dangerous complications. This makes their treatment more complicated than if they had regular preventive care in the first place. Often people avoid the dentist due to a mistaken assumption that dental care is inherently painful. And that's just plain wrong!
Painless dentistry is possible
The good news is that today there are options for ensuring pain-free dental procedures that don't involve knocking you out cold with general anesthesia. With sedation dentistry, you can painlessly undergo a long list of dental procedures that could only be dreamed about 20 years ago.
What is sedation dentistry?
Sedation dentistry involves the use of special medications designed to make you relax, experience less anxiety before, during, and after a procedure, and even induce amnesia about the procedure itself.
With sedation dentistry, you are in control, which is different than sleep dentistry. You can choose from several levels of sedation from minimal to deep. At no time are you asleep (on the edge of consciousness). Rather, you are in a twilight, altered state of consciousness that lets you remain calm, comfortable, and relatively unaware of the procedure you're undergoing.
What sedation do dentists use for Sedation Dentistry?
At MD Perio, we utilize three types of conscious sedation methods to help reduce dental anxiety and facilitate a pain-free experience for our patients. All three approaches involve the careful administration of widely used safe sedation dentistry drugs.
The three types of sedation dentistry options are: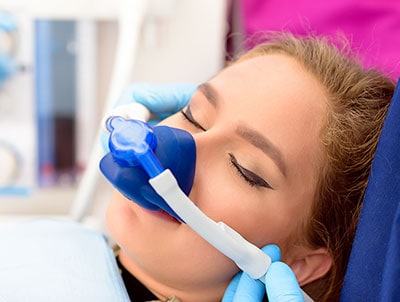 Inhaled sedation
Nitrous oxide (commonly known as "laughing gas") is inhaled through a mask that covers your nose. This is a short-acting sedative that lets you feel relaxed while sitting in the chair. Because it involves short-acting minimal sedation, its effects resolve within minutes. Since you can remember your experience afterward, this can help boost your confidence and trust in your dentist. Most people like the relaxed sensation produced by nitrous oxide.
Oral sedation
Oral conscious sedation is taken as a pill (or sometimes liquid) at the start of your procedure to help you feel drowsy and have little or no recollection of the procedure experience. The class of drugs used for oral dental sedation is known as benzodiazepines. Valium (also known as diazepam) and Xanax (alprazolam) are well-known examples.
Oral sedation can be used to help with needle phobia, so you can relax enough to permit a gum injection or the insertion of an IV line. You typically have to wait 10 to 20 minutes for the medication to take effect before starting your procedure.
Intravenous sedation
IV sedation dentistry allows a calming medication (usually midazolam) to be delivered directly to a vein in your hand or arm through a small IV (intravenous) needle. Not to be confused with general anesthesia, this form of sedation typically makes you feel drowsy however you are not unconscious at any time.
With IV sedation, you can cooperate with instructions and communicate with your dentist throughout your procedure. Your gag reflex is eliminated, you feel deeply relaxed, and your anxiety is greatly reduced, but you can respond to questions, tell your dentist how you feel, and whether you need a break. Most people remember little to nothing about their procedure afterward.
If you're needle phobic, topical numbing cream can be applied to your skin to make needle insertion tolerable. Because IV medications take a while to wear off, you must bring a friend or family member with you to take you home after your procedure.
Is it still necessary to have local anesthesia via injection with sedation dentistry?
Yes. The drugs used for conscious sedation dentistry help you relax and forget what happens during your dental procedure, however, you will still require numbing with local anesthesia in the region where your dental work will be done. This will take place after you are sedated and so relaxed that you don't mind the needle. Afterward, your dentist will wait a few minutes until you are fully numb (confirmed by your verbal response to testing) before starting your procedure. IV sedation is extremely safe when administered by a specially trained dentist. Nonetheless, the effects of excessive sedation can be easily reversed with medications such as Flumazenil or Naloxone.
Is sedation dentistry safe?
Sedation dentistry is well tolerated by nearly everyone and side effects are extremely rare. The most common side effects that people experience are having little to no recollection of the procedure, dry mouth, and hiccups.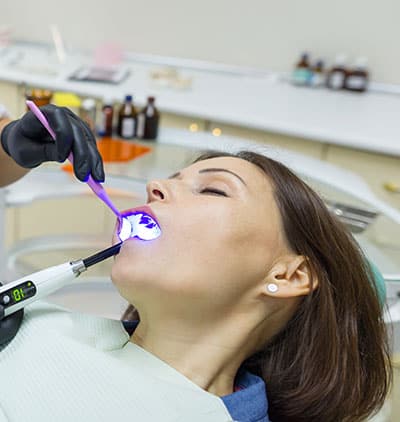 Your safety is assured by continuous monitoring of your vital signs. With this monitoring, we can see how you are responding to the medicine and track your level of sedation. These can include the following parameters:
Oxygen saturation – the oxygen level in your bloodstream
Ventilation – your respiration rate and carbon monoxide levels
Circulation – your heart rate, heart rhythm, and blood pressure
Temperature – your temperature is tracked before and after the procedure
Careful documentation – of all drugs, doses, administration times, as well as data from all monitoring devices, is continuously recorded during your procedure
As with any medication, patients with certain medical conditions may not be candidates for taking benzodiazepines for dental work sedation. Your dentist will review your medical history and current prescriptions when planning your procedure. What's more, you must have an escort to drive you home after having oral or IV sedation.
What kind of procedures can be performed with conscious sedation dentistry?
Luckily, a wide range of general dentistry, surgical procedures, and cosmetic treatments can be done using conscious sedation. These can include:
Can sedation dentistry address post-procedure pain?
In the rare procedures where post-procedure pain is likely, we administer a local long-acting anesthetic and instruct our patients to take over-the-counter painkillers before the local anesthetic wears off.
Why MD Periodontics is the best choice for sedation dentistry Beverly Hills
MD Periodontics is Beverly Hills' premiere state-of-the-art facility for periodontal treatments, dental implants, and cosmetic dentistry. As a result, our periodontists have broad expertise in advanced sedation dentistry techniques. Their care and expertise attract clients not just from the Los Angeles area, but from around the globe. A consultation with either Dr. Moshrefi or Dr. Daneshmand is the first step on your journey to a healthy smile you can happily share.
To schedule a consultation, click here or call us at (855) 245-1100. Your smile will thank you!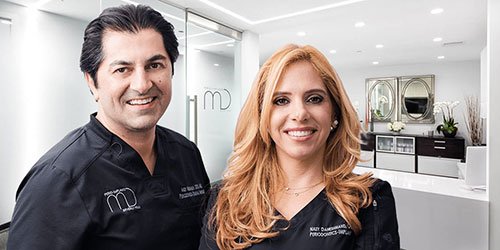 About Dr. Abdy Moshrefi, DDS, MS
Dr. Moshrefi is considered one of the leading periodontal artisans in California, known for fearlessly handling the most complicated dental reconstruction cases. His remarkably real-looking dental implants and restorations set him apart from other periodontic professionals. His warm and confident bedside manner combined with honesty and transparency lead to rave patient reviews.
Dr. Moshrefi graduated from UCLA with Phi Beta Kappa and Magma Cum Laude honors, then graduated from USC Dental School with a doctoral and specialty training in Periodontics. He also holds a Master of Science degree in craniofacial biology and is a board-certified periodontist in addition to a dedicated holistic dentist.
About Dr. Nazy Daneshmand, DDS
Dr. Daneshmand is a board-certified periodontist. After studying biology at UCLA, she also graduated from USC's Dental School with a doctoral and specialty training in Periodontics.
Dr. Daneshmand is a leading provider in Southern California in the practice of "holistic dentistry," which uses metal-free and toxin-free dental options. She offers patients solutions to dental problems that are beneficial to her patient's overall health. Dr. Daneshmand also excels in the field of antimicrobial therapy and non-surgical treatment of chronic periodontitis. Her articles have been published and syndicated in numerous publications, including the Journal of Periodontal Research.
Dr. Abdy and Dr. Nazy have been married for over 20 years and have three children together.
At MD Periodontics, we take our patients' safety seriously. Our facility follows Covid-19 patient safety procedures exceed all CDC recommendations. Masks are required in our institutes at all times.
We are conveniently located to patients throughout Southern California and the Los Angeles area. Our Beverly Hills office is conveniently located near West Los Angeles, Culver City, West Hollywood, Downtown Los Angeles, Marina del Rey, Pacific Palisades, Malibu, Manhattan Beach, Sherman Oaks, and Encino.