What are Dental Veneers?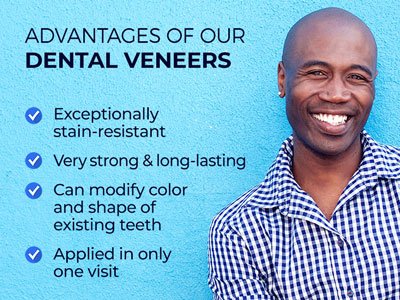 Dental veneers are thin shells that, in our practice, are almost always made of porcelain (though sometimes made from a resin composite). They are designed to cover your natural teeth and improve their appearance. These shells are made of stain-resistant material (i.e. porcelain) and, when made by an expert in cosmetic dentistry, they look 100% like natural teeth. Veneers are most often applied to the front teeth, since they're the most visible, and are a popular procedure used in smile makeovers.
What problems do dental veneers fix?
Veneers are recommended to provide an aesthetically pleasing solution for a variety of problems, including:
Discolored or stained teeth that don't respond to tooth whitening: discoloration may be due to drugs like tetracycline, excessive fluoride use, or stains caused by fillings or root canals
Teeth that are badly chipped, broken, or worn down
Uneven, misaligned, or irregularly shaped teeth
Unsightly large gaps in between teeth
What are advantages of dental veneers?
There are several advantages to having dental veneers. These include:
Veneers provide a nicer looking smile with natural looking teeth
Veneers are well-tolerated by gum tissue
Porcelain veneers are stain-resistant and do well over time
Veneers can lighten the appearance of dark or stained teeth
Veneers allow you to change the appearance of your smile quickly, sometimes even in one office visit
Veneers allow you to modify the color or shape of your tooth while preserving your natural tooth, offering a stronger, more aesthetic alternative to your original smile
What are the disadvantages of dental veneers?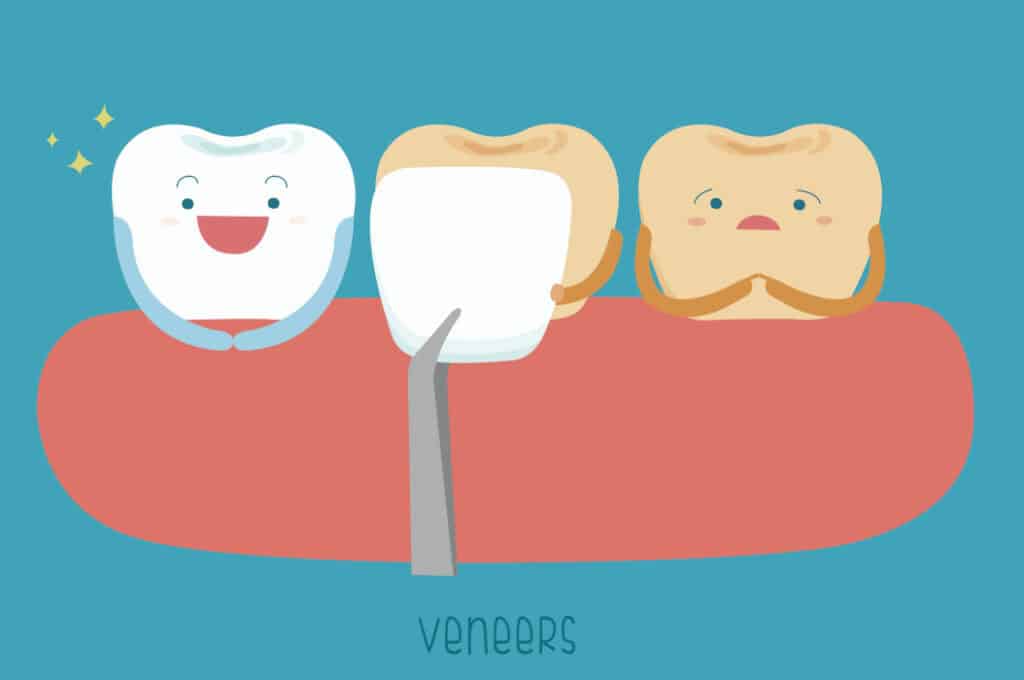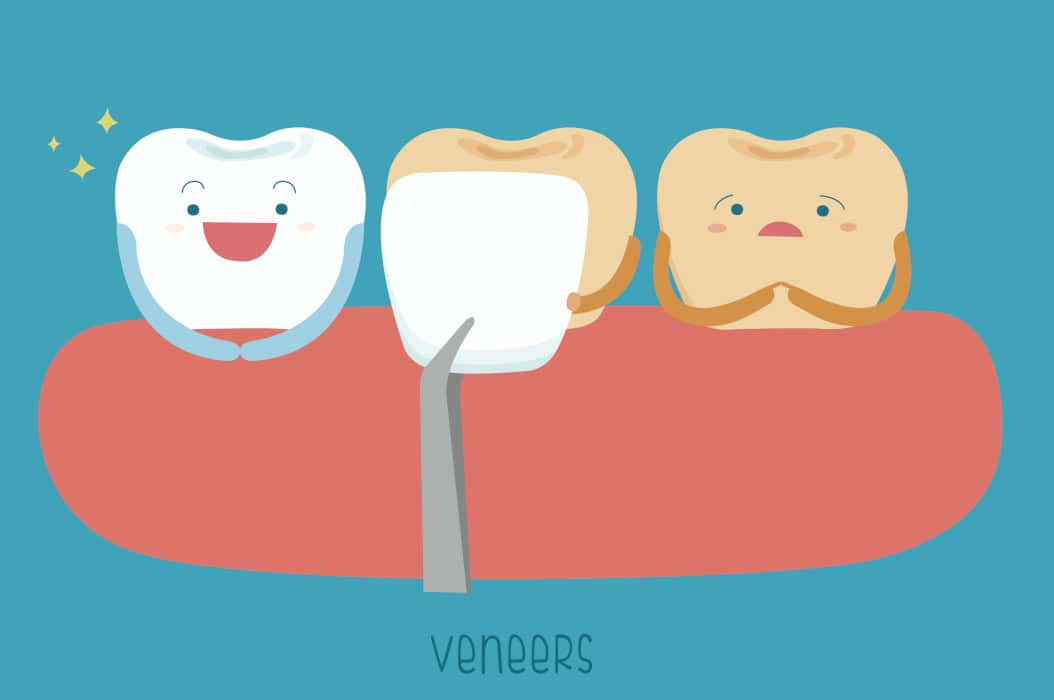 The decision to get dental veneers requires careful consideration for several reasons:
The process is not reversible, and it involves removing a fine enamel layer from the surface of the tooth.
Porcelain veneers generally cannot be repaired if they get chipped or cracked and usually must be replaced if this occurs.
A porcelain veneer's color cannot be changed once it is in place, if you are planning teeth whitening, it must be done prior to getting veneers.
Veneers require some special care, or they can chip, crack, or fall off. This is why we tell all patients to not bite their nails, chew on pencils, chew ice (which is hard for a lot of us, since it is so satisfying!), or put excess pressure on their teeth. To avoid cracking your veneers, you shouldn't clench or grind your teeth and always wear a nightguard if you grind in your sleep.
The natural teeth under the veneers can still decay, so they require regular maintenance in order to avoid having to cover the entire tooth with a crown.
How are porcelain veneers applied?
Getting porcelain veneers typically involves three trips to our office: the first for a consultation, the second to prepare your teeth for the veneers and create a template for the fabrication of your custom veneers, and the third trip to apply the veneers to your teeth.
Diagnosis and Treatment Planning: At this visit, your dentist examines your teeth and may even take digital images of your smile. You will be asked to describe how you would like to change your smile. After understanding what your goals are, your dentist will tell you if veneers are the best way to achieve your ideal smile and what your veneers will cost.

Dental impressions and tooth preparation: At this visit, your dentist removes an extremely thin layer of tooth enamel (under local anesthetic if you wish) and makes a model or impression of your tooth. This impression is sent to a dental lab that fabricates a custom veneer in just a few weeks. If your teeth are particularly discolored or irregular, you might be given temporary veneers to wear until your permanent veneers are fitted.

Veneer fitting: Once the veneer (or veneers) are ready, you return to our office and your dentist goes tooth by tooth, temporarily placing each veneer over the appropriate tooth to check its fit and color match. Each veneer is carefully trimmed as needed to achieve the proper fit. Fine adjustments to color can be done with the shade of cement used to apply the veneer.
Veneers allow you to modify the color or shape of your tooth while preserving your natural tooth, offering a stronger, more aesthetic alternative to your original smile.
Next, your natural tooth is cleaned, polished, and lightly etched to create a rough surface that will enable a strong bond to form between your natural tooth and the veneer. A special cement is applied to the veneer, which is then placed over your natural tooth. A special light is shined on the tooth to activate cement hardening (known as curing).
Once the cement has cured, any excess cement is removed, and your bite is checked so that your dentist can make any necessary adjustments. You will be asked to follow-up at our office in a few weeks to see how your gums are responding to the veneer material and to re-check the veneer's alignment.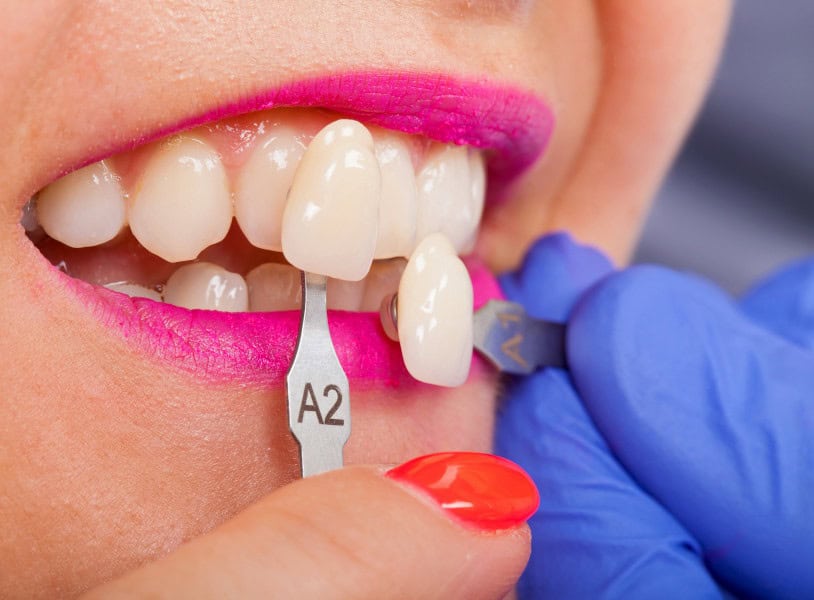 How long do veneers last?
Veneers are a worthwhile investment in your smile because they generally last at least 10 to 15 years (and sometimes much longer) before needing to be replaced.
Do veneers require special care?
No. Care for your veneers just as you would care for your natural teeth. Practice good oral hygiene habits like brushing, flossing, and rinsing with an antiseptic mouthwash at least twice a day. Also, even though porcelain veneers resist stains, your dentist might encourage you to avoid foods and beverages that are known to stain teeth (such as berries, red wine, coffee, or tea) in order to keep your veneers looking beautiful for a long time.
Are there alternatives to dental veneers and composite bonding?
Porcelain crowns provide an alternative, although more invasive, option to porcelain veneers and bonding with composite resin. Crowns involve placing a porcelain-covered metal jacket over your natural tooth. Veneers and bonding provide an affordable option if you are interested in changing the shape of your tooth but would prefer to preserve it.
How much do veneers cost?
Veneer prices vary widely depending on where you reside in the U.S., the extent of reshaping that your teeth require, and whether you are getting composite resin bonding (AKA a direct veneer) or a porcelain veneer.
The cost of porcelain veneers (AKA indirect veneers) can range from $1000 to $2000 per tooth. It's important for you to know that this procedure is not typically covered by insurance. That said, we encourage you to verify your benefits with your insurance provider.
Why trust MD Perio for your cosmetic dentistry?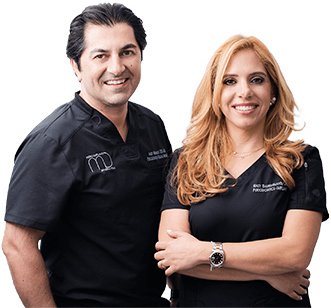 With over twenty years of experience, the dental care providers at MD Perio are uniquely qualified to perform a full range of cosmetic dental procedures, of which porcelain veneers and composite bonding are just two. If you are unhappy with your smile and would like to explore the available options for acquiring the beautiful smile you desire, give us a call.
To schedule a consultation, click here or call us at (855) 245-1100.
At MD Periodontics, we take our patients' safety seriously. Our facility's Covid-19 patient safety procedures exceed all CDC recommendations. Masks are required in our institutes at all times.
We are conveniently located to patients throughout Southern California and the Los Angeles area. Our Beverly Hills office is conveniently located near West Los Angeles, Culver City, West Hollywood, Downtown Los Angeles, Marina del Rey, Pacific Palisades, Malibu, Manhattan Beach, Sherman Oaks, and Encino.
Dental Veneer FAQs
Does dental insurance cover veneers?
Insurance coverage for dental veneers varies depending on the specific insurance plan. Some dental insurance plans may provide partial coverage for veneers if they are deemed medically necessary. However, most cosmetic procedures, including veneers for purely aesthetic purposes, are typically not covered by insurance.
Are dental veneers permanent?
Dental veneers are not considered a permanent solution as they may need to be replaced over time due to wear, damage, or discoloration. However, with proper care and maintenance, veneers can last for many years. The lifespan of veneers can vary depending on factors such as oral hygiene practices, lifestyle choices, and the quality of the veneers themselves.
Are dental implants and veneers the same thing?
No, dental implants and veneers are not the same thing. Dental implants are surgically placed into the jawbone to serve as artificial tooth roots for supporting dental crowns or bridges. Conversely, veneers are thin shells made of porcelain or composite resin bonded to the front surface of teeth to improve their appearance.
Can dental veneers be removed?
Yes, dental veneers can be removed. The process typically involves grinding or sanding down the veneer material. This may potentially damage the underlying tooth structure. It is essential to consult with a dental professional for a proper evaluation and guidance if you are considering removing your dental veneers.
Can dental veneers be whitened?
No. Veneers are made of materials like porcelain or composite resin that are resistant to staining and do not respond to bleaching agents. The only way to change their shade is to have them replaced with new veneers that match the desired color. It's important to discuss any concerns about the color of your veneers with your dentist.
Do dental veneers hurt?
The placement of dental veneers is typically a painless process as it involves minimal tooth preparation. However, some individuals may experience mild sensitivity or discomfort during the tooth preparation phase, which can be managed with local anesthesia if necessary. Once the veneers are bonded to the teeth, any initial discomfort subsides, and patients can enjoy their new smile without ongoing pain or discomfort.
What is the difference between dental crowns and veneers?
Dental crowns encase the entire tooth, providing protection and support for damaged or weakened teeth. Veneers, on the other hand, are thin shells placed only on the front surface of teeth to improve their appearance without extensive tooth preparation.