Are you afraid to show your gums?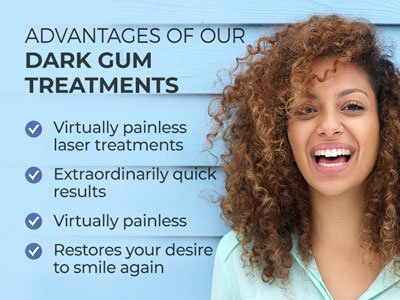 Are you one of those people who's reluctant to smile because you don't like the color or texture of your gums? Do you have dark gums or dark spots on your gums that make you self-conscious?
Dark gums, also called oral pigmentation or referred to as black gums, can occur due to a wide variety of reasons. For those who are born with dark gums, this is usually harmless and poses only a cosmetic concern for those who don't like the appearance of these otherwise healthy gums.
Folks who suddenly develop dark gums, or who notice a new spot or dark patch on their gums or mouth tissue, need to be evaluated by a professional. New-onset oral pigmentation can be an early symptom of an underlying illness.
What causes black gums?
The causes of oral pigmentation basically fall into two camps: exogenous (or external factors) and endogenous (factors within the body). These can include:
External factors that can cause dark gums
Smoking or chewing tobacco
Nicotine intake causes the body to produce more melanin, which can cause gums to become brown or black over time. This can appear in patches or involve the entire mouth. Luckily, when the tobacco habit is kicked, the gum stains may gradually resolve.
The good news is that most causes of gum darkening are treatable.
Metal leaching from dental hardware
Amalgam fillings and metal-lined crowns can shed metal particles over time that stain the gums or inner cheek tissue in contact with the metal. These "amalgam tattoos" are usually black, grey, or blue patch. Although they're unsightly, they don't pose any health risk.
Medications
Certain drugs—like the antibiotic called minocycline, antimalarial quinine drugs, tricyclic antidepressants, and more—can cause melanin build-up that results in darkening of the gums and lips.
Melanin is the substance that gives skin, hair, and eyes their color. Varying levels of melanin present in different ethnic groups can account for darker gums in Black, Asian, and Mediterranean populations.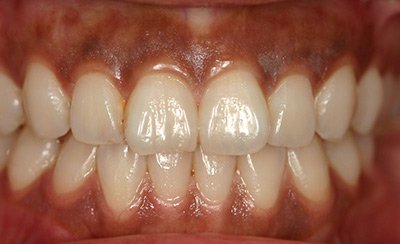 Medical conditions
A number of medical conditions and health problems can cause abnormal darkening of the gums and mouth tissues. These include:
A severe form of gum disease known as necrotizing ulcerative gingivitis (or trench mouth) that is the result of poor nutrition or poor oral hygiene.
Some endocrine diseases—such as Addison's disease and Peutz-Jegher's syndrome—are characterized by patchy skin darkening and freckles.
Diseases of the immune system like AIDS-related Kaposi's sarcoma, hemangiomas (abnormal clusters of blood vessels), and hemochromatosis that causes iron-containing dark brown spots in the skin.
If you notice the sudden appearance of dark spots or a change in the color of the gums, it warrants an examination by an oral health practitioner.
Can dark gums be lightened?
The good news is that most causes of gum darkening are treatable. Of course, the treatment will depend on identifying the underlying cause. This requires an examination by one of our doctors who can identify the cause and discuss appropriate treatment options.
What if there is no underlying medical condition and you wish to have your gums lightened for cosmetic reasons? Drs. Moshrefi and Daneshmand can review with you the various cosmetic treatments available and recommend the one best suited for you.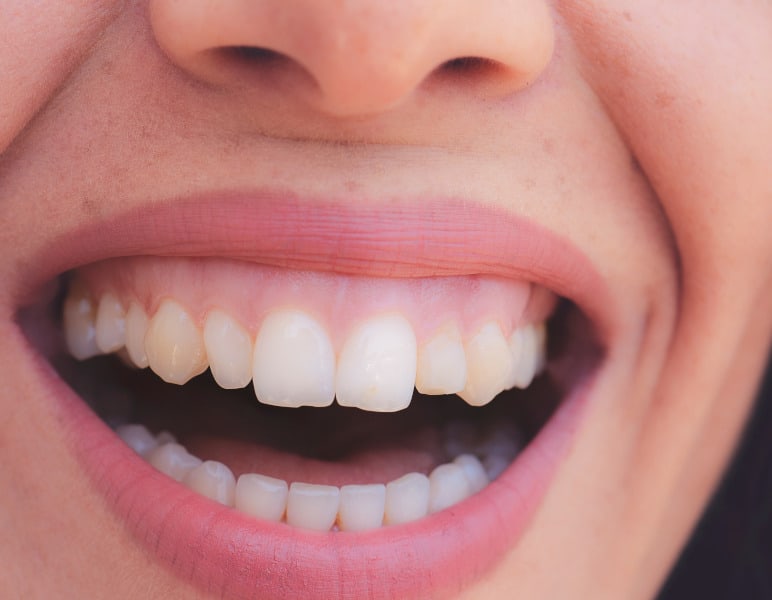 The best dark gums treatment will be based on the cause, extent, and pigment saturation of each patient. As such, you should consult with a periodontist or cosmetic dentist to determine your best course of treatment.
We perform a number of proven gum lightening techniques that offer near painless results with no downtime. The lightening technique choice depends largely on the extent and cause of the gum discoloration.
Our gum lightening procedures include:
Laser
One of the most effective treatments for gum lightening involves using intense light pulses to vaporize the top layer of gum tissue. This destroys melanin cells responsible for dark coloration and reveals pink tissue underneath. Laser treatment is a relatively painless procedure with instant results.
Bleaching Treatment
A special bleach solution is applied to the gums and activated with a laser. This procedure is performed using local anesthesia for improved patient comfort.
Dermabrasion
The doctor uses a small polishing tool to lightly buff away the outer layer of gum tissue, giving instant results.
Gum Surgery
Using local anesthesia, our doctors gently remove the outermost layer of gum tissue containing the dark pigmented cells, revealing new pink gum tissue underneath. This is performed in one session and doesn't involve chemicals, stitches, or dressings.
Is gum bleaching safe?
You may have concerns about the idea of using bleach on your gums. Worry not! Cosmetic dentistry has created a perfectly safe method of lightening your gums and improving your self-esteem. Even the International Journal of Periodontics has published an article on gum bleaching techniques.
The best candidates for gum bleaching are those with good gum health and dental hygiene. Make sure you're brushing and flossing regularly to maintain your dental health. If your gums are inflamed due to periodontal disease, this may need to be addressed before your cosmetic treatment.
Why choose MD Periodontics for gum lightening?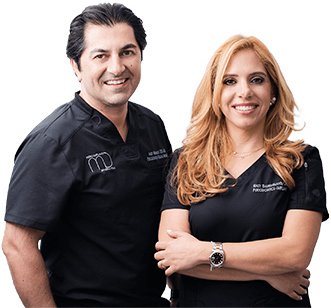 With so many options for treating dark gums, there's no need to live with oral pigmentation that causes you embarrassment.
Your dental care takes place in a state-of-the-art facility that's conveniently located in Beverly Hills. Our professional and highly experienced staff ALWAYS makes sure that all your questions are answered and that you are comfortable throughout your treatment. We also diligently follow up with you after your procedure to keep a close watch on your progress and ensure that you are doing well.
Schedule a consultation or call (855) 245-1100.

Your smile (and gums) will thank you!
At MD Periodontics, we take our patients' safety seriously. Our facility follows Covid-19 patient safety procedures that exceed all CDC recommendations. Masks are required in our institutes at all times.
We are conveniently located to patients throughout Southern California and the Los Angeles area. Our Beverly Hills office is conveniently located near West Los Angeles, Culver City, West Hollywood, Downtown Los Angeles, Marina del Rey, Pacific Palisades, Malibu, Manhattan Beach, Sherman Oaks, and Encino.